so excited to arrive in Niagara Falls. With all the stories of barrel rides, mist, and amusement, I wasn't really sure what to expect. In fact, I kind of suspected I might not like it. And the truth it is that in some ways, Niagara is overdeveloped. But if you look hard enough, you can still find plenty of great experiences.
Remember, Niagara Falls straddles the US/Canadian border, so for the most flexibility, bring your passport.  In America, you have close access to the water as well as a wonderful hike, whereas in Canada you have shops, hotels, and many of the non-falls attractions.  I recommend you stay on the Canadian side and walk over to America.  Also, I would recommend not to take an organised tour.  It is easy to get around Niagara, and I don't feel most of the tours offer great value for money, when you could see what you want, when you want, and for as long as you want on your own.
Here were a few of my favourite things to do in Niagara Falls.
Get Wet
If you're coming to the falls, you should go and get wet (even if its cold and raining out).  It's just part of the experience! And where else in the world can you take a boat cruise that drives up underneath a circular waterfall?  One of a kind experience, for sure.   I did all of the main experiences so I could report back on the best ones:
Maid of the Mist (America or Canada):  By far the best of the things to do in Niagara Falls, and one of North America's oldest tours!  Yup, it is just like you picture it – you dawn cheesy ponchos, and the boat drives up into both of the falls.  Crazy.  The American falls is mostly mist (it is rocky underneath so you don't get that close), so you get these wonderful rainbows everywhere.  Then you hit the Canadian falls, and you get…wet.
Cave of the Winds (America): This is quite cool as you get to stand, literally, underneath the Bridal Veil Falls.  You get soaked, even if you don't go up on what's called the hurricane deck.
Journey Behind the Falls (Canada):  There is an opportunity also to get wet here, but the most interesting feature for me are the "windows" that are actually behind the falls.  You can't go near the window opening, and once you see the water pressure, whirling wind gusts, and incredible noise coming from these tunnels, you won't want to.
If you're feeling even adventurous, you can also grab a jetboat from Niagara on the Lake which will take you into the massive whirlpool situated a couple if miles downriver.
Get Scared
As we established last week, one of the scariest places on earth is Niagara's Nightmares Factory, which is a couple of blocks away from Clifton Hill.  There are a lot of scary things to do in Niagara Falls, but without a doubt the factory is your best choice.  The venue is an old coffin factory, and there are some not-very-nice things going on inside.  The majority of visitors don't make it though. By that, I mean, the shout out the secret word, and are allowed to exit.  Not to imply that people go in and don't come out.  Although, it wouldn't surprise me…
Get Fat
Clifton Hill is where much of the non-falls action awaits – you can't miss it, it is a street lined with restaurants, shops, amusement attractions and other things to do.  Niagara Falls comes alive here, but it can be slightly hectic;  one of the best parts I think the food.  I tend to prefer non-chain restaurants on my travels, which you will not find on Clifton Hill.  However, I'm hard pressed to give this the thumbs down given the number of coffee shops (Tim Hortons, anyone?) and fantastic ice cream parlours in just a couple of blocks.  Be sure to pop into Crunchicreme, which is just on the opposite side of the Ferris wheel from Tim Hortons.  There you'll find tasty ice creams topped with pretty much anything you want.
Get Informed
I am still blown away by the fact that thousands of years ago, Niagara falls was about 8 miles away from where it is today.  Yes, I do realise that the volume of water pounding over these falls is nothing short of inspiring, but still, once you drive along the Niagara parkway for miles and miles of gorge, you start to appreciate just how powerful water is.
Even more incredible is the fact that much of the water flow over the falls is now diverted into power generation tunnels.  These massive plants – shared by both the US and Canada, both in terms of building space (one on each side of the gorge) as well as sharing the power generated – have a network of tunnels, reservoirs, and turbines that just boggle me.  You can learn all about it at the Sir Adam Beck Power Plant tour – a must for things to do in Niagara Falls.  You might not realise, but you'll have been driving over the power plant for a minute or two before reaching it.  It's huge!
Get Away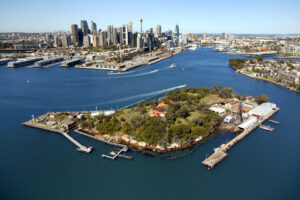 Pictured above is Goat Island – the piece of land that separates the American Falls (to the left) from the Canadian Falls (to the right).  As above, I suggest that you stay in Canada but walk across to visit Goat Island.  This is on most of your typical 'things to do in Niagara Falls' list, but I'd like you to delve a little deeper.  On the bottom of the island you have several lookout points where you can stand nearly on top of the falls – all but a narrow railing separates you from raging torrent – but head to the north.  A walk around the island doesn't take more than an hour and a half, and yet, you'll find no one away from the big viewpoints.  At the top, you can actually step into the water unencumbered, so if you were wanting to take a barrel ride, this is the place to jump in.
If you are really struggling with the busy atmosphere of Niagara, though, head up along the Niagara Parkway (a wonderful drive) to the quaint village of Niagara on the Lake.  It can be busy too, but nothing like the Falls.
Get Some Perspective
Last but not least, why not enjoy some heights while exploring the things to do in Niagara Falls?  The easiest way would be to stay at one of the high rise hotels, which are fabulous – I stayed at the Fallsview Hilton, which I can highly recommend.  I've mentioned the Ferris Wheel briefly above, but you should also make the mandatory stop to the summit of the Skylon Tower, where you get some great views of the entire region.  You can't spend the night up here, but you can have dinner, and you should come during the day and purchase a ticket which will also allow you to come back up in the evening.  The daytime shots are a must, but the evening/sunset view is also nice.
The tower was the perfect place to reflect on my Niagara adventure, and to realise that despite my romantic impressions of barrel rides over the falls juxtaposed against garish highrises and nightlife, the truth is that the Falls is the perfect holiday getaway.  All sorts of things are together in a tiny area, so you can just pick and choose what you want.  Though I have to tell you, there's fine for going over the falls in a barrel.
Editorial Disclosure:  Portions of this trip were sponsored by Visit Ontario.  This sponsorship in no way affects the editorial content of this piece.
All images copyright by author except power station (Wikipedia Commons) and haunted house (Venue Photo)