You have no doubt heard about the Great Lakes, but do you know about the Finger Lakes? Tucked away in upstate New York, they're New England's great playground, full of wineries, classic American towns, and tons of things to do. So check out these Finger Lakes Photos – maybe one lake looks perfect for your next vacation?
Otisco Lake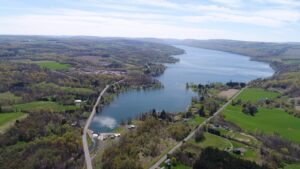 Otisco Lake is one of the smaller finger lakes, only six miles long.  Part of the lake is man-made due to the daming of a nearby river.  Otisco Lake Park is a great place for fishing, picnicing, boating, or just relaxing – isn't the water pretty?
Skaneateles Lake
In case you're wondering, the locals seem to pronounce the name of this lake "skinny Atlas" (I know – I was surprised too.)  Skaneateles is an old Iroquois Indian word for 'long lake' – and this one is indeed a long 16 miles.  It's considered the 'roof of the Finger Lakes' because it is at the highest elevation.  It's a lake surrounded by lots of wonderful towns – Skaneateles itself, full of picturesque buildings and a beautiful harbour, as well as Ten Mile Point (a great picnic spot), the town of Spafford and the town of Scott.  They say Skaneateles has the purest water of all the Finger Lakes.
Owasco Lake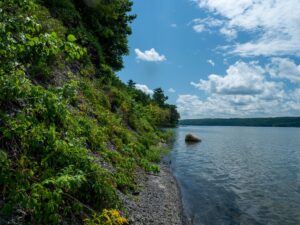 Owasco is an old Indian word for crossing, and so perhaps we must assume the Indians figured out that Owasco lake was the most shallow and thus a warmer lake for summer swimming!  Emerson Park has both a beach and a boat launch, and there's a small village at the south of the lake, Cascade, with a marina and restaurants.
Cayuga Lake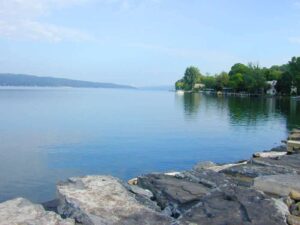 Cayuga Lake is the second biggest finger lake, and that's a good thing because it's one of the busiest too.  Along its shores is Ithaca, home to Ithaca College and  Cornell University, and many a student has found adventure along the shores of Cayuga.  The lake is also very popular with boaters and fisherman (though fishing is monitoring closely so be sure to check in for the latest regulations).
Seneca Lake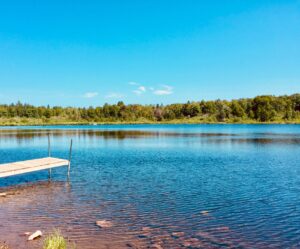 Seneca Lake is the largest lake in the Finger Lakes, and the deepest lake in New York state – so deep it has been a testing site for submarines!  It's also considered the lake trout capital of the world.   To the north of the lake you have Geneva, a college town, and to the south you have Watkins Glen, famous for its auto racing course and the beautiful Watkins Glen State Park waterfalls.
Keuka Lake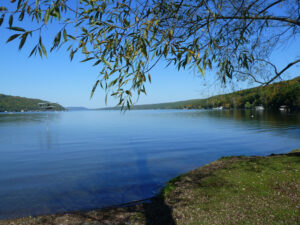 Keuka Lake is the "odd man out" in the Finger Lakes – once it was called crooked lake because it's the only lake shaped like a 'Y'.  This lake is stocked full of fish, so it's a dream for fisherman.  But nearby are lots of cycling and hiking paths, including a couple of disused railway lines refurbished into new paths.
Canandaigua Lake
If you read my write-up about Canandaigua Sightseeing, then you'd know why the Iroquois called this place "the Chosen Spot" – just look at that stellar view from a place called 'the Overlook.'  This is a popular 'second home' spot and the villages all around the lake have nice restaurants, boutiques, and wineries.  Wine tasting, anyone?
Honeoye Lake
A smaller lake, Honeoye is a unique lake compared to the others as it's popular year-round. In winter, it freezes, so it becomes popular for ice fishing and skating.  In the fall there is the 'Ring of Fire' tradition where fires at lit around the lake to signify the end of summer and the wealth of harvest.  Honeoye is also known to have the best sunsets.
Canadice Lake
Canadice Lake is the smallest finger lake but at a very high elevation, which has made it a popular water supply source. Surrounding the lake are a series of trails that are perfect for hiking and walking, with plenty of scenic stops like the one above for picnicking.
Hemlock Lake
Hemlock Lake is the least developed of any of the Finger Lakes, making it a very idyllic and peaceful place since there isn't anything but Mother Nature in your view, though you won't be able to overnight here.  It's known for tasty salmnn fishing as well.
Conesus Lake
Conesus is another one of the smaller Finger Lakes, also known for fabulous sunsets.  It participates in the Ring of Fire celebration at the end of every summer, and it's great for winter sports as the whole lake freezes solid.
Cazenovia Lake
They say that Cazenovia is the "eighth Finger Lake" because it's not officially considered one of the Finger Lakes, it was formed in a similar manner and it's a gorgeous spot so we happily include it in our Finger Lakes photos!  The Village of Cazenovia, lakeside, has a lot of wonderful architecture and is the perfect place to start or finish exploring the lake surrounds.
Photo Credits: Wikipedia Creative Commons, jmenard48, lida rose, Heather, rbs10025, avjake, Author, Jerry Chrisman, statPaige,Mr. Imperial, crb1229, elizabethcrispino