Personally, I'm a walking/biking person more than I am a driving person. The cynic would point out here that I don't have a driving license, which is true, but it's more that I don't like to miss a thing as I move from one place to another.
Some places are more fun than others, but almost everywhere you can find cool bicycles.  So let's travel the globe and find some awesome bikes around the world. You know how to ride a bike, right?
Amsterdam, Netherlands
This gorgeous shot shows off why so many people want to visit Amsterdam – it is a gorgeous city.  The only way to get around town is by bike, so be brave and just do it .  Because of theft, the cool bicycles are either so elaborately decorated they're ugly or they're simply old rickety cruisers (called 'oma fiets', or grandma bikes) .  It's first on our bikes around the world list because, well, there are more bikes than people in this town! (Tip: It's also a great way to explore all of the best food in Amsterdam.)
Portland, Oregon USA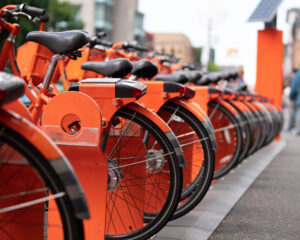 With a high quality of life and that refreshing (misty?) Pacific Northwest climate, it's not surprising you'll find lots of cool bicycles in Portland.  This beautiful bike is a poignant reminder that bikes around the world, regardless of where you are, need to be taken seriously.  I have to say though – what a beautiful way to remember a friend.
Copenhagen, Denmark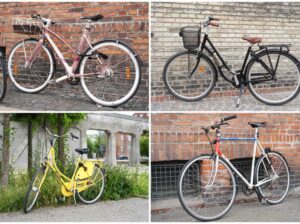 Surprising, despite the long dark winters and chilly weather, life in two wheels is alive and well in Copenhagen, almost as much as it with its neighbour Amsterdam.    If you want a cool bicycle during your stay, easy – just grab one of these funky numbers provided by the city!  Then pedal your way along the miles of shoreline and waterfront in this town – there is plenty of it, and it's all gorgeous.  Iconic bikes around the world?  You bet.
Bogota, Columbia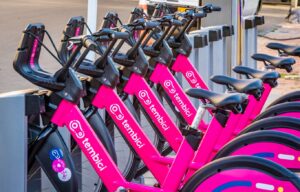 Probably hard to believe, but Columbia is leading the path in Latin America to build and support a urban bike infrastructure.  Ok, so finding a cool bicycle might be a little difficult, but the fact that there are bike events (where streets are closed) and that people are embracing two-wheeled transport is very cool.  With the wind in your hair, Columbia just won't feel the same.
Perth, Australia
What better way to see this lovely Australian town than with a sexy, cool bicycle!  Australia as a whole is very bike-friendly, but given the country is also a continent, you'll be pedalling for awhile to get very far.  Perth has the best infrastructure and some of the most fun bikes around the world, so be sure to check it out while you're here.
Chicago, Illinois USA
Ok, I now fully admit to be being a fair-weather friend – when I said cool bicycles, the above photo wasn't what I meant. But when summer comes around, Chicago turns in to a biker's paradise – especially the bike lane that runs along Lake Michigan, from far north of the city and curves around the towering skyscrapers.  It can be pretty hot in the summer, so why not cool off with a bike ride?  And don't miss our fun places to go in Chicago – these neighbourhoods are great to find and explore by bike.
India
You can read all you want about India, but until you've been, you just can't quite understand it.  And even after you've went, it might be some time before you understand what's just happened.  Cool bicycles are everywhere in India, mostly because the country is so overcrowded so you will find all sorts of transport available.  If you want to ride a bike around while you're here, you'll need to be a bit adventurous, but a surreal experience is all but guaranteed.
China
Where else can you get McDonalds delivered on a nifty, cool bicycle?  Yup – China.  Similar to India, this country has found that dealing with a sprawling population is to put more bikes on the road than anywhere else.  China is an interesting place where you have both desolate plains (which is slowly changing with the arrival of increasing transport) and massive, bustling cities, so the opportunities to explore by bike are endless.
South Africa
We've talked about things to do in South Africa by motorcycle – but how about on an un-motorised pair of two wheels?  And check out all the cool bicycles – you can tour with tip of Africa with just your FM radio and the handlebars between you and the amazing view.  Probably a good idea to do this with a group or organised tour operator due to safety issues, but definitely something to consider.
Photos by bartleby, chrispyworld, nicocrisa, mikecogh, shekay, zedvox, augapel, Nils