Prague is one very hot European travel destination – so hot that summers in Prague have long felt a little less Euro-fabulous and a little more cramped. I love Prague, don't get me wrong, but I'd like to suggest some Czech Republic sightseeing that's further afield. You can easily spend a couple of weeks exploring this beautiful country, from the capital city in rolling hills of Bohemia to the massive underground caves and unspoilt countryside of Moravia to the east. Here are a few of my favourite Czech places – be sure to visit one on your next Czech adventure.
Prague
I'd be kidding you if I didn't say that your Czech Republic sightseeing adventure will either start or finish in Prague (unless you combine your trip with a jaunt over to Germany or Austria).  I do like Prague, I just feel like the city is at times overrun with massive tour groups who just wander aimlessly, missing out on the city's true gems.  A few of my Prague favourites:
Charles Bridge:  It is never quiet here – even at sunrise, there are hundreds of photographers hoping for that perfect shot.  But it's lined with artisans trying to sell their paintings/ceramics/jewellery and it certainly has a certain buzz about the place.
Castle Hill:  Prague Castle is actually an enormous complex of churches, chambers, and gardens.  Be sure to give yourself plenty of time to explore the entire area, including some of the quieter walking trails.  Ooh, and don't miss the Strahov Monastery Library – it is beyond incredible.
Prague City Gallery:  For some reason many tourists all but skip this stop, but this huge museum has such an odd juxtaposition of modern art with a few Czech classics, heavily seasoned with Communist overtones, that it is a must see.
Food:  I love Czech good.  Such yummy goodness.  Here's how to find good food in Prague:  start in a major touristy square.  Walk in any until you find a relatively quiet street.  Pick the first cafe you find.  They might nto speak English, but your taste buds will known the way.
A great daytrip is to Kutna Hora – a slightly chilling and morbid place, as its home to a cathedral made of bones.  Yes, bones – hundred and thousands of them.
Karlovy Vary
Karlovy Vary – or Carlsbad – is the Czech spa town, and it's a little gem of paradise.  This Czech Republic sightseeing stop is very very popular with the Russians and the Germans, who come for the healing powers of the spa waters found here. (I tried the waters and my health did not significantly improve.  Perhaps I did not ingest enough quantity of the foul smelling stuff.)  Don't miss the spa wafers, tasty little snacks that vendors will warm up for you – I love the cinnamon and sugar ones.  You can wash it down with a splash of the popular Czech liquor, Becherovka, though you might prefer the spa waters once you've tried it 
  My top tip for Karlovy Vary is to head up into the hills; hiking here is a Czech dream.
Český Krumlov
Just look at that photo:  is it any wonder the throngs come here to explore this Czech Republic sightseeing paradise? Cesky Krumlov is one of those few places that looks amazing in the brochure, and it's even better in person.  The phenomenal food, friendly people, and tons of tranquil walks along the river and through the winding city streets.  It's hard to fault a place that is so touristy and for good reason.  It's kind of like Disney without all the marketing spiel.  Visit – this place is a must, and at the top of my list for things to do in the Czech republic.
Plzeň
For those into beer travel, Plzen is a must-visit Czech Republic sightseeing stop.  It is somewhat of an industrial city, so for tourists the big attraction here is food (yes, prepare to gain weight during any trip to the Czech Repbulic) and to visit the Pilsner Urquell factory.  It's a decent tour, with a fun bar and gift shop as well, so if you find yourself in the area be sure to have a look.  Work off the calories with a hike up the steps in St Bartholomew's Cathedral, the tallest in the country.
Brno
Even though this is the country's second largest city, it isn't normally on the tourist Czech Republic sightseeing radar.  Brno isn't filled with glamorous attractions and sightseeing, but I love it as a city:  it's a University town, so it has a wonderfully relaxed cafe culture atmosphere.  It also has a number of brewery/restaurants (by that I mean restaurants that brew their own concoctions), which makes for delicious good fun.  Don't miss the castle that towers over the city, including its creepy catacombs.
Telč
A small but terrific stop if you find yourself in the area is the delightful Czech Republic sightseeing town of Telc.  It's tiny, literally a single major square lined with these gorgeous buildings you see.  The town also has a beautiful park, and you can explore both the church and the castle.  Even if it's just for a couple of hours, make it a point to see Telc – it's like stepping back in time.
Olomouc
Another university town like Brno, the small town of Olomouc is unknown to many tourists, but I think this stop is well worth any Czech Republic sightseeing itinerary for it's magnificence town square alone.  The column in the centre of this square, the Holy Trininy, is a UNESCO world heritage site.  In fact, the entire town is steeped in history; be sure to explore the many fountains and churches scattered throughout.  Oh, and definitely have a look at the astrological clock next to the city hall (pictured); it's far more elaborate the one in Prague and thankfully crowd-free.
Punkevní Caves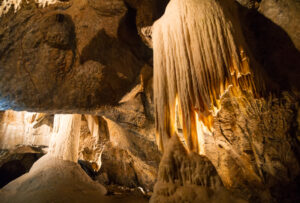 You might remember this one from our weird Europe roundup, but when discussing Czech Republic sightseeing ideas I certainly cannot leave it out.  Moravia has lots and lots of caves, but Punkevni is my recommendation based purely on the fact that you can get on a boat underground and go for a ride.  It's a little surreal, to say the least.  These caves are so enormous you will be underground for well over an hour, walking and boating the entire time, and you only see a small portion of the cave.  This is the world that science fiction dreams about.  (Note: Choose wisely – German speakers have an advantage here, as many caves do not have an English guide option, but you can still go along and just enjoy the sights.)
Photos by author except Prague (Einsheim), Brno (Artep)