When we mentioned to friends that we were travelling to Kyrgyzstan, they invariably scratched their heads and said something about Borat. It is hardly surprising that little is known about this tiny country. Sometimes referred to as "the Switzerland of central Asia", this land-locked nation of barely 5 million people is almost entirely dominated by the Tian Shan mountains. Building its own identity after gaining its independence when the Soviet Union collapsed, it rarely registers on the world stage for anything newsworthy. You get the impression that that's fine with the hardy souls who call it home.

While many of the people in the capital Bishkek are Russians, once you head into the hills the people are predominantly nomadic, and many still live the traditional life of spending the short summers on the pastures in their yurts, and heading down to the shelter of lower ground before the harsh winter strikes. We stayed with several families in the mountains, and while each had their own challenges in surviving in these inhospitable places, each displayed to us in a very short time their incredible resilience and stoicism that must come as standard when you are destined to live in these parts.
The Eagle Hunter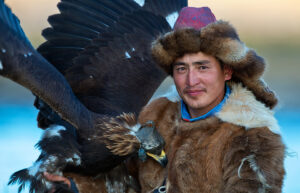 Staying first with an eagle hunter, he told us of his life during the Soviet times. He missed communism, and while a native and proud Kyrgyz, was sorry to see the Russians go. "You could always be sure that there was bread, milk, butter and eggs in the shops" he told us. Now he said, his sons had to go to the city to find work as there was no work in the countryside and no market to buy the produce of the land.
The old man recounted how, when the country had independence thrust upon it, suddenly there was no currency. The rouble ceased to be valid, and so people started to barter their goods until the new government was able to produce a currency. For those in the country, they sold their sheep and cattle just to buy basic goods. As a result the amount of livestock on the hills of Kyrgyzstan dwindled to very low levels. His father had held a position of high office locally (head of the kolkhoz, or collective farm) and so he had a relatively privileged life. Relative I stress, as it was clear he had worked very hard for a modest existence.
I loved to listen to his amazing stories (and he helped me so much in sharpening up my limited knowledge of Russian) and yet sitting in a yurt hearing his stories it was tempting at the same time to step out and soak up the surreal views that surrounded us. Mountains on all sides, and while the warm sun set on the valley and temperature instantly plunged, the glow of the setting sun cast an eerie red light on the surrounding snow-capped peaks. We stood motionless staring as the light faded from the sky. This was a truly special spot, and a place that I will never forget.
Perhaps the most amazing thing was the splendid meal that was prepared for us, far from the nearest kitchen or electric oven. We ate and drank at what really was a grand feast (I have a strong feeling that we taught him the words to "London Bridge is falling down" such is the power of Kyrgyz vodka). While Kyrgyzstan is a Muslim nation and most people follow much of the traditions of the Islamic faith, many small Russian influences have entered their interpretation of a Muslim life, vodka being the most obvious one.
Off the Beaten Path…Really.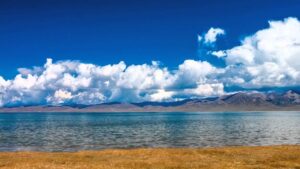 Our final host was equally fascinating. We stayed on the shores of Lake Son Kyul. It is hard to imagine a more desolate, wind-swept yet hauntingly beautiful setting. Set at around 3,500 metres above sea level, we were there in August and it was freezing. And yet our hosts spent the winter in this place, tending their flocks and protecting themselves against the hostile environment. We spent a couple of days here, and the two of us took the chance to take a hike by ourselves up the nearby hillside. We heard that there were some rock carvings up there, although none of the local guides had seen them. After an hour or so of scrambling, we came across a set of petroglyphs, then another and a third set. It was pleasing to return to the spot with the local Russian guide later in the day to show her where she would no doubt take future visitors.
More important than a car here is the horse. Children learn to ride them when little, teenagers capture their sweethearts by their riding skills and the horse keeps the local shepherds connected to each other in the winter when all else has ground to a complete halt. We sat and watched as our hostess showed off her riding skills, and soon the neighbours rode in and started to show off various games (the equivalent of an impromptu game of football).
The nights were bitter, and while the thought of putting horse dung on a fire in a confined space such as a yurt might not sound appealing, it was certainly welcome. Every layer we had came in handy to shelter us from the cold, and the loo run in the night was accomplished with ever quicker timing. How our hostess was able to spend the winter up here was beyond us. And yet, in the morning she had prepared a sumptuous breakfast for us including, would you believe, fresh scones jam and cream!
Parting Thoughts
Kyrgyzstan is like nowhere else. The beautiful, often surreal landscapes hide a harsh environment that tests the toughness of the hardiest people. After a week of travelling through this mountainous land, we were all inspired by the ability of these people to not only survive but to live proudly and with dignity in this place, where us western softies were tested to the limit.
Andy Jarosz is a writer who, as you can clearly see, brings your story to life. To hear more of his unforgettable travel memoirs, connect with him on his blog, 501 Places or on Twitter.