Nothing feels more like a luxurious treat than a flute of champagne bars (or, if you must, sparkling wine).  And what a fun experience to kick back and sample than in some of the world's best champagne bars. Whether it's one glass, a flight, or a dinner pairing, you'll be in good hands at each of these fabulous backdrops.
The Bar Vendôme, Paris
Visitors to  The Ritz hotel in Paris will be astonished by the variety of bars, restaurants, and various nooks and crannies.  The Ritz Bar here was once widely considered the best champagne bar in the world, without a doubt worth the splurge – but it has closed.  Now the champagne hot spot is the Bar Vendôme,  often said to be one of the most atmospheric bars in the world. The finest grade of champagne bottles are still on offer, as well as high tea and other tasty temptations throughout the day.
The Bubble Lounge, San Francisco

Champagne enthusiasts will surely love this bar for its overall atmosphere and vast selection of champagne by the glass, with over 30 selections available. The idea  of quality being better than quantity does not apply in this hidden gem in the downtown of San Francisco, as all the 30 selections available are among the best in the world, including such marvelous selections as Taittinger Cuvée Prestige, Pommery Brut Royal, or Adami Prosecco. Sophistication, relaxation and style are the principal features in this bar that will guarantee you a future visit in the long run.
Corridor 44, Denver
Located in the historical Larimer Square District of Denver, Corridor 44 offers its patrons a large selection of champagne by the glass and bottle. Amid décor with beautiful zebra-painted carpets, stylish chandeliers and beautiful adornments make any visitor to this bar feel more than welcome to a world of elegance along with exquisite champagne. Patrons can also order charcuterie plates, caviar, sandwiches and desserts.
Value Luxury travelers know that champagne bars can be pricey, but a good bar will be happy to make budget-conscious recommendations.  Also check out happy hour specials, or check out a tasting flight, allowing you to sample a few different tastes without the price tag. (And you know you don't have to stay at those ultra-luxe hotels these champagne bars are found in, right?)
Bearfoot Bistro, Whistler
Jot down this bar's name on your next visit to Whistler because at the moment of entry you will feel in another dimension. Bearfoot Bistro is an unbelievably great champagne bar that holds within its wine cellar over 2,100 labels, 20,000 bottles and offers an exquisite 5-course tasting menu for its patrons. There is no other champagne bar like this one across Canada that fosters this spectacular level of service, diversity and authenticity in terms of champagne selection. 
Texture, London
Enjoying a fine glass of champagne in London is more than a possibility with Texture. Located at 34 Portman Square, Texture offers its patrons and champagne enthusiasts over 100 selections of fine champagnes by the glass. One the most distinguished features about this bar is the option to learn about the history, cultivation and creation process of each champagne selection through notes that are given on each glass.  It's a nice touch.  Texture also offers small samples of each champagne selection so that patrons can find the perfect glass without the stress.
La Grande Dame, Paris
Located within the premises of Hotel Sezz right across the river from the Eiffel Tower in Paris, La Grande Dame offers its patrons a beautiful scenic view into the traditional streets of Paris and the Eiffel Tower itself. Its menu consists of over 30 different champagne cocktails, such as the unique mojito champagne cocktail. Hors d'oeuvres such as sushi and salmon skewers are a perfect companion.
Flûte, New York City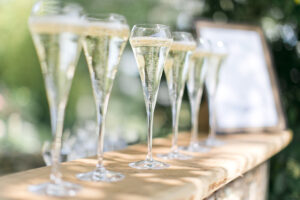 Located  just a few hundred feet away from the world famous and iconic Times Square lights, Flûte offers its value luxury patrons not only the best champagnes but also a unique and distinct atmosphere with a touch of delicacy and simplicity. Live jazz music, happy hour specials (worth making the effort), cozy nooks and elegant décor with hints of the former speakeasy found here, all aimed at providing New York City's visitors a place to relax and taste a wide selection of champagne by the glass. In the event you have overindulged on the libations, you can choose to opt for charcuterie or sushi as a pairing.
Le Bar at the Plaza Athénée, Paris
Sipping champagne outdoors while overlooking a beautiful park, hearing jazz and classical tunes and being aware that you are doing so in Paris is a priceless experience that should not be missed. (Looking for a place to propose?  This would be it.)  Le Bar at the Plaza Athénée is a unique spot due to its fascinating essence and identity that has fostered throughout the years. Many champagne selections are available by the glass, with a strong focus on high quality French champagnes.
New York Bar, Tokyo
This champagne bar is not located in New York; it is actually a New York-themed bar situated on 52nd floor of the Park Hyatt Hotel in Tokyo. Amazing views of the skyline and the overall district of Shinjuku are glaringly visible at this altitude; its rather pricey champagne menu offers the most delicious champagne cocktails with Japanese ingredients such as green tea and other infusions. Live jazz music and a gorgeous scenic view make this bar very unique in its overall identity and service – and you'll recognize the view; this was the bar featured in Lost in Translation.
Foveaux, Sydney
If you plan to come to Australia, do not miss your chance to visit Foveaux in Sydney, a pre-Prohibition themed champagne bar housed in the basement of a former tonic factory. (Irony noted.) The bar consists of an intimate and elegant vibe, loungey seating and a fantastic menu that offers champagne cocktails with mouthwatering ingredients and infusions such as honey and chamomile fizz, honey water, chamomile tea and peychaud bitters.
Share in the comments: what's the best champagne bar you've been to?
Photos courtesy of the venues featured.