Ever gone to a value luxury hotel and had such an amazing night of sleep that you wished you could get one of their cozy, Luxury Hotel Bed for yourself? Imagine enjoying that level of relaxation every single night from the comfort of your own home.
Well, guess what? It turns out that you can do just that. Several top-of-the-line hotel chains have started selling the beds and bedding that they offer in their rooms, including The W, The Westin, Sheraton, Hilton, Marriott, Hyatt, Ritz-Carlton, Four Seasons, and Sofitel. You can buy all of these either from the hotel chain's website or – in the case of the Four Seasons – by talking to a concierge at one of their hotels.
Sounds great, right? Well, don't get too excited just yet. Since luxury hotel beds and luxury hotel bedding is often made exclusively for that chain, you're going to pay a premium for that comfort you crave. How much are we talking about? Read on!
(To make sure we're comparing apples to apples here, all of the prices mentioned below are queen size.)
The W
Right in the middle of the cost spectrum, The W hotel offers its W Bed to customers through its W Shop, and if you are about "W"d out, we completely understand. You can have a plush top set of this comfy sleeper with a low profile box spring for $1,379.
The Westin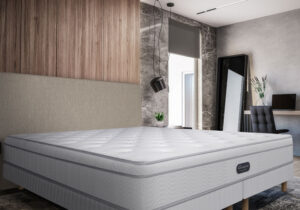 Heavenly Bed. With a name like that, who wouldn't want it? Unfortunately, the 200-count cotton blend bed and bedding set will run you a whopping $3,070 – and that's the lowest thread count available. 600-count sets are as much as $4,070. At that price, it had better be heavenly! To be fair to the Heavenly Bed though, unlike many of the other beds on this list, The Westin only sells it as a bed and bedding set. You're not just getting the mattress and box spring, but pillows, blankets, sheets, and so on.
Sheraton
The Sweet Sleeper Bed by Sheraton can be purchased with or without bedding using an a la carte system on their site. For bed and box spring, you're looking at $1,450, with another $600+ for those who want the bedding, too.  Don't forget throw pillows and all the other accoutrements if you want the full hotel-at-home feel.
Hilton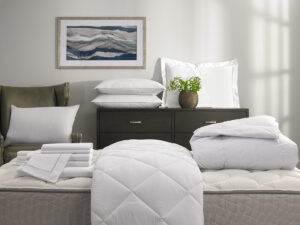 Want even more options? Hilton to Home lets you buy the "Hilton Serenity Bed" mattress and box spring solo ($1,550), a la carte bedding from $65 to $270 each, and a "bed package" that includes all the trimmings for $2,438.  You can even get a Hilton alarm clock, Lavazza coffee and toiletries while you're at it.
Marriott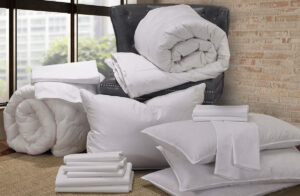 Riding the "options" wave, Marriott sells three different mattress types, a la carte bedding, and four unique packages. The Supreme Foam mattress and box spring costs a cool $1,850, and complete bed and bedding packages sell for as high as $3,732 — the ultra-luxe package reflects the allure of the JW Marriott brand.  Don't miss the lovely bed scarves for the perfect accent.
Sofitel
The SoBed mattress and box spring set comes in regular ($1,375) and featherbed ($1,635), and of course, you can also purchase all the requisite a la carte bedding items or a complete set for $3,190.  The company calls it a "deliciously comfortable sleep" – that certainly sounds good!
Hyatt
Their Grand Bed mattress and box spring can be had for $1,399, and the Grand Bed II (with new material that gives it a softer and more natural feel) is just $50 more. You can also purchase the base for $249 and the frame for $109.
Ritz-Carlton
While the Sleep Experience may sound like a concept album from the 70s, in reality it is the Ritz-Carlton's signature mattress, created by Sealy. One can be yours for $1,599, and a variety of bedding options are available that run from $40 to $395.
Four Seasons
The mystery bed on our list, the Four Seasons does not sell through their website, which means that pricing is not available. However, anyone interested in purchasing one can speak to a concierge at one of their hotels, and they will help you to place an order.
As you can see, there are lots of options out there for you to get a value luxury hotel-quality bed and reap the benefits that all that extra comfort will bring – better rest means better health and more energy to tackle the day. The only drawback is a pretty big one, though – many of these beds are rather expensive! In the end, it comes down to one question: how much are you willing to pay for comfort?
All photos courtesy of the brand represented.