Sydney, Australia is one of the world's most iconic capital cities. The Opera House and Bondi Beach are definitely just two of many famous tourist spots you'll want to check out when visiting – as you can imagine, there is plenty of stuff to do in Sydney. However, this beautiful city has more to offer than just the few well-known downtown locations. Take some time — you will fly a long time to get here, right? – to have a wander around and visit these 'offbeat' neighborhoods that a first time visitor might miss.
Darlinghurst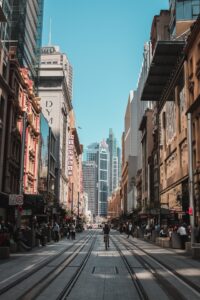 My newest 'hood. I moved to Darlinghurst because it's laid back, easy to get around, has the best gelato spot in the city – Gelato Messina on Victoria Street. If I were to send a friend on a one-day food adventure – I'd say have brunch at Forbes & Burton, lunch at Sushi on Stanley and dinner at Phamish (BYOB). End the night at Darlie Laudromatic, a cute little hipster bar serving up cocktails made with homemade cordial.
You can walk to Darlo from the city. It's only minutes from Kings Cross, a popular area for night clubs and going in Sydney.
Balmain
Balmain is a beautiful 'burb surrounded by water, and is often forgotten even by Sydney locals. Book a spot at Balmain Lawn Bowls on a sunny day with friends and then wander up the street for a few drinks at the London Hotel. An awesome, not-so-secret treat is the amazing macaroons from Adriano Zumbo Patisserie. Worth the price, Zumbo creates macaroons in a variety of flavours including classics like chocolate and pistachio, but then also the more unique options such as fish and chips and burnt toast.
Take the ferry to Balmain, it's a fun way to travel from the city and depending on your timing, quicker than the bus.
Glebe
When in Glebe, appreciate the small bars such as Sam I Am and The Little Guy. I recommend coming on a weekend and having a crawl along Glebe Point Road. Two of my favourite Sydney Mexican spots can also be found in Glebe: Flying Fajita Sisters and Baja Cantina, which are not far from each other. Tuesday nights are $3 tacos, $3 tequila shots, $5 beers at Flying Fajita Sisters.
You can catch a bus from George Street to Glebe, or take a walk from Central Station.
Sydney is one of the world's largest urban areas, encompassing nearly 600 suburbs between the Pacific Ocean and the various national parks surrounding the city. Wow!
Surry Hills
I'm also quite biased toward Surry Hills because this is the neighborhood I most recently called home, but for good reasons. It's a short walk from the CBD (Central Business District), has some of my favourite cafes and places to eat, along with options to go out. It's known for being a hipster hang-out, but the hipsters and non-hipsters alike will enjoy exploring Surry Hills. Brunch is my favourite meal. Try Robocog, BangBang Café, Single Orgin, or Reuben Hills, all great picks.
You can walk to Surry Hills from the city, catch one of the many buses that will you drop you along Oxford Street or walk from Central Station.
Paddington
Streets of beautiful terrace homes, independent retail shops and local pubs help make up the landscape of Paddington in my mind. Have a stroll and check out the shops, as an alternative to the busy shopping centres. Check out the Paddington (Paddo) Markets on a Saturday for fun shopping and unique souvenirs to take home.
Jump on a bus when traveling to Paddington. There are several stops along Oxford Street, so I recommend starting at the markets and working your way from there.
Bronte
Everyone knows of Bondi Beach, but a first time visitor might not make their way to Bronte, just a bit further south. Start at Bondi and go on the coastal walk that takes you past Bronte. There are lots of sunny or shady spots in the grass and BBQs, so you can enjoy a picnic in the park. My ideal day in Bronte is enjoying fish and chips from Fishy Bite in the park and then hanging out at the beach with friends.
Depending where you're coming from, you can catch a bus right to the beach. Another great option is walking from Bondi Beach along the coastal walk.
Photos Surry Hills and Darlinghurst by author; others courtesy Wikimedia CC.