Today we take our tour of Germany down to the southeastern corner of the European state, to the area called Bavaria, Munich, where I'd like to suggest you spend some time enjoying Munich sightseeing and some classic Bavarian treats.  Many only consider Munich as a Oktoberfest beer-drinking destination, but actually for me, I'd never go there during Oktoberfest; too crowded and its easy to loose focus on the city's charms while jostling for that next towering mug of beer.  Instead, go during the quieter times of the year and relax in one of Germany's most liveable cities.
Classic Sightseeing
Munich sightseeing has a wide range of stuff to see: architecture, museums, scenic parks and squares.  I find the city to be a really nice balance between a big urban centre and a small village – as Goldilocks might say, it's not too big or too small, it's just right. Some ideas for you:
Museums:  the BMW Museum (for motor buffs), the Munich Residence Treasury (ooh, jewels), and the Deutches Museum (science, technofunk, interesting stuff here)
Schloss Nymphenburg:  More known for its expansive park than the building itself, this place is gorgeous on a sunny day.
Kaufingerstrasse / Neuhauserstrasse / Hohenzollernstrasse:  Shop until you drop, from markets to tacky souvenir shops (lederhosen, anyone?) to luxury goods.  Yup, they've got 'em.
Food and Drink
Beer and Munich sightseeing go hand in hand, you will be unsurprised to learn.  The beer halls are a great way to enjoy an afternoon, an evening meal, or mingle with tourists locals.  Here are a couple of the more noteworthy ones, though I encourage you to wander down any street or alley and stop in the first pub you find – some of my most memorable Munich experiences were at brew houses that were barely even labelled from the outside.
Hofbräuhaus:  This is the busiest and this is a very well known haunt for Americans.  It isn't as tawdry as one would expert (there are rowdy drunks all across the city), but it is worth going here just to see some of the eye-opening amount of beer consumption going on.  The food is good too; and it isn't just Americans.  When I went here, i spent the entire evening engrossed in conversation with a Swiss couple in town visiting.
Hirschgarten: They say this is Europe's biggest beer garden, and given that you almost need a map to get around the place, I'd have to agree.
Kugleralm:  Just outside the city centre, this is where radler (half beer half lemonade) was born.  If it's a hot and sunny day, this is the place to be so you can enjoy radler in it's birthplace.
A lot of Bavarian food is the food that many think of as 'typical' Germany food – like oversized pretzels and good, heavy comfort food.  I'd really suggest just eating at beer halls for your main meals – so much great food – and then topping it off with lunches in any of Munich's cafes and terraces.
Munich Daytrips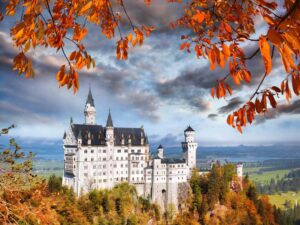 When you've finished your Munich sightseeing list, take a daytrip – they are plenty of options.  A bout of Nuremberg sightseeing is an option, but other top tips:
Schloss Neuschwanstein:  This is by my single most favourite attraction ON THE ENTIRE EUROPEAN CONTINENT.  It's so amazing.  King Ludwig was a little insane, so everything in his fairytale castle is over-the-top, from the interiors to the strategically-placed window views.  You can also hike up around the mountain for even bigger, better vistas.  You haven't been to Bavaria if you haven't been here.  It's easy to get to – just take the train to Fussen and grab the bus which is pretty clearly marked (the one all the tourists are getting on).
Salzburg, Austria: This is only a 90 minute train ride away, but Salzburg is a beautiful mountain town with some stunning architecture surrounded by tree-covered mountains.  It's gorgeous and a nice change of pace if you've been in Germany for several days.
Dachau Former Concentration Camp:  A very sombre experience, but certainly one worth having.  Not sure what else to say….
Andechs Monastery:  Taking the S5 out of town if you're ready for a hike – that's what you'll have to do to make it the final way to Andechs, but it's well worth it for a gorgeous old cloister, great beer, and a beautiful setting.  Definitely worth it for the more adventurous types.
Photo credits: RC Designer, mdid, xiquinho