Today's guest post is by Marina Villatoro, an expert on all things Central America.
Where else in the world can you see an active volcano with a nightly lava show, visit a national park where monkeys and other wildlife creatures welcome you with open arms, and that has over 800 miles of amazing coastline? Costa Rica!
This tiny country, known to have 5% of the world's biodiversity, has so much to offer that you'll be wishing you simply moved here! I did:)
Top Five Must Do's When Visiting Costa Rica
1. Volcano Arenal – Every day and every night this magnificent volcano spews out lava that calmly flows off the side of it. You can safely do the volcano walk to witness these phenomena for yourself. Or, why don't you just hang out in any of the naturally heated hot springs at the base watching it with a cocktail in hand?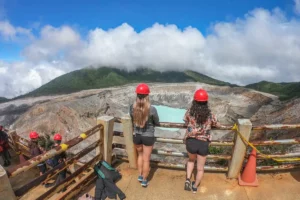 2. Poas Volcano – If you don't have a chance to visit Arenal, no worries. Less than 1 hour from San Jose is another active volcano – Poas Volcano. What's so cool about this place? For starters, you can walk up to the crater and look down on its boiling crater full of sulfur!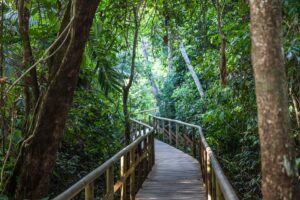 3. Manaul Antonio National Park – The most accessible park in Costa Rica that is so ripe with wildlife, it will be a miracle if you don't have a close encounter with a monkey, sloth, or iguana! Plus, to end your day with a reward, hang out on one of the pristine white sanded beaches inside the park, while monkeys fight with you over your food!
4. The Gold Coast Beaches – Costa Rica, a country that has over 800 miles of coastline. It's hard to go wrong with beach locations. However, on the top of the list are the Gold Coast beaches located in the Guanacaste area: Tamarindo, Playa Grande, Flamingo, Conchal and Ocatol are some of the best choices for fun!
5. Corcovado National Park – This park, located all the way south in Costa Rica in the Osa Peninsula, has been called by National Geographic 'The most biologically diverse place on earth'. There are over 100 mammal species, 700 birds, and practically an infinite number of insects that are being discovered daily living in this gorgeous rainforest.
So come for a week, or a month, or a year. You'll never run out of things to do:)
Marina K. Villatoro has been living in Central America for over 7 years and her site Travel Experta is all about traveling in Central America. Marina loves to help people plan the perfect vacation to this amazing part of the world!