Exploring the Best of the U.S.
Y'all ready for an all-American adventure? From the buzzing streets of New York City to the serene beauty of the Grand Canyon, the United States is a land of endless possibilities.
We're here to give you the lowdown on the top 10 Things to Do in the United States. So, kick back, relax, and let's dive into the heart of this vast and diverse country. From sea to shining sea, it's time to explore the best of the U.S.!
10. Culinary Delights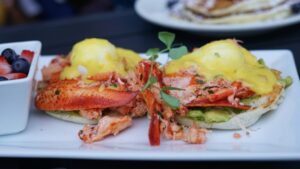 When you're traversing the United States, it's not just the landscapes that'll leave you in awe; it's the food scene, too. Get ready to savor the flavors of the U.S. like never before.
Savor the Flavors of the U.S.
As you hop from state to state, you'll quickly realize that American cuisine is as diverse as its people. From the spicy indulgence of Cajun dishes in Louisiana to the comforting flavors of Southern soul food, the U.S. is a culinary kaleidoscope.
Must-Try Delicacies:
1. New York Pizza: In the heart of the Big Apple, slice into a cheesy, thin-crust masterpiece. Whether you're a fan of classic Margherita or pepperoni, New York-style pizza is an iconic must-try.
2. Southern Barbecue: Head to the South, and you'll find barbecue joints aplenty. Savor slow-cooked, tender meats drenched in smoky, finger-licking sauces. Ribs, pulled pork, or brisket—take your pick.
3. Clam Chowder in Boston: When in Beantown, a steaming bowl of creamy clam chowder is a requisite. Pair it with fresh-baked bread for the quintessential New England experience.
4. Tex-Mex in Texas: Texas serves up a Tex-Mex feast like no other. Think sizzling fajitas, loaded nachos, and hearty chili that'll satisfy your Texan-sized appetite.
5. Chicago Hot Dog: The Windy City takes hot dogs to a whole new level. A poppy seed bun cradles an all-beef frankfurter topped with an array of condiments, including mustard, onions, relish, a pickle spear, tomato slices, and hot peppers.
6. Gumbo in Louisiana: For a taste of Creole and Cajun flavors, gumbo is a flavorful choice. This rich, hearty stew combines an array of ingredients, from seafood to sausage, and an assortment of spices.
7. Apple Pie: You can't leave America without trying a classic apple pie. It's a symbol of American comfort food and the perfect sweet ending to any meal.
8. Philly Cheesesteak: Head to Philadelphia for a cheesesteak sandwich you won't soon forget. Thinly sliced beefsteak, gooey cheese, and your choice of toppings make this a sandwich lover's dream.
9. Pacific Northwest Salmon: The Pacific Northwest is renowned for its fresh and delectable salmon. Whether grilled, smoked, or seared, you'll enjoy some of the best salmon dishes here.
10. Key Lime Pie in Florida: In the Sunshine State, indulge in a slice of Key lime pie. It's a sweet and tangy dessert with a crumbly graham cracker crust and a smooth, zesty filling.
9. Cultural and Historical Exploration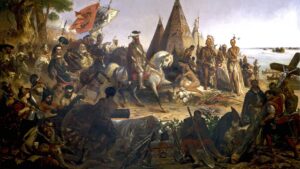 Your journey through the United States wouldn't be complete without delving into the rich tapestry of its cultural and historical heritage. From world-renowned museums to iconic historic landmarks, there's so much to uncover.
Uncover America's Rich Cultural Heritage
1. Smithsonian Museums, Washington, D.C.: Dive into the heart of the nation's capital, where the Smithsonian Museums stand as a testament to American ingenuity and creativity. Explore art, history, science, and culture across various museums, including the National Air and Space Museum, the National Museum of American History, and the National Museum of African American History and Culture.
2. New Orleans Jazz Scene: New Orleans is the birthplace of jazz, and its vibrant music scene is a must-experience. From the lively French Quarter to the iconic Preservation Hall, you'll be tapping your feet to the beat of the Big Easy.
3. Harlem, New York City: Immerse yourself in the heart of African-American culture in Harlem. Stroll along 125th Street, savor soul food, and catch a gospel choir performance at the historic Abyssinian Baptist Church.
4. Taos Pueblo, New Mexico: Step back in time at Taos Pueblo, a UNESCO World Heritage Site and one of the oldest continuously inhabited communities in the U.S. Explore the adobe structures and learn about the Native American culture and traditions.
5. San Francisco's Chinatown: Roam the bustling streets of San Francisco's Chinatown, the oldest and one of the most iconic in North America. Savor authentic Chinese cuisine, visit temples, and soak in the atmosphere.
Historic Landmarks and Museums to Visit
1. The Statue of Liberty, New York City: This symbol of freedom and democracy is a must-visit. Take a ferry to Liberty Island and explore the statue and its pedestal, enjoying panoramic views of the city.
2. Independence National Historical Park, Philadelphia: Walk in the footsteps of the Founding Fathers at Independence Hall and the Liberty Bell Center. Dive into American history and the Declaration of Independence.
3. Gettysburg National Military Park, Pennsylvania: Step onto the hallowed grounds of one of the most significant Civil War battlefields. Explore the visitor center, and the cemetery, and witness the site's historical importance.
4. Alcatraz Island, San Francisco: Visit the infamous former prison and learn about the lives of the inmates who were incarcerated on this rocky island. The Alcatraz tour provides an eerie and fascinating experience.
5. Ellis Island, New York City: Delve into the immigrant experience at Ellis Island, where millions of newcomers were processed on their journey to the U.S. The Ellis Island National Museum of Immigration provides insights into this pivotal moment in American history.
Your cultural and historical exploration of the United States will open doors to a deeper understanding of the nation's past, present, and future. From the buzzing streets of iconic cities to the tranquil landscapes of historic sites, there's an incredible wealth of heritage to uncover.
8. Island Hopping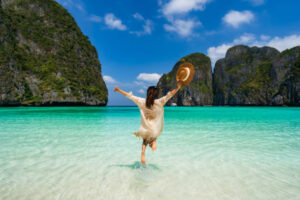 The United States is not just about its mainland. Its beautiful islands offer a slice of paradise waiting to be explored. Let's set sail and discover these island gems.
Discover America's Beautiful Islands
1. Hawaii's Big Island: The Big Island of Hawaii boasts diverse landscapes, from active volcanoes to lush rainforests. Explore Hawaii Volcanoes National Park, go snorkeling in crystal-clear waters, and stargaze atop Mauna Kea.
2. Key West, Florida: At the southernmost tip of the U.S., Key West is a laid-back paradise. Enjoy water sports, visit the home of Ernest Hemingway, and watch the breathtaking sunset at Mallory Square.
3. Martha's Vineyard, Massachusetts: This charming island is known for its picturesque lighthouses, beautiful beaches, and quaint villages. Explore the gingerbread cottages of Oak Bluffs and enjoy the island's serene atmosphere.
4. San Juan Islands, Washington: A ferry ride away from Seattle, the San Juan Islands offer a peaceful escape. Go whale watching, hike in Moran State Park, and visit the historic town of Friday Harbor.
5. Puerto Rico: Although a territory, Puerto Rico offers a vibrant island experience. Explore the historic streets of Old San Juan, relax on the beaches, and venture into El Yunque National Forest.
Must-Visit U.S. Island Destinations
1. The Florida Keys: A chain of coral cays, the Florida Keys are a tropical paradise for water enthusiasts. Snorkel at John Pennekamp Coral Reef State Park, drive the scenic Overseas Highway, and enjoy the quirky ambiance of Key West.
2. Catalina Island, California: Just off the coast of Southern California, Catalina Island is known for its clear waters, outdoor activities, and charming town of Avalon. Explore the island by golf cart and take a dip in the cool Pacific.
3. Nantucket, Massachusetts: Known for its pristine beaches and historical charm, Nantucket is a perfect getaway. Stroll down cobblestone streets, visit the Whaling Museum, and savor fresh seafood.
4. Mackinac Island, Michigan: Experience a step back in time on Mackinac Island, where horse-drawn carriages replace cars. Explore the island's Victorian architecture, bike around its scenic shoreline, and enjoy fudge, a local delicacy.
5. Galveston Island, Texas: This Gulf Coast destination offers sandy beaches, a historic downtown, and family-friendly attractions. Visit the Schlitterbahn Waterpark, take a ferry to watch dolphins, and explore The Strand.
7. City Trips
If you're looking to dive into the vibrant heart of the United States, city trips are the way to go. The U.S. is home to iconic metropolises that promise unforgettable adventures.
Dive into the Heart of U.S. Metropolises
1. New York City, New York: The Big Apple needs no introduction. From Times Square to Central Park, Broadway shows to world-class museums, NYC is a city of endless possibilities.
2. San Francisco, California: This hilly city offers stunning vistas, the iconic Golden Gate Bridge, and a charming waterfront. Explore Fisherman's Wharf, ride the historic cable cars, and visit Alcatraz Island.
3. New Orleans, Louisiana: Known for its lively music scene and vibrant culture, the Crescent City is a must-visit. Stroll along Bourbon Street, indulge in Creole cuisine, and join a Second Line parade.
4. Chicago, Illinois: The Windy City boasts stunning architecture, a thriving arts scene, and a deep-dish pizza that's second to none. Explore Millennium Park, visit the Art Institute, and enjoy a Cubs game.
5. Las Vegas, Nevada: A city that never sleeps, Las Vegas is a playground of lights and entertainment. Try your luck at casinos, catch world-class shows, and explore the unique Strip.
Exploring Iconic American Cities
1. Los Angeles, California: The City of Angels is known for its entertainment industry, beautiful beaches, and iconic landmarks like Hollywood and Venice Beach.
2. Boston, Massachusetts: Rich in history, Boston is home to the Freedom Trail, Fenway Park, and prestigious universities like Harvard and MIT.
3. Washington, D.C.: Explore the nation's capital and visit historic sites like the White House, the Capitol, and the Lincoln Memorial.
4. Seattle, Washington: The Emerald City is known for its stunning natural surroundings, the Space Needle, and a thriving tech scene.
5. Philadelphia, Pennsylvania: The City of Brotherly Love offers historical attractions like Independence Hall, the Liberty Bell, and a thriving food scene with iconic cheesesteaks.
6. Road Trips
The United States is a road-tripper's dream. With miles of open roads, stunning landscapes, and iconic routes, hitting the highway is an adventure in itself.
Hitting the Open Road in the U.S.
1. Route 66: The legendary Route 66 is a symbol of American freedom and exploration. From Chicago to Los Angeles, it offers a nostalgic journey through classic Americana.
2. Pacific Coast Highway, California: Also known as Highway 1, this route takes you along the breathtaking California coastline. Marvel at ocean vistas, visit Big Sur, and enjoy the charm of seaside towns.
3. Blue Ridge Parkway, Virginia and North Carolina: This scenic drive takes you through the Appalachian Highlands. Enjoy spectacular views, hiking trails, and the beauty of the Blue Ridge Mountains.
4. Great River Road, Multiple States: Follow the Mississippi River through ten states on the Great River Road. Discover charming river towns, historical sites, and the culture of the South.
5. The Loneliest Road, Nevada: U.S. Route 50 earned its nickname as "The Loneliest Road" for its remote stretches through Nevada. It's a unique journey through the vast and desolate Great Basin.
Scenic Drives and Routes to Explore
1. Going-to-the-Sun Road, Montana: Located in Glacier National Park, this stunning road offers panoramic views of glacial peaks and pristine lakes.
2. The Florida Keys Scenic Highway: Drive through the turquoise waters of the Florida Keys, hopping from island to island via a series of bridges.
3. The Enchanted Circle, New Mexico: Circle through the beautiful landscapes of Taos, Angel Fire, and Red River, nestled in the Sangre de Cristo Mountains.
4. The North Shore Drive, Minnesota: Enjoy the beauty of Lake Superior's North Shore, known for its dramatic cliffs, waterfalls, and charming harbor towns.
5. The Black Hills, South Dakota: Navigate through the Black Hills and explore Custer State Park, Mount Rushmore, and the unique landscapes of this region.
5. Wineries and Vineyards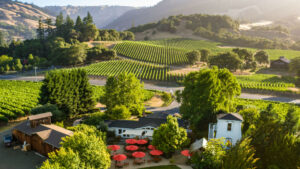 Sip, savor, and indulge in the pleasures of the vine. The United States is home to some of the world's most renowned wineries and vineyards.
Sip and Savor at U.S. Wineries
1. Napa Valley, California: This world-famous wine region is synonymous with quality. Tour the vineyards, savor Cabernet Sauvignon, and enjoy culinary delights at local wineries.
2. Sonoma County, California: Just next door to Napa, Sonoma offers a more laid-back wine-tasting experience. Explore the charming towns and vineyards of this region.
3. Willamette Valley, Oregon: Known for its Pinot Noir, the Willamette Valley offers wine enthusiasts a taste of the Pacific Northwest's best vintages.
4. Finger Lakes, New York: Surrounded by stunning lakes, the Finger Lakes region is famous for its Rieslings. Explore the vineyards and savor these crisp and aromatic wines.
5. Texas Hill Country, Texas: This surprising wine region in Texas Hill Country offers a mix of award-winning wines and charming, rustic wineries.
Top Wine Regions in the United States
1. Walla Walla, Washington: This emerging wine region in Washington State offers excellent red wines and a growing wine scene.
2. Paso Robles, California: Known for its diversity of grape varieties and warm climate, Paso Robles is a wine lover's paradise.
3. Charlottesville, Virginia: Home to Monticello, the historic home of Thomas Jefferson, this area offers a rich history and burgeoning wine culture.
4. Texas High Plains, Texas: This region showcases a range of grape varieties, from Tempranillo to Viognier.
5. Hudson River Region, New York: The Hudson Valley's vineyards are known for their scenic beauty and crisp white wines.
4. Hiking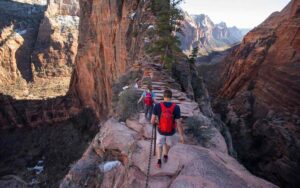 For nature lovers and outdoor enthusiasts, the United States is a haven of hiking opportunities. Lace up your boots, hit the trails, and explore some of the most stunning landscapes in the world.
Hiking Adventures in the U.S.
1. Appalachian Trail: This iconic trail stretches over 2,000 miles from Georgia to Maine. Hike through the lush forests of the eastern U.S., enjoy the challenge of White Mountain peaks, and experience the camaraderie of fellow "thru-hikers."
2. Pacific Crest Trail: On the opposite coast, the Pacific Crest Trail spans 2,650 miles from the U.S.-Mexico border to Canada. Traverse the stunning scenery of California, Oregon, and Washington, including the Sierra Nevada and Cascade mountain ranges.
3. Zion National Park, Utah: The park offers a variety of trails, from the easy Riverside Walk to the challenging Angels Landing. Hike amid towering red rock formations and along the Virgin River.
4. Yosemite National Park, California: Yosemite's beauty is showcased on its numerous hiking trails. Don't miss the iconic Half Dome hike, the Mist Trail to Vernal and Nevada Falls, and the serene Tuolumne Meadows.
5. The Grand Canyon, Arizona: Descending into the Grand Canyon on foot is an unforgettable experience. The Rim-to-Rim hike or the challenging Rim-to-Rim-to-Rim journey takes you deep into the heart of this geological wonder.
Explore U.S. National Parks on Foot
1. Acadia National Park, Maine: Acadia's network of trails offers coastal hikes, mountain vistas, and the opportunity to be among the first in the U.S. to witness the sunrise.
2. Rocky Mountain National Park, Colorado: Discover the alpine wilderness of the Rockies with countless trails that take you to subalpine lakes, glaciers, and stunning viewpoints.
3. Glacier National Park, Montana: Explore pristine wilderness with over 700 miles of hiking trails. Witness glaciers, lakes, and abundant wildlife in this stunning park.
4. Great Smoky Mountains National Park, North Carolina and Tennessee: With over 850 miles of trails, the Smokies provide access to one of the most biodiverse ecosystems in the world.
5. Olympic National Park, Washington: This park offers a diverse range of ecosystems, from rainforests to rugged coastlines. Explore the Hoh Rainforest, trek along the coast, and hike to the summit of Mount Olympus.
3. Cycling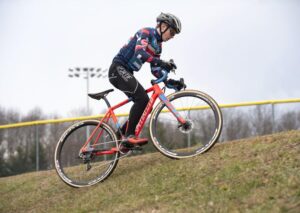 Pedaling through America's picturesque landscapes is an exhilarating way to explore the country. From scenic byways to dedicated bike trails, there's a route for every type of cyclist.
Pedal Through America's Beautiful Landscapes
1. The Great Allegheny Passage and C&O Canal Towpath: This interconnected trail spans over 330 miles from Pittsburgh to Washington, D.C., offering a mix of cityscapes and serene wilderness.
2. Going-to-the-Sun Road, Glacier National Park, Montana: If you're up for a challenge, tackle this famous road that winds through stunning alpine scenery.
3. The Natchez Trace Parkway, Multiple States: This historic route covers 444 miles from Mississippi to Tennessee, showcasing the beauty of the Deep South.
4. The San Juan Islands, Washington: Take a ferry to this island group, then explore the scenic roads on two wheels with stunning coastal views.
5. Cape Cod, Massachusetts: Explore the picturesque coastline, charming towns, and iconic lighthouses on two wheels.
Top Cycling Routes and Trails in the U.S.
1. The Katy Trail, Missouri: This rail-trail stretches for 240 miles, offering a leisurely ride through the heart of Missouri's countryside.
2. The Big Sur Coastline, California: Experience one of the most beautiful coastal drives in the world on a bike. Pedal along Highway 1 for breathtaking vistas.
3. The White Rim Trail, Canyonlands National Park, Utah: For a more challenging off-road adventure, this trail offers jaw-dropping views of canyons and red rock formations.
4. The Black Hills, South Dakota: Explore this scenic region on two wheels, taking in the beauty of Custer State Park, Mount Rushmore, and winding roads through forests.
5. Martha's Vineyard, Massachusetts: Discover this picturesque island at a leisurely pace, cycling along the quiet roads and enjoying coastal views.
2. Indigenous America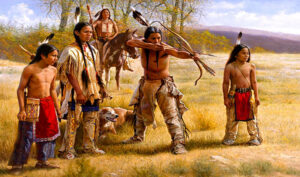 The United States has a rich and diverse tapestry of indigenous cultures that span thousands of years. Embracing Native American culture offers a unique and enlightening experience.
Embracing Native American Culture
1. Attend Powwows: Powwows are vibrant and colorful gatherings where you can witness traditional dances, songs, and crafts. These events are celebrated across the U.S. and are a great way to connect with Native American communities.
2. Visit Cultural Centers: Many Native American tribes have cultural centers or museums where you can learn about their history, art, and traditions. Places like the National Museum of the American Indian in Washington, D.C., or the Heard Museum in Phoenix, Arizona, provide valuable insights.
3. Experience Tribal Cuisine: Try authentic Native American cuisine, such as fry bread, bison, and wild game. Some restaurants on tribal lands serve traditional dishes, offering a taste of indigenous flavors.
4. Participate in Tribal Events: Join in on events and celebrations held by Native American tribes. From traditional storytelling to arts and crafts fairs, these experiences allow you to immerse yourself in the culture.
5. Explore Sacred Sites: Respectfully visit sacred sites, like the Cahokia Mounds in Illinois or Chaco Canyon in New Mexico. These places offer a glimpse into the spiritual and historical significance of Native American heritage.
Experiencing Indigenous Heritage in the U.S.
1. Monument Valley, Arizona and Utah: This iconic landscape is not only a geological wonder but also a place of cultural significance for the Navajo Nation. Take guided tours to explore the area and learn about the Navajo way of life.
2. Acoma Pueblo, New Mexico: Known as "Sky City," Acoma Pueblo is one of the oldest continuously inhabited communities in North America. Visitors can tour the village and experience the unique architecture and traditions.
3. Standing Rock, North Dakota: The site of the historic Standing Rock protests, this area is a symbol of resilience and the fight for indigenous rights. Learn about the culture and issues facing Native American communities today.
4. Cherokee Nation, Oklahoma: Visit the Cherokee Nation to explore museums, cultural attractions, and the heritage of the Cherokee people. Discover their language, art, and history.
5. Hopi Reservation, Arizona: The Hopi Reservation offers a glimpse into the traditional Hopi way of life. Explore ancient pueblos, visit the Hopi Cultural Center, and attend Hopi ceremonies when available.
1. Wildlife
The United States is home to an incredible array of wildlife, from bears to bison, and eagles to alligators. Observing American wildlife in its natural habitat is a thrilling and unforgettable experience.
Encounter U.S. Wildlife in Their Natural Habitat
1. Alaska: The Last Frontier is renowned for its diverse wildlife, including grizzly bears, bald eagles, humpback whales, and sea otters. Take a wildlife cruise or venture into the wilderness for a chance to see these majestic creatures.
2. Yellowstone National Park, Wyoming, Montana, and Idaho: Yellowstone is a wildlife enthusiast's paradise. Witness bison, elk, wolves, and grizzly bears in their natural habitat. The park's unique geothermal features make it a one-of-a-kind destination.
3. Florida Everglades: Explore the swamps and wetlands of the Everglades, where you can spot alligators, manatees, and a variety of bird species.
4. Alligator River National Wildlife Refuge, North Carolina: As the name suggests, this refuge is a prime spot for observing alligators in their natural environment. Birdwatching is also popular in the area.
5. Custer State Park, South Dakota: The park is home to a large bison herd, often seen alongside the park's scenic roads. You may also encounter pronghorns, bighorn sheep, and wild burros.
Where and How to See American Wildlife
1. Katmai National Park, Alaska: Visit the park's Brooks Falls to watch brown bears catch salmon as they swim upstream. Katmai is one of the best places to see these incredible creatures up close.
2. Everglades National Park, Florida: Take an airboat tour or a guided swamp walk to see alligators, crocodiles, and a variety of bird species.
3. San Juan Islands, Washington: Embark on a whale-watching tour to see orcas and other marine life in the pristine waters of the San Juan Islands.
4. Denali National Park, Alaska: This park offers a chance to see grizzly bears, moose, and caribou in the wild. Consider taking a bus tour to explore the park's vast wilderness.
5. Grand Teton National Park, Wyoming: The park is home to diverse wildlife, including bison, elk, and pronghorns. Join a guided safari to increase your chances of wildlife sightings.
Experience the United States through the Eyes of the Locals
Discovering the United States like a local is an unparalleled adventure. Immerse yourself in the daily life, traditions, and hidden gems that often elude the casual tourist.
Living Like a Local: Immersive U.S. Experiences
1. Homestays: Opt for homestay accommodations to live with American families. You'll get insights into local life, cuisine, and culture that are rarely experienced in hotels.
2. Farmers' Markets: Visit local farmers' markets to taste fresh produce, artisanal goods, and engage with community members. It's a wonderful way to connect with locals and support small businesses.
3. Neighborhood Tours: Instead of focusing solely on tourist hotspots, explore neighborhoods. Wander through Brooklyn's Brownstone-lined streets, savor the flavors of New Orleans' French Quarter, or stroll San Francisco's historic Mission District.
4. Attend Local Events: Check out local event listings for festivals, parades, and community gatherings. From Mardi Gras in New Orleans to the Albuquerque International Balloon Fiesta, these events offer an authentic experience.
5. Learn Regional Cuisine: Sign up for cooking classes to master regional dishes. Make your own Tex-Mex in Texas, create Cajun classics in Louisiana, or bake apple pie in Vermont.
Tips for Authentic Things to Do in the United States
1. Strike Up Conversations: Americans are known for their friendliness and willingness to strike up a conversation. Don't be shy; chat with locals to get recommendations, share stories, and learn about the area.
2. Off-Peak Travel: Consider visiting popular destinations during the off-peak season. You'll avoid crowds and experience a more relaxed atmosphere.
3. Support Local Businesses: Dine at locally-owned restaurants, shop in boutiques, and book tours with local guides. Your contributions go directly to the community and support sustainable tourism.
4. Attend Local Performances: Catch a live performance, be it a jazz show in New Orleans, a country music concert in Nashville, or a Broadway play in New York City. These artistic expressions reflect the unique culture of each city.
5. Slow Travel: Opt for a slower pace of travel. Spend more time in one place to gain a deeper understanding of its culture and lifestyle. Renting a vacation home or cabin in a scenic location is a great way to do this.
Conclusion
The United States is a vast and diverse country with a myriad of experiences waiting to be explored. Whether you're passionate about wildlife, culture, history, cuisine, or simply living like a local, the U.S. offers it all.
This land of opportunity is not only about iconic landmarks but also the stories, traditions, and everyday life of its people. So, pack your bags, immerse yourself in the richness of the United States, and make memories that will last a lifetime. Your American adventure is waiting, so start planning your journey today.