One of the last places I stopped in my tour of the Pacific Northwest was Seattle.  I was really looking forward to it as I've heard nothing but good things – great food, friendly people, and lots to see and do.  Happily I can confirm all of that is true, and the weather is not nearly as bad as people say.  (I do live in Scotland, so…).  I stayed at the Fairmont Olympic, a fabulous old-world hotel full of  history and smack in the middle of downtown – the perfect base to explore the sights.  However,  reflecting back, I struggled with how to organise all the Seattle sightseeing tips I've got, so I thought a list of my favourite experiences would do it.
The truth is that there are several "touristy" things in Seattle that I do recommend the first time visitor check out, and there are a few I would avoid at all costs.  So, please don't scan and make a passing judgement based on the headlines (or the pretty pictures) – there's some fine print for us to discuss.  Onwards…
Go up the Space Needle
Ah – the old guard bastion of the Seattle sightseeing scene.  There's a local saying: "You have to go up in the needle at least once" – can't tell you  how many times I've heard it.  But it's true.  Yes, it's cheesy and yes they have one of those terribly tacky giftshops in the lobby.  And just tell them you don't want the photo thing – they'll leave you alone.  But seriously – the view up here is stellar (first photo above) by day and especially by night.  Stating the obvious here, but try to go on a clear day.
An alternative tower view is to head up Smith Tower – it's one of the oldest skyscrapers in Seattle and you'll head to the top in one of those old fashioned lifts that has a butler and all that.  The view is interesting on the way up as you see inside the tower, so it's a bit like eavesdropping in on all the offices.  Definitely a Seattle treat.
Check out the Gum Wall
Ok, so if you're looking for some off-beat Seattle sightseeing, the gum wall is it.  Here's the thing:  it is very gross and everyone wants to see it.  I was feeling a bit off the morning I went, and I nearly regretted my decision to check it out. So, go and see the damn thing and get it over with.  Feel free to report back  here, but I already know the answer. 
(FYI – this is on the alleyway just underneath the entrance to Pike Place Market.  It's so obvious you will miss it!)
Explore Pike Place Market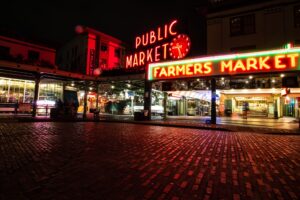 So, yes, again, the Pike Place Market is part of the standard top 10 Seattle sightseeing list, but that's because it's actually a wonderful maze of eccentric shops and restaurants.  I did enjoy the guys who throw the fish doing their spiel for the tourists – particularly when they 'accidentally' threw a fish at a guy who was rudely chatting away on his mobile phone.  Be sure to persevere in the very long queue for the doughnuts (trust me – you'll find them – can't miss em) – absolutely worth it!
Should you find the masses at the market (particularly on weekends) a bit too  much, take a walk along the waterfront. There are lots of piers to be explored, in both directions.  I also loved the Olympic sculpture park – it's small and simple, but a nice place to have a wander around with your cup of takeaway coffee.
See the Seattle Public Library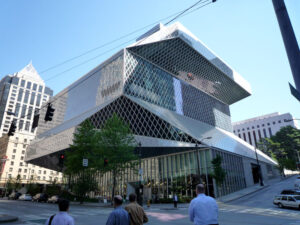 This Seattle sightseeing tip is courtesy of one of our very first readers – and interviewees – Dave from Blogography.  Believe it or not, the Seattle Pubic Library is a hot tourist attraction.  From the architectural tourism perspective, it certainly is unique – it's a big glass diamond-ish thing; the photo above is inside looking up at the roof.  The inner staircase winds down in a spiral, and on the floor are the numbers of the dewey decimal system – so when the librarian tells you where your book is located, it's as easy as looking at your feet to find your way.  Personally, I also enjoyed the relaxed entrepreneurial atmosphere in the building – there are public workstations set up everywhere.
Relax on a Boat Tour
Another great Seattle sightseeing experience is to see the city from one of the many boat tour operators, such as Argosy.   They have a couple of different tours – I highlight recommend that you try to get down to the Ballard locks if you can, which is a fantastic little place to hang you.  You can easily drive there if you don't fancy the boat trip.   The boat tours are somewhat touristy – and calling the tourist photo opportunity at the beginning of the tour a "mandatory security photo" is just plain dishonest.  But despite that, I really enjoyed the time out on the water.  (And in classic Seattle style, it was both gorgeous – see above – and pouring down with rain, all within an hour.)  If you don't like or don't want to be on a boat, go to Alki Beach – same great views but on dry land.
Take a picture from Postcard Park
By the third day of my Seattle trip, I was sick of everyone asking me "Have you been to Kerry Park yet?!"  The reason was that nobody told me that Kerry Park is THE park.  You know – the Seattle sightseeing park where all those picture-postcard-perfection photos come from!  Just look at that shot – isn't it incredible?  Kerry Park = Postcard Park = Fabulous View.  This is in Queen Anne, a district of Seattle known for some fantastic architecture, so once you've checked out the view, go and drive around.
Drink Coffee, Coffee, More Coffee
With all this damn Seattle sightseeing to get through, you're going to need one heck of a caffeine jag.  Thankfully said substance is in superfluous supply here in Seattle.  WARNING: Do not go to Starbucks.  Especially the 'original' one. Absolutely not worth the wait.  So who has the best coffee in Seattle?  My votes to:
Monorail Coffee: A tiny windowfront downtown.  Hands down the best service of any cafe on the entire West Coast.  Excellent, amazing, delicious coffee.  Oh, and they sell homemade cookies too.  What else do you need?
Caffee Fiore:  Wins my top award for latte art (a.k.a. latte porn).  And wow, they pour an excellent cup of coffee.
By the way, you'll notice the hip thing to do is to walk around Seattle with a big mug of something.  You'll feel out of place without it, so expect your caffeine intake to double triple quadruple during your Seattle trip.
Hang out at the Gasworks
I love it when old things get repurposed into something new and useful, so this offbeat Seattle sightseeing fits the bill.  It's the old city gasworks, which sits on Lake Union with fabulous views.  It's been converted into a park/playground, complete with a fantastic colour scheme and picnic areas.  It's completely safe, even for children, and actually might be a fun outing to learn a little bit about how a gas plan works.
Say Hello to the Fremont Troll
Fremont is Seattle's "bohemian district" (i.e. where all the weird people live), so it is no surprise that it is a Seattle sightseeing must.   The unmissable sight is the Fremont Troll, sometimes just called the Troll or the Troll Under the Bridge.  The area was a drug dealer  haven, so they  had this piece commissioned by four local artists.   You can climb around on the troll, although the most interesting thing for me is the car – look closely, as it's a real Volkswagen Beetle, complete with California license plates.  Fremont is a great place for food and drink, as well, so if you can spare the time, be sure to explore this area.
Wander The Underground
Seattle might be a 'young' city but it certainly has an interesting past.  One of the classic Seattle sightseeing tours, the Underground Tour, explores this heritage.  The tours, which leave from Pioneer Square, take you down into a few of the open tunnels available to the public.  You see, all of Seattle sits on a series of tunnels; the city was a massive mudpit and sliding down into the lake, so much so that drastic measures were required.  The only way was up, apparently, and the scraps of the past are now buried under pavement.  As most locals will be quick to point out, there isn't much to see down here, so a good tour means a good guide.  But I think it's pretty interesting, at least to see what exactly is under all those sidewalks.
Once you've finished here in Pioneer Square, don't miss the small waterfall park nearby.  On a sunny day it's a charming place to rest sore feet and refresh.
Fly a Plane at the Museum of Flight
Ok, so I don't mean literally, but at the Museum of Flight you'll get your fill of every airplane fact and tidbit and more. For any of our readers who are aviation junkies, this is a Seattle sightseeing must.  There's one copy of nearly every airplane Boeing built, as well as a Concorde (smaller than you think!), so check it out.
Feed the Seagulls at Ivar's
I'll close with a Seattle sightseeing stop that is, well…unique.  The whole experience really requires the audio as well as the visuals, so I've included a wee video above.  Notice how the young girl is terrified – and rightly so as she was nearly eaten alive just before I started filming, as the seagulls were eating out of her paper bag.  The sign on the right says that feeding is welcome, and the seagulls know it.  This is part hysterical, part gross, and part not-sure-what-to-think.  It's worth nothing that Ivar's  has damn good fish and chips, though, so while you're here, might as well.
Editorial Disclosure: The author was given a media rate at the hotel and provided a free attractions pass, which did not influence the contents  of this article.
Photos by author except Postcard Park (Kerry Park) by papalars, coffee by adacito, airplane by KWDesigns.  Special thanks to my fabulous Twitter pals Valentina, Ryan, Mary Jo, Dave, and Pam for all their Seattle sightseeing advice.