Over a recent weekend, I found myself in the small town (village?) of Ojai, located just 90 minutes north of Los Angeles. You'll pass it along the Pacific Coast Highway, though it's a few miles inland tucked away behind a mountain pass. It's hard to believe all the cool stuff I packed into a single weekend, but here's my recommendations for the best things to do in Ojai, California.
Wine Tasting

Not many have noticed, but slowly this area is making a name for itself as a popular wine region, and thus a wine tasting is certainly one of the popular things to do.  In Ojai itself there are two tasting rooms where you can sample a tipple or two; there's the Ojai Vineyard, which you'll find just off of the main street in a converted firehouse.  The tasting room is very cosy and for only $15 you can do a full tasting and keep the class, which is Riedel, one of the best brands in the business.
The other tasting room in downtown Ojai is Casa Barranca, which is the only certified organic winery in the Santa Barbara area.  Their tasting room is like a chic bar, found just under the arches of the main part of Ojai.
Orange Tasting
I never would have thought one of the things to do in Ojai would be orange tasting, but I'm here to report that it is awesome! Similar to wine tasting, the friendly staff at Friends Ranch – a family owned citrus grower – will take you around the orchard to talk and taste you through a handful of the hundreds of varieties of citrus grown in the area. I had no clue about the thousands of types of oranges (and mandarins and tangerines, etc) grown.  It's also great to taste the fruit fresh off the tree.  Visit their website to find out tour times and be sure to make an appointment.
Ojai means "Valley of the Moon" in the tongue of the native population, the Chumash Indians.
Hiking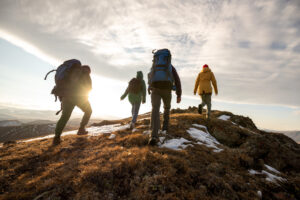 This area is a series of mountains, valleys and plateaus of varying heights, and if the temperatures haven't crept up too high, one of the really enjoyable things to do in Ojai is to go for a hike.  There are some spectacular vistas to be had, and there are plenty of hikes of varying skill.  Some suggestions:
Shelf Road and Gridley Springs:  These trails start just on the edge of downtown Ojai (you can walk there), and head up to skirt the mountains alongside the edge of Ojai.  Apart from the initial climb, this is a medium level climb, and top notch views.
Route 33 Trail:  A trail runs alongside Route 33, which runs from Ojai all the way past Lake Casitas to Ventura.  The trail is perfect for biking, or horseriding, but you could also walk as well.
Rose Valley Falls: Inside the Los Padres National Forest, these falls are an easy walk but the view is quite lovely.  You'll get to see the very high falls from afar, but when you arrive at the base you can't see the top.  What you do see is the downward stream of falls that is softened by clumps of moss along the way, so it tiers down almost like one of those cheesy wedding cakes.
Punchbowl: another popular spot up in the hills above Ojai; in summer locals like to take a dip in the local "punchbowl" pools – nothing wrong with that!
Foodie Alert
If I've managed to convince you this far to head for Ojai, come hungry – this town has got some great food, and one of the things to do in Ojai after a nice wine tasting (or orange tasting) is head out for a nice meal.  Some recommendations:
Azu:  Billed as a "tapas and Mediterranean" restaurant, we sampled a bit of everything from the Azu menu, from their signature cocktails to the delicious entrees and their famous homemade gelato.  Perhaps their tagline should be "everything we make is amazing," because that would also be true.  Must go.
The Ranch House: You come here for amazing brunch and ambience – the Ranch House is set practically in a forest, with tiered gardens and herbs and flowers everywhere. Friendly staff, and a killer menu. Did I mention the brunch?
Suzanne's: Some swear by Suzanne's good, old fashioned and Italian-inspired cooking.  I was just swearing because it was closed while we were here.  But try it out, I've not heard a single complaint.
Caffeine fiends, fear not – you can get your coffee fix (with a scone or snack too) at Ojai Coffee Roasting company, right in downtown Ojai. And if you're looking for the offbeat foodie beat? Go Olive Oil tasting.
Ride the Rails
As many of you know, I'm a railways buff, and I've talked about the world's famous trains before – but this "famous" is a bit different.  In Fillmore, a town just a half hour drive from Ojai, you'll find a 30 mile set of tracks owned and operated by a private railway company that works with Hollywood.  They're behind nearly all of the famous train-related scenes in any Hollywood produced movies.  What's really nice is that when the trains are not in use, visitors get to ride them!
The company has a number of different themed nights, ranging from "margarita madness" (the train goes slow, so you don't need to worry about spilling) to murder mystery nights. Be sure to check their website to see what's on during your trip, and grab a ticket.
The Iguanas
If you're looking for a place to rest your weary feet after a day of wines, oranges, and hikes, you want to spend the night with the Iguanas: the Blue Iguana and the Emerald Iguana.  This pair of family-owned sister hotels are popular with visitors because of the spacious and well-appointed rooms and relaxing locations.  The Blue is just a mile outside of town, and has plenty of space for dogs and children to roam free – many rooms have their own small terrace.  The Emerald is in downtown Ojai, several blocks behind the main street on a dead end road, and very peaceful – rooms are separated by trees and shrubbery, so it feels like you're on some rural retreat.
During 2011, to celebrate the release of the film Water For Elephants, the Iguana Inns is hosting a special package which includes a two nights' stay, welcome wine, and murder mystery train tickets.  You can stay at either property, and get a great experience for a great deal!