Spring Travel in Canada: 8 of the Best Places to Visit
Springtime in the Great White North – a season of transformation and renewal. As the frigid winter loosens its grip, Canada awakens in a burst of color and life. The landscape once blanketed in snow, transforms into a vivid canvas, beckoning travelers to explore its stunning destinations.
In this guide, we'll take you on a journey through eight of the best places to visit in Canada during spring. From the lush gardens of Victoria to the majestic Canadian Rockies, these destinations offer a symphony of natural beauty and vibrant activities.
So, let's pack our bags, don our light jackets, and embrace the wonders of spring in Canada! It's time to discover the top spots to visit in this enchanting season.
8. Prince Edward Island – Anne's Island in Spring Splendor
Now, let's journey eastward to Prince Edward Island, often lovingly referred to as "Anne's Island." In the spring, this picturesque destination transforms into a realm of enchantment.
Imagine wandering through the landscapes that inspired the beloved tales of Anne of Green Gables. In spring, Prince Edward Island is a symphony of colors, from the blooming cherry blossoms to the vibrant tulip gardens. The island bursts into life, offering travelers a unique opportunity to embrace nature's wonders.
One of the highlights is a visit to Green Gables Heritage Place, the real-life setting that inspired Lucy Maud Montgomery's classic novels. Stroll through the Lovers' Lane, take in the beauty of the Haunted Woods, and wander in the footsteps of Anne herself. The sense of nostalgia and the vibrancy of spring make this experience truly magical.
Whether you're an Anne enthusiast or simply a lover of scenic beauty, Prince Edward Island in spring promises an unforgettable journey. It's a place where stories come to life amidst the splendor of the season. Don't forget to try the island's culinary delights, especially the fresh seafood.
So, as spring casts its spell on Anne's Island, be prepared to immerse yourself in a world of springtime magic and wonder. This is one of Canada's best-kept secrets for a spring escape that's nothing short of splendid.
As we continue our journey to explore the enchanting springtime destinations in Canada, our next stop is the historic and charming Quebec City.
7. Quebec City – Charming Springtime in Old Quebec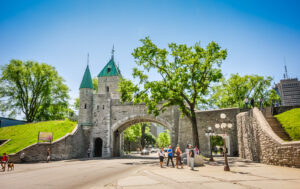 Quebec City in spring is like stepping into a storybook. The Old Quebec district, a UNESCO World Heritage site, comes to life with vibrant colors and a palpable sense of history. Cobblestone streets, centuries-old architecture, and the mighty St. Lawrence River provide a picturesque backdrop for your adventures.
One of the must-visit spots is the iconic Château Frontenac, which looks even more majestic under the spring sun. Stroll along the city walls and immerse yourself in the city's historic charm. Don't forget to visit Montmorency Falls, which is even more impressive in the spring thaw.
6. Spring Festivals – Canada's Vibrant Celebrations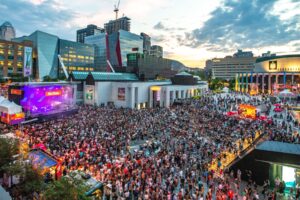 Canada truly comes alive in the spring, and one of the best ways to experience this is by diving into the country's lively spring festivals and cultural events. From coast to coast, you'll find a wide array of celebrations, each offering a unique experience.
In Ottawa, the Canadian Tulip Festival is a dazzling display of colorful blooms that signify the arrival of spring. The Calgary Stampede in Alberta is a blend of rodeo, music, and entertainment, offering a taste of the Wild West. And in Vancouver, the Cherry Blossom Festival turns the city into a dreamy, pink wonderland.
Spring festivals in Canada are a testament to the country's diverse culture and its love for celebrating the changing seasons. So, whether you're a history buff or a festival enthusiast, spring in Canada has something special in store for you.
As we venture further into our exploration of the most captivating springtime destinations in Canada, our next stop is the breathtaking Canadian Rockies.
5. The Canadian Rockies – Majestic Spring Adventures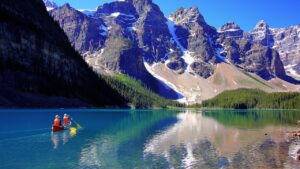 Embracing the Rockies in spring is like stepping into a postcard. From the iconic beauty of Banff National Park to the rugged landscapes of Jasper, this region offers a springtime experience like no other. As the snow begins to melt, it reveals lush meadows, pristine lakes, and the towering peaks of the Rocky Mountains.
Start your journey in Banff, where the town comes alive after the winter slumber. Explore the sparkling waters of Lake Louise and marvel at the azure depths. Hike through wildflower-covered trails in Kootenay National Park, and keep an eye out for elusive wildlife. In Jasper, don't miss a visit to Maligne Canyon, a true marvel of nature.
4. Vancouver Island – A Spring Paradise
Vancouver Island is a springtime paradise, a haven for nature lovers and outdoor enthusiasts. The island's diverse natural beauty and temperate climate make it an ideal destination for those looking to experience the great outdoors in the spring.
Start your adventure in Victoria, the island's charming capital. Visit the famous Butchart Gardens, where an explosion of colorful blooms welcomes spring. Take a walk along the Inner Harbour, where street performers and artists add to the city's vibrant atmosphere.
For those seeking more rugged experiences, head to Tofino on the island's west coast. Here, you can witness the breathtaking beauty of Pacific Rim National Park Reserve. Explore Long Beach and Chesterman Beach, known for their wild, windswept coastline and crashing waves. Spring on Vancouver Island is a time of renewal and natural splendor, and it's waiting for you to explore.
As our journey through the enchanting spring destinations of Canada continues, we're about to step into a world of blooming gardens, lush landscapes, and exquisite wine regions. Our next destinations are the charming Victoria and the bountiful Okanagan Valley.
3. Victoria – The Garden City in Full Bloom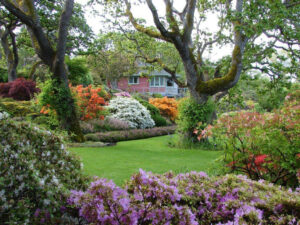 Victoria, often referred to as "The Garden City," truly lives up to its name in spring. This coastal city, located on Vancouver Island, is a floral wonderland during this time of year. As you explore the city, you'll find yourself surrounded by blooming gardens and historic charm.
One of the must-visit places in Victoria is the world-renowned Butchart Gardens. It's a floral masterpiece, with vibrant blooms that paint the landscape in a riot of colors. Stroll through the meticulously landscaped gardens and let the fragrant scents of spring flowers embrace you. Don't forget to visit the enchanting Butterfly Gardens, where you can admire these delicate creatures up close.
In addition to the gardens, you can take a leisurely walk along the Inner Harbour. This bustling area features street performers, local artists, and a lively atmosphere. Stop for a cup of tea at one of the charming tearooms, where you can savor delightful treats while taking in the picturesque harbor views.
2. Okanagan Valley – Wine and Blossoms in Abundance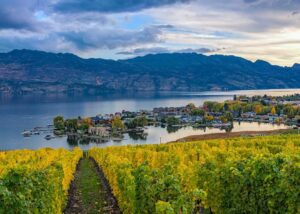 For those seeking a unique springtime experience, the Okanagan Valley is an exceptional choice. Known for its abundance of vineyards and orchards, this region comes to life in spring. The lush landscapes and burgeoning blossoms make it a true oasis for wine lovers and nature enthusiasts.
Okanagan's vineyards awaken with the arrival of spring, preparing for the upcoming wine season. You can embark on a wine-tasting journey and savor some of the finest vintages this region has to offer. Visit wineries like Mission Hill, where you can enjoy wine tastings paired with breathtaking lake views.
The orchards in Okanagan are also a sight to behold in spring. As the fruit trees burst into bloom, the valley transforms into a fragrant paradise. You can explore the countryside, picking fresh fruit and enjoying the stunning scenery. If you're a fan of cherries, apricots, or peaches, you're in for a treat.
Spring in Okanagan Valley is not just about wine and blossoms; it's a celebration of life, flavors, and the beautiful outdoors. Whether you're sipping a glass of wine overlooking the vineyards or strolling through the fragrant orchards, you'll find yourself surrounded by the delights of the season.
As our enchanting journey through Canada's most exquisite spring destinations nears its end, we reach the vibrant coastal city of Vancouver, where coastal beauty beckons and spring festivals come alive.
1. Vancouver – Coastal Beauty Beckons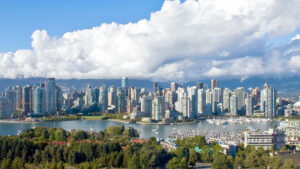 Vancouver, situated on the west coast of Canada, is an urban gem surrounded by natural wonders. Spring here is a time when the city awakens to the charm of its stunning waterfront and a myriad of vibrant spring festivals. From cherry blossoms to outdoor celebrations, Vancouver has it all.
One of the most iconic sights in spring is the city's cherry blossoms. As the season blooms, these delicate pink and white flowers paint the streets, parks, and neighborhoods, creating a magical atmosphere. Take a leisurely stroll around Stanley Park or along the Arbutus Greenway to immerse yourself in this breathtaking spring display.
For those seeking an adrenaline rush, spring is also an ideal time to enjoy outdoor adventures. You can go kayaking in the Burrard Inlet, cycling around the seawall, or simply relax on the city's numerous beaches. And if you're lucky, you might spot some migratory whales passing by the coast.
Vancouver's spring festivals are not to be missed. The city comes alive with events like the Vancouver Cherry Blossom Festival and the Vancouver International Dance Festival. Whether you're a nature enthusiast or a culture aficionado, Vancouver's springtime offerings are bound to delight.
Conclusion
Canada, with its diverse landscapes and cultural riches, offers a multitude of springtime experiences. From the enchanting blooms of Victoria's gardens to the majesty of the Canadian Rockies, this country welcomes travelers with open arms in spring.
FAQs
What do people in Spring in Canada?
In spring, Canadians engage in various activities, such as celebrating the arrival of warm weather, enjoying outdoor festivals, and taking advantage of the blooming nature.
Is spring a good time to visit Canada?
Spring is an excellent time to visit Canada as it offers pleasant weather, blooming landscapes, and fewer crowds compared to the peak summer season.
Where should I go for spring break in Canada?
Popular destinations for spring break in Canada include Victoria, the Canadian Rockies, and the Okanagan Valley, offering a mix of natural beauty and cultural experiences.
Is Spring Break a thing in Canada?
Yes, Spring Break is observed in Canada, typically in March or April. It varies by province, with schools and colleges having a break during this time.
What is the most popular season in Canada?
The most popular season in Canada is summer, known for its warm weather and numerous outdoor activities. However, spring is gaining popularity due to its blooming landscapes and cultural festivals.