The world's most expensive streets report has just been released (a great summary was written by FinFacts Ireland), showing off some of the cities where it is quite easy to empty your wallet while shopping.  Here's a quick wrap up of the top ten places – so get ready to splash out some cash!
New York
It is no surprise that New York tops the list, being home to Sex and the City as well as many of the world's designer shops.  From Madison Avenue's chic charm to smaller outlets in the Lower East side, this bustling island has it all.
My Tip:  Don't miss boutique styles and designer fashion for a bargain at Century 21!  If I only had 24 hours in NYC, this would be at the top of my list, seriously.  If you aren't a shopper, then go for a walk across the Brooklyn bridge while your travel partner loads up the shopping bags.
Hong Kong
I LOVE Hong Kong, a cosmopolitan centre of culture.  I'm not surprised to see it on this list as pretty much everywhere you go, there's shopping.  And when you can pay for purchases often with the same card you use on the subway, you know they mean business.
My Tip:  Temple Street Night Market!  They have everything and if you're good at bargaining, you can even get the good stuff at a great price.  Art, clothing, sunglasses, watches, luggage, souvenirs….they've got it.  Just have a good look at the quality before you buy; some sunglasses I bought are falling apart just months later, whereas the clothes I got are probably better quality that I've found in high street shops.
Paris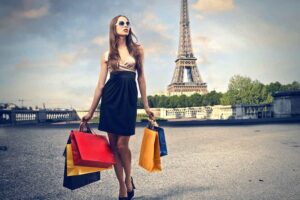 Ah, tres chic Paris!  Even when you're shopping you can admire gorgeous, jaw-dropping architecture such as the balconies pictured above at Galeries Lafayette, so you don't have to tear yourself from all the amazing museums and art galleries.  However, that unique Parisian charms comes at a price, but be guaranteed that you'll become an instant supermodel with any well-appointed purchase.
My Tip: FOOD shopping!  There are tons of places but the epicentre for good Parisian food shops is Fauchon, where you can find the perfect pink souvenir.  Now we all know the reputation French cuisine has, so why not pick up the amazing ingredients and unusual utensils your kitchen needs to make it happen.
Milan
Milan is the fashion capital, though, sister to Paris in terms of chic awareness.  However, I'll go public and say that I didn't love Milan.  It is gorgeous and has some amazing food, but the shopping for me…was lacklustre.  However, I'd be remiss not to include it, especially as one of the top five most expensive shopping streets.
My Tip: Cafe culture.  In Milan it's easy to get a caffeine injection to help boost your shopping speed and manoeuvres.  10 Corso Como is a good spot – its not only a cafe but also an art library and fashion shop.
Tokyo
I think the picture says it all: Tokyo is a force to be reckoned with when it comes to a shopping paradise, but with such a crown comes the immense crowds you'll find all over Tokyo.  The only way to enjoy it though is just to dive in head first and enjoy the ebb and flow.  Now, take a deep breath….
My Tip:  I actually have six of them!  Check out my article on Unearthing Asia about six things to do in Tokyo (which includes a few shopping suggestions).
Readers:  Where's your favourite 'luxury' shopping street and/or its alternative? What's your tip?
Photos by scalleja, Kakashi Sensei, hans_s, tavallai, jonrawlinson