When is the Best Time to Visit Canada?
If you're dreaming of exploring the vast landscapes and diverse cultures of Canada, you're in for a treat. But before you pack your bags and head north, you might be wondering, "When is the best time to visit Canada?" Well, Canada's got something incredible to offer in every season, so let's dive into this great northern adventure.
Enjoy a Holiday with Peace of Mind
Before we jump into the specifics of each season, let's talk about one of Canada's most striking features – its safety. Canada ranks high on the global safety index, making it an ideal destination for a worry-free vacation any time of the year. Whether you're exploring bustling cities or wandering through the wilderness, your peace of mind is a priority.
Canada's Diverse Seasons
Canada isn't just about one season; it's a four-season wonderland. Each season offers a unique experience, and the choice of the best time to visit Canada depends on your preferences and what kind of adventure you're seeking.
Spring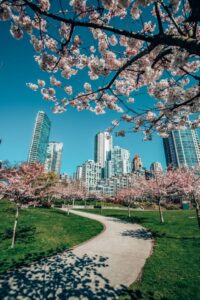 As the cold grasp of winter begins to thaw, Canada awakens in the spring. From March to May, temperatures start to climb, and the landscapes burst into life. It's the best time to visit Canada if you're after tranquility and mild weather.
Mild Temperatures and Blossoming Landscapes
In spring, Canada shakes off its snowy blanket, and the countryside transforms into a tapestry of vibrant colors. Temperatures are pleasant, making it ideal for exploring without breaking a sweat. Imagine strolling through parks adorned with blossoming flowers and trees coming back to life.
Cherry Blossom Season in Vancouver
If you find yourself on the west coast, particularly in Vancouver, you're in for a special treat. Spring ushers in the cherry blossom season, turning the city into a dreamy pink wonderland. It's a sight that will leave you breathless and your camera full of Instagram-worthy shots.
Maple Syrup Festivals in Quebec
Head east to Quebec, and you'll discover another springtime delight – maple syrup festivals. Canadians take their maple syrup seriously, and these festivals are the sweetest way to experience it. From taffy on snow to sugar shack feasts, it's a culinary adventure like no other.
So, whether you're captivated by the blossoms in Vancouver or indulging in maple syrup in Quebec, spring in Canada is a time of renewal and natural beauty. It's the best time to visit Canada if you're seeking a peaceful and picturesque getaway.
Summer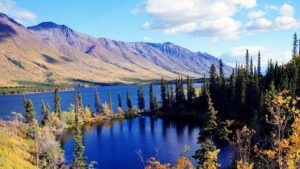 As the warm embrace of summer arrives, Canada puts on a show like no other. From June to August, the country comes alive with outdoor adventures and vibrant celebrations.
Warm Weather and Outdoor Activities
Summer in Canada is synonymous with warm weather and endless outdoor activities. Whether you're hiking in the Rockies, paddling in pristine lakes, or cycling along scenic trails, the options are limitless. The abundance of national parks and natural wonders means there's always something exciting to do.
Canada Day Celebrations
July 1st marks Canada Day, a nationwide celebration that's nothing short of spectacular. Cities from coast to coast burst into life with fireworks, parades, and cultural events. Join the locals in celebrating the nation's birthday and experience the true spirit of Canada.
Whale Watching in British Columbia
For a unique summer adventure, head to British Columbia for some breathtaking whale watching. Witnessing these majestic creatures in their natural habitat is an awe-inspiring experience. The coastline of British Columbia is renowned for its diverse marine life, making it one of the best places in the world for whale watching.
Summer in Canada is a time of warmth, adventure, and celebration. Whether you're a nature enthusiast, a festival-goer, or simply seeking some sunshine, Canada's summer is the best time to visit Canada for you. So, pack your sunscreen and get ready to soak up the Canadian summer vibes.
Fall
As the days grow shorter and the air turns crisp, Canada transforms into a breathtaking canvas of fall colors. From September to November, the country puts on a show like no other.
Spectacular Fall Foliage
One of the undeniable highlights of visiting Canada in the fall is the spectacular foliage. As the leaves change from green to vibrant shades of red, orange, and yellow, the landscape becomes a visual masterpiece. Whether you're hiking through a national park or taking a scenic drive, you'll be immersed in nature's artistry.
Thanksgiving Celebrations
In October, Canadians gather with family and friends to celebrate Thanksgiving. It's a time for gratitude and indulging in delicious feasts featuring roasted turkey, cranberry sauce, and pumpkin pie. If you're lucky enough to be in Canada during this time, you might find yourself invited to a warm and welcoming Canadian Thanksgiving dinner.
The Cabot Trail in Nova Scotia
For an unforgettable fall experience, head to Nova Scotia and embark on the Cabot Trail. This scenic drive takes you through the Cape Breton Highlands, offering panoramic views of the Gulf of St. Lawrence and the Atlantic Ocean. The combination of autumn foliage and coastal beauty is simply mesmerizing.
Fall in Canada is a time of natural beauty, delicious food, and cultural celebrations. Whether you're captivated by the vibrant leaves, eager to share in Thanksgiving traditions, or ready for a scenic road trip, Canada's fall is the best time to visit Canada for you. So, grab your sweater and camera, and get ready for a memorable autumn adventure.
Read – Nova Scotia Sightseeing
Winter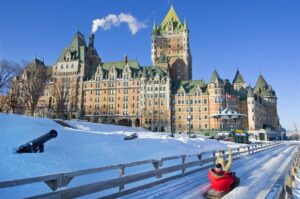 As the temperatures drop and the landscape is blanketed in snow, Canada transforms into a magical winter wonderland. From December to February, the country offers a unique and enchanting experience.
A Winter Wonderland
Canada's winter is a dream come true for snow lovers. Pristine white landscapes, frozen lakes, and snow-covered forests create a serene and picturesque setting. Whether you're skiing down the slopes, taking a sleigh ride, or simply sipping hot cocoa by the fire, you'll be captivated by the beauty of Canadian winter.
Winter Sports and Activities
Canada is a haven for winter sports enthusiasts. From world-class skiing and snowboarding in Whistler to ice skating on the Rideau Canal in Ottawa, there are endless opportunities to embrace the cold. The thrill of these activities combined with the stunning winter scenery makes for an unforgettable experience.
Northern Lights Viewing in Yukon
If you've ever dreamed of witnessing the mesmerizing Northern Lights, Yukon is the place to be. During the winter months, the dark, clear skies provide the perfect canvas for this natural light show. It's a breathtaking spectacle that will leave you in awe.
Winter in Canada is a time of magic, adventure, and cozy moments by the fireplace. Whether you're an adrenaline junkie, a nature lover, or simply seeking the tranquility of a snowy landscape, Canada's winter is the best time to visit Canada. So, bundle up, and get ready to embrace the enchanting chill of a Canadian winter.
Read – Why would anyone go to Canada's Chilly Yukon?
Regions to Visit in Canada
Canada is vast and diverse, offering a multitude of experiences in different regions. Whether you're drawn to the East, Central Canada, or the West, there's something captivating waiting for you.
Eastern Canada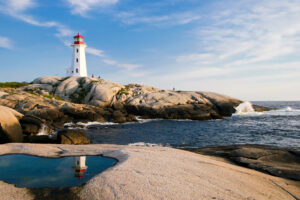 Eastern Canada boasts a rich cultural heritage and stunning natural landscapes. It's a region that offers a taste of history and picturesque beauty.
Explore the Maritimes
The Maritimes, including Nova Scotia, New Brunswick, and Prince Edward Island, are a treasure trove of maritime history and coastal charm. You can explore historic towns, savor delicious seafood, and experience the warm hospitality of the locals. Don't miss the chance to visit Peggy's Cove in Nova Scotia, where a picturesque lighthouse stands against the backdrop of the Atlantic Ocean.
Historical Sites in Quebec City
Quebec City, a UNESCO World Heritage Site, is a must-visit for history enthusiasts. Its cobblestone streets, charming architecture, and centuries-old fortifications transport you back in time. Explore the iconic Château Frontenac, stroll along the Old Town's walls, and immerse yourself in the unique blend of French and Canadian cultures.
Eastern Canada offers a blend of history, culture, and natural beauty that's simply captivating. Whether you're wandering the charming Maritimes or stepping into the pages of history in Quebec City, you'll find Eastern Canada to be a treasure trove of experiences. So, pack your bags and prepare to be enchanted by this corner of the country.
Read – Foodie's Guide to the Best of Quebec
Central Canada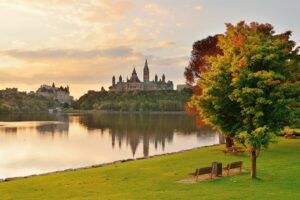 Central Canada is a hub of cultural vibrancy and historical significance. It's a region that seamlessly blends modernity with tradition.
Vibrant Culture in Toronto
Toronto, the largest city in Canada, is a bustling metropolis with a rich cultural scene. From the iconic CN Tower to the diverse neighborhoods, there's always something happening. The city's cultural diversity is reflected in its cuisine, art, and festivals. Don't forget to try a classic peameal bacon sandwich at the St. Lawrence Market—a Toronto must!
Museums and Galleries in Ottawa
Ottawa, the capital of Canada, is a city that proudly showcases its heritage. Explore world-class museums like the National Gallery of Canada, which houses an impressive collection of Canadian art, including works by the Group of Seven. Take a stroll along the Rideau Canal and marvel at the historic architecture, especially Parliament Hill, where the country's political decisions are made.
Central Canada offers a blend of modernity and history that's both dynamic and enlightening. Whether you're immersing yourself in Toronto's cultural tapestry or delving into the nation's past in Ottawa, you'll find Central Canada to be a captivating destination. So, grab your passport and get ready to experience the heart of the nation.
Western Canada
Western Canada is a playground for outdoor enthusiasts and nature lovers. It's a region where the majestic Rocky Mountains meet the serene Pacific coastline.
Rocky Mountain Adventures in Alberta
Alberta is a gem in Western Canada, home to the awe-inspiring Rocky Mountains. Whether you're hiking in Banff or Jasper National Park, the rugged beauty of these mountains will leave you speechless. Don't forget to visit Lake Louise, where the emerald waters are set against a backdrop of snow-capped peaks. It's a sight straight out of a dream.
Pacific Coast Beauty in British Columbia
British Columbia, on the other hand, offers a different kind of magic – the stunning Pacific coastline. Explore the vibrant city of Vancouver, where you can experience the bustling urban life and also be just a stone's throw away from the serene beauty of nature. Take a stroll along Stanley Park's seawall, breathe in the fresh ocean air, and watch the sun dip below the horizon.
Western Canada is a paradise for adventurers, whether you're craving the heights of the Rockies or the tranquility of the Pacific coast. Whether you're exploring the Alberta mountains or basking in the coastal beauty of British Columbia, you'll find Western Canada to be a captivating and invigorating destination. So, lace up your hiking boots or simply your walking shoes and get ready to explore the best that Western Canada has to offer.
Special Events and Festivals
Canada knows how to throw a party, and throughout the year, there are special events and festivals that add a dose of excitement to your trip.
Calgary Stampede in July
If you find yourself in Canada in July, make your way to Calgary, Alberta, for the world-famous Calgary Stampede. This event is a true celebration of Canadian culture, featuring rodeo shows, chuckwagon races, live music, and delicious western cuisine. It's not just a festival; it's an experience you won't forget.
Imagine the thrill of watching cowboys and cowgirls competing in daring rodeo events, the thundering hooves of horses in the chuckwagon races, and the joy of joining in the two-stepping and line dancing. The Calgary Stampede captures the spirit of Canada's Wild West like no other event.
Whether you're a rodeo enthusiast, a music lover, or simply looking to immerse yourself in a fun and lively atmosphere, the Calgary Stampede is the perfect place to experience Canada's time-honored traditions and vibrant culture. So, put on your cowboy boots and get ready for a rip-roaring good time at this iconic Canadian event.
Quebec Winter Carnival in February
Picture this: a winter wonderland filled with ice sculptures, snow slides, and joyful celebrations. That's what you'll find at the Quebec Winter Carnival, held in Quebec City in February. It's one of the world's largest winter festivals, and it's a testament to Canada's love for all things snow and ice.
As you wander through the enchanting snow-covered streets of Quebec City, you'll encounter the iconic Bonhomme Carnaval, the festival's snowman mascot. Join in the festivities, enjoy some maple taffy, and take part in thrilling activities like ice canoe races and night parades. The Quebec Winter Carnival is a whimsical and unforgettable winter experience.
Canada's National Parks Week in May
In May, Canada celebrates its natural treasures during Canada's National Parks Week. It's the perfect time to explore the country's stunning national parks for free. From the rugged beauty of Banff National Park in Alberta to the coastal wonders of Fundy National Park in New Brunswick, there's a park for every nature enthusiast.
Imagine hiking through pristine wilderness, marveling at dramatic waterfalls, and spotting wildlife in their natural habitat. During this week, you can immerse yourself in the breathtaking landscapes that define Canada. It's a chance to connect with nature, breathe in the fresh air, and create memories that will last a lifetime.
These special events and festivals add extra layers of excitement and cultural richness to your Canadian adventure. Whether you're embracing the winter magic at the Quebec Winter Carnival or exploring the natural wonders of Canada's National Parks Week in May, you'll find these events to be a highlight of your visit. So, mark your calendar and get ready to join in the festivities and celebrations of Canada's time
Read – Dream Adventures in Canada
Conclusion: Choosing Your Ideal Time to Visit Canada
Canada, with its diverse seasons and regions, offers something for every traveler. Whether you're captivated by the blossoms of spring, the warmth of summer, the colors of fall, or the enchantment of winter, there's a perfect time for your Canadian adventure.
Now, it's time to answer some common questions about visiting Canada:
FAQ
What is the cheapest time of year to visit Canada?
The shoulder seasons of spring and fall typically offer lower prices on accommodations and attractions, making them budget-friendly times to visit.
What are the hottest months in Canada?
July and August are generally the warmest months in Canada, especially in regions like Ontario and British Columbia.
Which month is the coldest in Canada?
January is usually the coldest month in Canada, with temperatures dropping significantly, especially in the northern regions.
What is the maximum time to visit Canada?
For most tourists, the maximum stay allowed in Canada is up to six months on a visitor visa.
How much is Canada visa fee?
The visa fee for a visitor visa (TRV) to Canada is currently CAD 100 for a single entry and CAD 500 for a multiple-entry visa.
How much does it cost to get a tourist visa for Canada?
The cost of a tourist visa for Canada can vary depending on your nationality and the type of visa you're applying for. It's essential to check the latest fees and requirements on the official website of the Government of Canada.
Armed with this knowledge and the insights into Canada's best times to visit, you can plan your trip with confidence and make the most of your Canadian adventure. So, pack your bags, get your travel documents in order, and get ready to explore the vast and beautiful landscapes of Canada