If you are like me, the holidays are very stressful. Even if you manage to deflect some of the worst parts – family arguments and air travel delays – winter can be hard on the body because of all the comfort foods, a lack of fresh air and movement, and just being really busy this time of year.
I recently had my first acupuncture treatment, specifically a de-stress treatment. (Yes, I got a de-stress treatment before the holidays started. I'm either smart or really in bad shape.) It was a game changer and a real wake up call that we need to take a time out and take care of ourselves when so many things are calling for attention. De-stressing spa treatments are not just a luxury treat – sometimes they are a necessity for sanity and health!
I thought I'd share some of the popular holiday-themed de-stress treatments that readers have shared with me. Get yourself an appointment. You deserve it.
"Snowga"
As you may have heard, snowshoeing is one of my favorite winter activites – so why not combine a bit of calming yoga into the mix! I first heard about this at Lake Chelan (which also has a winter wine and chocolate festival – talk about good people to know), but it's a hot trend happening at many of the popular resort towns. It doesn't surprise me I guess, as I have even done a yoga class myself the day after a rough ski day, so the combination does make sense.
Hot Stone Massage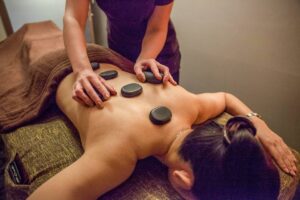 Hot stone is my preferred treatment year-round, but in the winter those hot stones can be oh-so-comforting and really get you warm to the core, like a good cup of hot soup. It's not for everyone, though. What I like to say is if you like taking really, really hot showers, then you'll like hot stone. Otherwise, skip it, because the stones can be quite warm. What I like, though is the smooth edge of the stone, combined with the heat, can really dig down and loosen up even the tightest of muscles.
You'll find hot stone on the menu of most hotels and spas.
Pumpkin-Infused Mud or Clay Mask
Not to justify overdoing it on the pie, but did you know that pumpkin is very high in antioxidants, as well as stuffed with vitamins that are great for your skin? A pumpkin-infused mud or clay mask can draw out toxins that have been building up in your skin, and help replenish tired and dry skin cells. Masks are great for those of you who just aren't in to the spa scene but would like a quick fix; on the other hand, a head-to-toe mud bath is a decadent treat, warmed just to the right temperature. And if you don't like pumpkin, I hear that a chocolate mud bath is also very…healing. 
Walking outdoors in winter – even for just an hour – can have enormous mental and physical impacts, such as stimulating your immune system and fighting off ailments like seasonal affective disorder. And bonus, you burn more calories on winter walks because your body burns more fuel keeping warm. Pass the pie please!
Paraffin Wax Treatment
The idea of a paraffin wax treatment may leave you thinking that you're going to play the starring role as this year's Christmas candle. Not the case – the key here is the word paraffin – this type of wax melts at a much lower temperature, leaving your skin feeling nourished by the warmth and oils infused into wax, no scorching necessary. The treatment is just for your hands and feet, and once the wax has hardened, it peels off easily, leaving soft and refreshed extremities, ready for their next outdoor winter battle!
Peppermint Oil Infusion
Peppermint-flavored treatments pop up a lot during the holidays, for obvious reasons. (Candy cane, anyone?) But peppermint oil is actually a fantastic treatment for a variety of ailments – everything from upset stomachs to headaches. And it is said to reduce cold systems and relieve tension in strained muscles. Look past glossy packages that have "cutesy" treatment names and see if you really are getting a massage or other treatment with pure peppermint oil, which applied to the skin is not only refreshing, but also a quality healing treatment. The only downside is you end up smelling like candy the rest of the day.
Acupuncture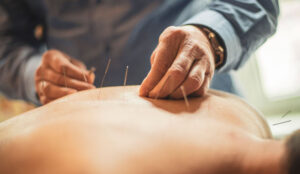 We end with my de-stress treatment that started it all: acupuncture. While I admittedly was a bit uncertain of this treatment, just one session and I am a true believer. And the second I posted about it on Facebook, I had tons of friends who commented on the various ailments and problems that acupuncture solved for them. Strange? Maybe. But you don't know if you don't try. And if you really can't stand the needle thing, there's always acupressure – the same concept but with just pressure applied to your body, no needles.
Research the options in your area and get yourself in for a session ASAP. You can thank me later. To your health…
Photo Credits: YogaSeedPDX, borediq (Flickr CC), Arkansas Shutterbug (Flickr CC), meddygarnet (Flickr CC), Spiders (SXC), Wikimedia Commons