We've talked about vacation ideas such as city sanctuaries and getaway mountain towns, but what if you just want some space to unwind and catch your breath? A country retreat would be perfect.
Country retreats are hard to define as they come in various shapes and sizes, but typically the accommodation is a farm, villa, mansion or more rustic lodging. It is, as the name implies, in the countryside. Think homemade foods, perhaps getting your hands dirty in the kitchen, peaceful walks, lots of outdoor time (or inside by the fire). But just because you're in the wilderness doesn't mean you have to be far from the champagne and hot tub!
Europe is home to some of the best country retreats in the world. I talked with several STE readers about their European countryside excursions, and here's what they reported back.
England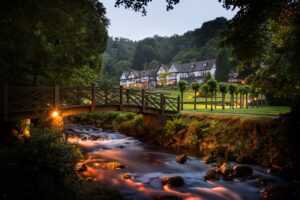 When I lived in Scotland, I always loved heading south to England for weekend camping and countryside trips. While the Scottish Highlands are beautiful, there are more amenities and options for a weekend getaway than up north.  Yorkshire is home to a number of wonderful farms and cottages, some of which include their own health spas and wellness regimes (totally optional, of course).  The Coltsfoot Country Retreat Hotel in Knebworth sits on a pretty piece of land in the Hertfordshire countryside and gets glowing reviews from nearly every guest for its service and amenities, which include a healthy portion of English breakfast!
For something a little closer to London, you could also take a look at the Pennyhill Park Hotel in Bagshot, which has large, comfortable rooms great for relaxing when you're not enjoying their 123 acres of estate or the popular on-site spa treatments.
Germany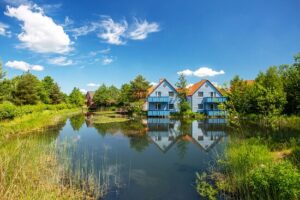 While Germany's cities are world-renowned, there's more to the German countryside than Black Forest cake.  I have had so many wonderful rural experiences here. I love Alpenhof Murnau, southwest of Munich – the 1 hour drive to Fussen, where famed Neuschwanstein Castle is located, is just jaw-dropping gorgeous, and you're not far from Oberammergau and its well-known annual festival either.  East of here is Goldenes Fassin Meissen, which is an 1800s vinter's house still located on a riverside winery – very relaxing.
Heading further west, the Black Forest area I jokingly just mentioned has many health retreats. Höhenhotel Kalikutt in Oppenau is just three stars, but rooms are quite spacious and the spa facilities are five star. Hotel Palmenwald in Freudenstadt is tucked away right in the forest and is so gorgeous it is popular for weddings.
When booking your country retreat, you'll find many terms that can be confusing but are interchangeable. Examples are "self catering" (meaning you have a kitchen and will cook for yourself), "half board" (means breakfast and dinner are included, not lunch), and "full board" (all meals included).
Spain
Spain is known for its amazing coastlines, world-class cities, and the world's top gastronomy.  But there's a lot of countryside to be explored as well – come hungry.  Like the Hacienda Zorita Wine Hotel & Spa which is in Salmanca – it's an oasis of food and wine in the middle of nowhere, but conveniently located next to a high speed rail-line stop to Madrid.  A beautiful thing.
If you're in  Barcelona, book a few extra days in Sant Pere de Ribes at the stunning Hotel Masia Sumidors, hidden in a pine forest that is surrounded by vineyards.  Or keep heading east towards the French border, where you'll find some lovely towns in Costa Brava, such as the charming town of Cadaqués.
For something a big different, how about the Monastery De Rueda in Sastago – definitely a memorable place to stay, and no, it is no longer an active monastery.
One last suggestion is heading to the southwest – but skip the busy, tired coastal towns and head for Ronda, just north of Malaga, where you'll find the Hotel Molino del Puente waiting with open arms.  The hotel is a former olive and flour mill and a peaceful place, with just 10 guest rooms.
France
Probably the best country on our list, there are some utterly fabulous, affordable, luxurious country hotels in France.  And I've always maintained that I like France's smaller cities and towns more than Paris, and you're all but guaranteed to be inspired by rural French cuisine, culture, and endless views.  Normandy has some lovely old world country hotels, such as Manoir du Quesnay, which is just a 15-minute drive to the beach.  Château d'Isenbourg, in Rufflach near the German border, is surrounded by vineyards and is a short drive from a massive national park.
The popular retreat option in France is a gîte.  These are usually old worker cottages that are part of a larger estate, so you'll have plenty of freedom and yet the owners will be nearby to help out if needed (or drop off supplies, like fresh bread and chilled champagne).  Gîte can range from very basic to very extravagant, so prices vary quite a bit as well — be sure to check reviews in detail before booking.  To be really off the grid, try Les Gites Du Cap Corse – which is off the mainland on France's island of Corsica, though the Gites in Angles on the west coast town of Angles gets top recommendation.
The downside of countryside vacations in Europe is the need for a car, which can be daunting for those who don't speak the language, or in the case of England, aren't familiar with the left side of the road. This can also add on to your costs, so be sure to consider how you'll be getting around before you book.
Italy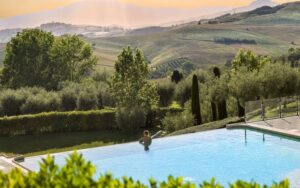 Last, but certainly not least, countryside vacations in Italy have long been popular, way before any of this Tuscan sun business came around.  Italy is blessed with a unique geography that gives you a variety of options for excursions, from the foothills of the mountains in the north, to quiet beaches in the south.  The "agritourismo" is a hot item in Italy, basically a farm stay where travelers learn about gastronomy and in some cases get involved, from making olive oil to cooking dinner.
For the classic, classy Tuscan experience, try the Villa Sant'Uberto in Chianti.  Lots to do at the resort, plus it is a short drive to many of Tuscany's cities and villages.  Casa Portagioia Castiglion Fiorentino is another spot popular with our readers.
It's not all about Tuscany; Umbria has some great country retreats, such as Hotel Parco dei Cavalieri or Valle di Assisi Hotel & Resort, both near Assisi.  I think the region is one of Italy's greenest, and has a very rural, relaxing vibe.
For the ultimate off-the-beaten-path getaway, consider a retreat at Pessighette Dimora di Campagna, on the coast of Italy's island of Sicily.
Have you been on a European country retreat?
Share your experiences in the comments!
Editorial Disclosure: This feature was sponsored by our good friends at Small Luxury Hotels of the World. This was the last of our 3-part series highlighting unique hotels, packages, and value luxury vacation ideas! It's been a lot of fun.