Costa Rica's Coastal Bliss
Costa Rica is a place where the sky kisses the sea, and the waves serenade your soul. If you've been yearning for a beach paradise, you've found it. Let's take you on a journey to explore the enchanting Costa Rica's Beach Paradise, where the sunsets are pure magic, the waters are crystal clear, and adventure is around every corner.
The Allure of  Costa Rica's beaches are more than just picturesque landscapes. They are living postcards, where the vibrant culture, rich biodiversity, and warm-hearted locals create an unforgettable experience. Whether you seek relaxation, water sports, or wildlife encounters, Costa Rica's beaches have it all.
Costa Rica's Beach Paradise
In this comprehensive guide, we'll dive deep into the diverse beaches of Costa Rica, from the rugged Pacific Coast to the laid-back Caribbean shores. We'll help you choose the perfect beach destination, find accommodation that suits your style, and discover thrilling activities. Plus, we'll indulge in the local culture and cuisine, and provide practical tips to make your beach vacation seamless. To top it off, we'll answer your most pressing FAQs and every other detail you need
Costa Rica's Beach Paradise Diversity

Pacific Coast
A Glimpse of the Pacific Shores
Imagine standing on a golden beach, gazing at the vast expanse of the Pacific Ocean. The Pacific Coast of Costa Rica offers this and more. With its rugged coastline, dramatic cliffs, and lush rainforests, it's a paradise for nature enthusiasts.
Beach Towns and Hidden Gems
You can venture into charming beach towns like Jaco, Playa Hermosa, and Quepos. This offers a blend of tranquility and adventure. Zipline through the canopy, go sport fishing or simply relax under the swaying palms.
Surfing Paradise: Costa Rica's Pacific Waves
For the thrill-seekers, Costa Rica's Pacific Coast boasts some of the world's best surf breaks. From beginners to pros, there's a wave for everyone. Catch legendary breaks at Playa Dominical, Santa Teresa, or Witch's Rock.
Wildlife Encounters on the Pacific
Costa Rica's Pacific shores are not just about the ocean. Explore national parks like Manuel Antonio and Corcovado to witness monkeys swinging from trees, sloths lazing in the canopy, and vibrant scarlet macaws soaring above. It's a nature lover's dream come true.
Caribbean Coast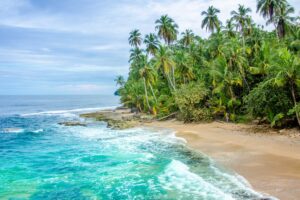 The Enchanting Caribbean Coast
On the other side of Costa Rica lies the Caribbean Coast, a place where time slows down, and reggae rhythms fill the air. Here, you'll find a unique blend of Afro-Caribbean culture, vibrant colors, and a laid-back vibe that's infectious.
Laid-Back Vibes: Beach Towns of the Caribbean
Start your Caribbean adventure in Puerto Viejo, where colorful houses line the streets, and reggae beats are a constant companion. Cahuita and Tortuguero are also gems waiting to be explored.
Snorkeling and Diving Adventures
Dive into the clear Caribbean waters to explore vibrant coral reefs teeming with marine life. Cahuita National Park and Gandoca-Manzanillo Wildlife Refuge offer some of the best snorkeling and diving experiences in the world.
Unique Flavors of Caribbean Cuisine
Your taste buds are in for a treat on the Caribbean Coast. Sample dishes like jerk chicken, rice and beans, and coconut-infused seafood. Savor these flavors at beachfront shacks and local eateries.
Choosing Your Perfect Beach Destination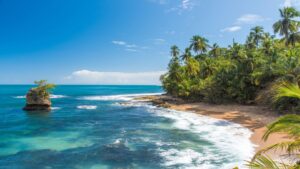 Popular Beaches
Manuel Antonio: Nature Meets the Ocean
Manuel Antonio National Park is where the rainforest kisses the sea. Hike through lush trails and spot capuchin monkeys, sloths, and iguanas. The pristine beaches within the park are perfect for sunbathing and swimming.
Tamarindo: The Surfer's Haven
Tamarindo is a vibrant surf town that never sleeps. Ride the waves by day and dance the night away at beachfront bars. It's a paradise for both surfers and party enthusiasts.
Puerto Viejo: Caribbean Dreaming
Puerto Viejo is where the Caribbean spirit comes alive. Experience the Rasta culture, relax on black sand beaches, and indulge in the bohemian atmosphere. Don't miss the enchanting Jaguar Rescue Center nearby.
Santa Teresa: Bohemian Beach Bliss
Santa Teresa is a haven for free spirits. It's a place where yoga retreats meet world-class waves. Join a beachfront yoga class, watch stunning sunsets, and embrace the pura vida lifestyle.
Accommodation Options
Beachfront Resorts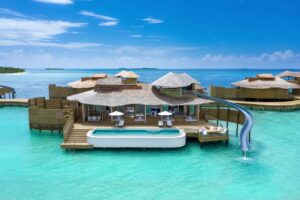 Luxury Getaways by the Sea
Costa Rica's beachfront resorts offer a touch of paradise. Pamper yourself with spa treatments, dine at gourmet restaurants, and wake up to stunning ocean views. Resorts like Four Seasons Costa Rica and Andaz Peninsula Papagayo redefine luxury.
Spa Retreats and All-Inclusive Resorts
Indulge in wellness at spa retreats like Pranamar Villas and Gaia Hotel & Reserve. These all-inclusive resorts offer yoga sessions, detox programs, and holistic therapies for a rejuvenating experience.
Eco-Friendly Beach Resorts
For eco-conscious travelers, Costa Rica has eco-friendly beach resorts like El Mangroove and Lapa Rios. These sustainable havens let you connect with nature while minimizing your carbon footprint.
Cozy Beachside Villas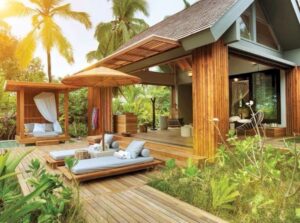 A Home Away from Home
Renting a beachside villa provides privacy and a homey feel. Wake up to the sound of waves, cook your meals in fully equipped kitchens, and unwind on private terraces. Villa Buena Onda and Villa Punto, de Vista are excellent choices.
Secluded Villas with Stunning Views
Imagine staying in a secluded villa with panoramic ocean views. Villas like Villa Mareas and Villa Manzu offer the perfect blend of luxury and solitude, making them ideal for romantic getaways.
Budget-Friendly Options
Traveling on a Budget? No problem. Costa Rica has budget-friendly beachside villas and cabins. Places like La Posada Private Jungle Bungalows and Cabinas Jimenez offer affordable comfort.
Beach Camping
Connecting with Nature: Camping on the Beach
For adventurous souls, beach camping is an option. Wake up to the sound of crashing waves and fall asleep under the starry sky. Some beaches allow camping, but always check regulations.
Essential Tips for Beach Camping
Pack lightweight camping gear, bring insect repellent, and be mindful of tides and wildlife. Leave no trace and respect the environment. Beach camping is an immersive way to experience Costa Rica's beauty.
Top Beach Camping Spots
Some popular beach camping spots include Playa Hermosa, Playa Santa Teresa, and Playa Dominical. These locations offer an authentic and budget-friendly beach experience.
Activities and Adventures
Water Sports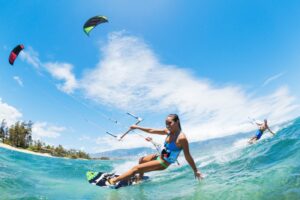 Surfing: Riding the Costa Rican Waves
Costa Rica's waves cater to all levels of surfers. If you're a beginner, take lessons at Tamarindo or Nosara. For advanced surfers, challenge yourself at Pavones, known for one of the world's longest left-breaking waves.
Snorkeling and Scuba Diving: Underwater Marvels
Taking you through the air crystal-clear waters of Cano Island and Cocos Island to witness incredible marine life, including hammerhead sharks, sea turtles, and dolphins. Snorkeling in Manuel Antonio is a more tranquil option.
Kayaking and Paddleboarding: Coastal Exploration
Explore hidden coves, mangrove estuaries, and calm bays by kayaking or paddleboarding. The Marino Ballena National Park is a fantastic spot for these activities.
READ ALSO>>>6 Great De-Stress Winter Spa Treatments and Activities
Wildlife Encounters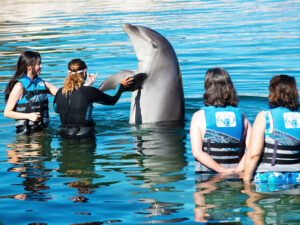 Costa Rica's Rich Biodiversity
Costa Rica boasts 5% of the world's biodiversity, and its beaches are no exception. Keep an eye out for howler monkeys, white-faced capuchins, and colorful toucans.
Turtle Nesting and Hatchling Releases
Witness the magical spectacle of sea turtles nesting and hatchlings making their way to the ocean. Ostional and Tortuguero are renowned turtle nesting sites.
Bird Watching: Avian Paradise
Grab your binoculars and explore the bird-watching paradises of Costa Rica. Monteverde Cloud Forest Reserve and Palo Verde National Park are top spots to observe toucans, quetzals, and more.
Exploring the Rainforest
Hiking and Nature Walks
Costa Rica's beaches are often surrounded by lush rainforests. Embark on nature walks and hikes to discover hidden waterfalls, colorful flora, and unique fauna. Manuel Antonio National Park and Corcovado National Park offer fantastic trails.
Zip Lining: Canopy Adventures
For adrenaline junkies, zip-lining through the rainforest canopy is a must. Glide over treetops, revel in the exhilaration, and soak in breathtaking views. Monteverde and Arenal offer thrilling zip-line experiences.
Horseback Riding: Beach and Jungle Rides
Explore the beaches and jungles of Costa Rica on horseback. It's a serene way to connect with nature. Horseback tours are available in various regions, including Nosara and Tamarindo.
Local Culture and Cuisine
Tasting Costa Rican Flavors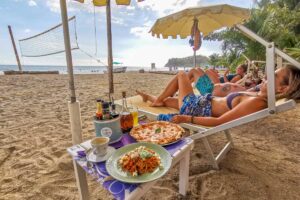 Traditional Dishes and Must-Try Foods
Costa Rican cuisine is a delightful fusion of flavors. Savor gallo pinto (rice and beans), Casado (a typical Costa Rican dish), and ceviche by the sea. Don't forget to try a pipa (coconut water) to keep refreshed.
Beachfront Dining: Sunset Delights
Enjoy dining with a view at beachfront restaurants. As the sun dips below the horizon, relish fresh seafood and tropical cocktails. Restaurant options abound in beach towns like Jaco and Santa Teresa.
Cultural Experiences
Discovering Costa Rican Traditions
Engage in cultural experiences such as pottery workshops, traditional dance lessons, and visits to indigenous communities. Learn about the rich traditions that define Costa Rican culture.
Local Artisan Markets
Support local artisans by shopping at markets. Find handmade crafts, jewelry, and souvenirs to take a piece of Costa Rica's culture back home with you.
Traditional Dance and Music
Don't miss traditional dance performances and live music events. The beats of salsa, merengue, and reggae will have you dancing along with the locals.
Practical Tips for a Beach Vacation in Costa Rica
Planning Your Trip
Best Time to Visit Costa Rica's Beaches
The dry season from December to April is ideal for beach vacations. However, the rainy season has its charms, with lush green landscapes and fewer tourists.
Visa and Entry Requirements
Most visitors don't need a visa to enter Costa Rica but ensure your passport is valid for at least six months. Check entry requirements before your trip.
Health and Safety Tips
Pack insect repellent, sunscreen, and any necessary medications. Costa Rica is generally safe for tourists, but be cautious of petty theft and follow local guidelines.
Getting Around
Transportation Options
Costa Rica offers a variety of transportation options, including buses, shuttles, and domestic flights. Renting a car is also a popular choice for flexibility.
Renting a Car vs. Public Transportation
Renting a car allows you to explore remote areas, but public transportation is more eco-friendly. Choose based on your travel style.
Navigating the Beach Roads
Some beach roads can be challenging to navigate. Drive cautiously, and consider a 4×4 vehicle for off-the-beaten-path destinations.
Packing Essentials
Beach Vacation Packing List
Pack swimwear, light clothing, a reusable water bottle, and eco-friendly toiletries. Don't forget a rain jacket and comfortable walking shoes for hikes.
Eco-Friendly Travel Tips
Respect the environment by reducing plastic use, conserving water, and supporting sustainable tourism practices.
Money Matters: Currency and Budgeting
The currency in Costa Rica is the Costa Rican colón (CRC), but US dollars are widely accepted. Plan your budget carefully to ensure a stress-free trip.
Conclusion
As you tour Costa Rica's beaches, enjoy the pura vida lifestyle. It's not just a saying; it's a way of life. Slow down, savor the moments, and let the beauty of Costa Rica's shores rejuvenate your soul.
Costa Rica's beach paradise awaits your arrival. Whether you seek adventure, relaxation, or a blend of both, you'll find it here. From the Pacific to the Caribbean, this country offers a tapestry of experiences. So, pack your bags and embark on an unforgettable journey. Create memories that will last a lifetime as you explore the diverse and captivating beaches of Costa Rica.
FAQs (Frequently Asked Questions)
Is Costa Rica safe for tourists?
Costa Rica is generally safe for tourists. Exercise common-sense precautions like safeguarding your belongings and staying in well-traveled areas.
What is the best time to visit Costa Rica's beaches?
The dry season from December to April is the best time for beach vacations, but the rainy season has its beauty and fewer crowds.
Do I need to know Spanish to travel to Costa Rica?
While it's helpful to know some Spanish, many Costa Ricans in tourist areas speak English, and you can get by with basic phrases.
Are there any visa requirements for visiting Costa Rica?
Most visitors do not need a visa for short stays, but check entry requirements before your trip.
What are the top water activities to enjoy in Costa Rica?
Costa Rica offers fantastic water activities like surfing, snorkeling, scuba diving, kayaking, and paddleboarding.
How can I book beachfront accommodation in Costa Rica?
You can book beachfront accommodation through various online platforms or work with local travel agencies for personalized recommendations.
Are there any eco-friendly options for travelers in Costa Rica?
Yes, Costa Rica is a leader in eco-tourism. Look for eco-friendly resorts, tour operators, and activities that prioritize sustainability.
What are the must-try dishes in Costa Rican cuisine? Don't miss gallo pinto, casado, ceviche, and tropical fruits like mangoes and papayas.
What should I be aware of when renting a car in Costa Rica?
Consider renting a 4×4 vehicle for rugged roads, and make sure you have comprehensive insurance coverage.
How can I ensure a sustainable and responsible beach vacation in Costa Rica?
Support eco-friendly accommodations, and tour operators, and respect local ecosystems by following Leave No Trace principles.