Understandably, my roundup of the best food in Amsterdam was a huge hit. And I've also covered day trips from Amsterdam. But everyone knows I loved living in Amsterdam, and I keep getting emails asking about the hottest places to grab a drink. Ok, you ask, you get – here are my personal recommendations for the best bars in Amsterdam. There's something for everybody, but I would encourage you if you see a cafe that looks appealing, stop by. That's the best way to find some Dutch serendipity.
Best Place to Sample Dutch Beer: 't Arendsnest
Tucked away just alongside one of the main canals in the Jordaan, the Arendsnest (which means eagle's nest in Dutch – the owner's last name is van Arend) is one of my favourite places to send visitors because it is the only bar I know of in central Amsterdam that serves only Dutch beers – and hundreds of them, on tap.   They support independent breweries in the Netherlands, and the staff are well versed in the art of beer tasting and making recommendations.  You can look at the specials of the day list (the taps change very regularly), or ask the staff for a bierplank – "beer board" – which is a sample of 4 beers, plus a glass of water and a few crackers to cleanse the palette.  One of the best bars in Amsterdam, without question!
Best Gay Cocktail Bar:  Prik
Prik doesn't mean what you think it means. 
  It actually means the foam on your beer – or "head" as we would say in English, but as Amsterdam's pink-est bar you might want to be careful with your vocabulary.  I remember when Prik opened – I lived like a block away – and it's very-gay-but-very-friendly-to-all attitude made it an overnight sensation. It's a small place and has some tasty snacks, various events like movie nights, and is a perennial favourite to hang out with the local crowd while sipping beers and tasty prik-only cocktail combinations.
Best "Only in Amsterdam" Liqueur Bar – Wijnan Fockink
Some of the best bars in Amsterdam are places that nearly defy description – Wijnan Fockink is one of those places.  Hidden in an alley behind the Hotel Kransnapolsky, the Wijnan Fockink (whose phonetic pronunciation is not fit for print) is an experience in itself.  The distillery is from the 1600s, a fact not surprising considering the shelves of liquors are slanted and appear ready to detach themselves from the wall.  Choose your flavour from the extensive bar menu – my fave is taart van m'n tante – and then your sweet and tasty concoction will be poured for you.  But as you'll notice the liquid is so dense, they're able to fill the glass to where if you picked the glass up, you would spill.  Thus you will have to bend over and sip from the glass sitting on the bar.  A classic Amsterdam experience, trust me.  Proost!
Best Belgian Beer Bar in Amsterdam:  Cafe Gollem
Cafe Gollem was one of the first establishments in Amsterdam to start stocking Belgian beers, and today they're so popular they've opened a second venue, but the original in the Jordaan district is my favourite and one of the best bars in Amsterdam to get blown away by a high proof, high alcohol content belgian brew on tap.  Karmeliet is my fave, but check out what is on special or get a recommendation.  The bar is small and a very quirky layout, which adds to the ambiance.  And if you find something  you really like? You can see if they have it available in the beer shop across the street.
Pot smoking isn't as rampant as some tour guides would have you believe. Pot/marijuana is available in establishments called "coffeeshops." If you want coffee, beer, or anything else, go to a cafe. Coffeeshops do not serve booze.
Best "Brown" Cafe in Amsterdam: Het Doktorje  (Cafe de Doktor)
I always knew this place as Het Doktorje ("the little doctor"), but it's technically named Cafe De Doktor (the doctor's cafe).  Hidden away on a lane next to the busy shopping streets, it claims to be Amsterdam's smallest cafe, and it is pretty damn small.  But I do love it – it is one of those 'brown cafe' experiences that you can only get here in the 'dam.  Het doktorje has odd, old fashioned furnishings (like out of a really bad, old soap opera) and inches dust covering the chandeliers, as if they haven't gotten up there to clean since they opened in the 1700s.  I don't mind – it adds to the experience, and don't let that put you off their tasty sausages and cheese available from the bar menu.
Best Bar to People Watch: Cafe Van Daele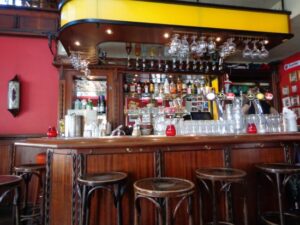 One of the first bars I went to in Amsterdam was the lovely Cafe Van Daele – and since I could almost pop downstairs and visit without getting out of my pajamas, it quickly became my local.  The bar is two floors, and the top floor is perfect for sitting and watching all the tourist stream into the Dam Square or locals hitting the big grocery store across the street.  Plenty of beers on tap as well as good coffees and teas – and lots of yummy food on the menu too.  Rain or shine, this place will not let you down.
Best Beer Selection in Amsterdam: In De Wildeman
In De Wildeman would have to be on any list of the best bars in Amsterdam if for no other reason than the incredible selection of beers.  It's neck-and-neck for my favourite Belgian provider, against Gollem.  I just love coming in here to see what one of the 17 taps is pouring, because there's always something new or interesting (and the names of the beers they serve are always unique….you'll see.)  In De Wildeman has the benefit of also being across the street from a delicious noodle bar (Walk to Wok).  It's about a 10 minute walk from the train station so not a bad place to wait if you're early for a train.
Best Wine and Champagne Bar in Amsterdam: Bubbles and Wines
If you're looking to celebrate with some sparkly, or just want a damn good glass of wine, then the best wine bar in Amsterdam by far is Bubbles and Wines.  It's tucked away on Nes, a quiet street that runs off the Dam Square.  Service here is superb, and what I really like are their flights of wine, arranged by region, taste, or by pairing with foods.  The staff are very knowledgeable and will generally know the perfect bottle for what you're looking for.  They are the only bar in Amsterdam I know of to have a fancy wine serving system, which keeps everything fresh – hence why they have so many wines available by the glass.
Best Amsterdam Bar with a Brewery (and a Windmill): Brouwerij 't Ij
Brouwerij 't Ij is a little bit outside of the centre of Amsterdam so you'll need a bike, but I include it because it's a real local favourite – some of their beers can be found at the other bars mentioned in this article, but it is worth going to their flagship bar because 1) it is a brewery, which has guided tours on the weekends, and 2) it is inside a windmill.  How's that for a classic Dutch experience?
Best Outdoor Bar on a Sunny Day:  't Blauwe Theehuis
If you have a bike and it is a sunny day in Amsterdam (which happens more often than you think), one of the best bars in Amsterdam to enjoy the day is 't Blauwe Theehuis ("the blue tea house"), found inside Vondelpark.  It's sort of tucked away and hidden, but it's a quiet and relaxing place with tons of outdoor seating.  There's no table service, so you'll have to go in and get your bottles of wine and beers, but then you can just sit and relax in the sun in the park.  What's not to like?
Amsterdam has a zillion bars, and I've been to most of them 
  So I've focused on those easiest to find and traveler-friendly – by no means could one article be comprehensive.
What are your favorite bars in Amsterdam?
Photo Credits: Bernt Rostad, amsfrank, zemistor, GazzaGuru, Venue Photo, MuddyRavine, Finnur, Venue Photo, borkur.net, taver