We all know how expensive mansions can be – especially when not just owning the property is enough, but also a salary for the staff to maintain the upkeep. But you don't have to own a mansion to stay in one.  You will find that many luxury mansions can be almost the same cost as a value luxury hotel on a per-night basis but with so many more amenities, features, facilities and a historic "vibe" that a hotel simply cannot match.
Below are some of Sharing Travel Experience's reader favorites, covering mansions with a variety of stories, amenities and unique features.  Consider one of them for your next affordable luxury vacation.
Wentworth Mansion – Charleston, SC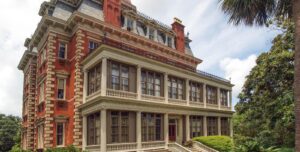 Opulence, fine attention to detail, and luxury are the three main characteristics of the Wentworth Mansion located in Charleston, South Carolina. The entire property represents itself with many unique designs derived from the Gilded Age:  intricate woodwork finishes, stained glass windows and beautiful fireplaces. And of anyplace in the world to stay in a mansion for that full destination experience, for me it would be Charleston.
Mosheim Mansion – Seguin, TX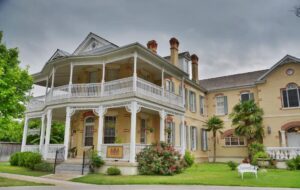 Antiquity, historically rich items, and artifacts are the identifying characteristics of the Mosheim Mansion located in Seguin, Texas. Relax and indulge with the garden views and gentle breeze passing through the palm trees. You'll also have an opportunity to meet and greet the lodging's dogs as well, always popular and available to take you on a walk if you so wish.
Glenmere Mansion – Chester, NY
Upstate New York has always been considered as a place of relaxation and recreation, and Glenmere Mansion offers its visitors precisely these best features. Located in Chester, New York, the property provides a beautiful luxury environment in a destination that is the perfect retreat to get away from it all and just focus on yourself.
Dolce Hayes Mansion – San Jose, CA
Located adjacent to Edenvale Park in San Jose, California, the Dolce Hayes Mansion (no relation to the article author, unfortunately) differentiates itself from the rest due to its expanded golf courses, on-site sports courts, and nearby open access to beaches of Santa Cruz. I do love this area as an alternative to San Francisco, and can't more highly recommend a stay here.
Gatsby Mansion – Victoria, BC
Gatsby Mansion, part of the Belleville Park Resort, has great location in the center of Victoria, Canada and offers you the experience of your own Victorian mansion in the heart of a charming Canadian city. Superb dining facilities, great customer service, and a quiet environment will make you feel like you're in your own home – the one you've been dreaming of, of course.
The first "mansions" were in the Roman Empire, official stopping off points on the Roman roads.
Zephyr Palace Mansion – Jaco, Costa Rica
If you want to enjoy complete relaxation and pampering, you must visit the Zephyr Palace Mansion, located at just 5 miles away from Jaco Beach in Costa Rica (though one look at the pool shown above and you might consider permanent relocation poolside).  This is a fantastic location with tons of gastronomy and shopping in the area, all at a quite reasonable price due to Costa Rica's favorable tourism climate.
Algodon Mansion – Buenos Aires, Argentina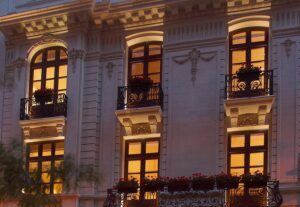 Located in the outskirts of Buenos Aires, Argentina, the Algodon Mansion offers its guests the most comprehensive luxurious environment full of great amenities such as sauna, spa, great location close to the city, exquisite dining and very large rooms. The hotel is one of the city's most desirable neighborhoods, full of local activities – enjoy some Argentinian steak, drink the local wine and tango your life away, because tonight, you are Argentinian.
Banks Mansion – Amsterdam, Netherlands
The Banks Mansion, located in Amsterdam, provides its guests 51 guest rooms, a luxury environment with great European dining selections, bars, sauna and a great in-city location. Despite its centuries-old backdrop, the mansion was designed following a 1920's style and architecture, with comfortable facilities and rooms, amazing canal views and an open lounge that offers unlimited entrees and drinks.   Now that is value luxury.
Savoyai Mansion Hotel – Rackeve, Hungary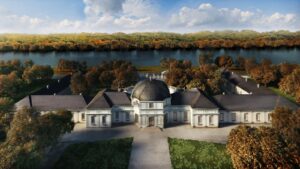 For travelers that enjoy calmness, tranquility, and a fine touch of elegance and luxury, the Savoyai Mansion Hotel located in Rackeve, Hungary defines the key elements of what are essentially the most hospitable mansion hotels in Europe. The town of Rackeve is in central Hungary, with several historic monasteries and churches.  The mansion has picturesque views of the capital city and is a great place to just get away from it all.
Winchester Mansion – Cape Town, South Africa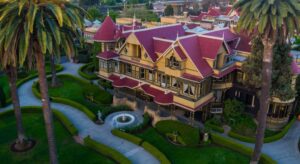 Winchester Mansion is located nearby Clifton Beach in Cape Town, South Africa, offering its guests a luxurious environment full of amazing facilities and recreational activities. Some readers say this mansion has that "je ne sais quoi" that is sometimes hard to find in South Africa.  Rest assured, whether you're enjoying the property or off on one of the many recommended excursions that can be booked via the hotel, you will be having the val lux vacation of a lifetime.
The Chanler at Cliff Walk – Newport, Rhode Island
Situated on a cliff overlooking the Atlantic Ocean and Easton Beach in Newport, Rhode Island, The Chanler at Cliff Walk is a fantastic mansion hotel that offers some of the best facilities of any other mansion hotel in the Northeastern United States. The hotel offers lots to do, such as water sports, fishing, yachting, kayaking and boating. Each of the 20 guest rooms has been designed with a unique and particular architectural design in mind, though as the photo above suggests, the water view rooms are the most sought after.
Mansion at Judge's Hill – Austin, TX
Last but certainly not least, located in Austin, Texas, Mansion at Judge's Hill is a very modern and boutique-ish, yet quite historic mansion hotel.  If you're ready for a break from the city's food cart scene, the on-site restaurant offers a fantastic experience. Guests can take advantage of the nearby sightseeing tours in Austin with the Neill-Cochran Museum, though you might want to just stroll the property grounds – you'll see why it's such a popular wedding spot.
All photos courtesy of the accommodation provider.