Ah, good old Budapest.  Despite the fact that it is a European capital, many travellers skip a tour of Budapest sightseeing on their European travels, and that is a shame.  It's one of the world's "pearl" cities – the Pearl of the Danube, and it's home to some of the weird things to do in Europe.  It actually is two cities in one:  Buda and Pest, each separated by the Danube river.  I thought I'd suggest some of my personal favourites for things to do in Budapest; I spent well over a week there and had lots of time to relax and explore quite a lot of the city, and my experiences were mixed.  Read on…
Absolute Must-See: Statue Park
Statue Park was my favourite thing of all the Budapest sightseeing stops: you have to go!  When communism fell in Hungary, many of the old communist statues were torn down.  Many survived and at some point, they were rounded up for preservation, and many of them have been placed in this park.  It is a fascinating view into the visual imagery that the communist used in their propaganda programmes – all of the classic images are at play, such as the popular working man who seems to have superhero powers supporting the government.  Since I'm not Hungarian, I can't say, but I get the feeling there's some irony to the way this place is laid out.
The park is just on the outskirts of town, and the park has one free shuttle per day to take you there and back.  Otherwise you'll need to rent a car or just get a taxi (expensive).
Absolute Must-Do: Walk Along the River at Night
Oh man.  There are few walks as amazing and breathtaking as the walk along the Pest side of the Danube at night.  The Chain Bridge lit up at night is a real stunner, not to mention Buda hill and all of the reflections down into the Danube.   You can walk quite far, though really just the 5-10 minutes either side of the Chain Bridge offer the best views.  I suggest you have dinner, a glass of wine, a coffee, and then walk off your meal here.  It's the perfect Budapest sightseeing place to go with a romantic someone, or just relax and reflect on your own thoughts.
Buda Hill Sights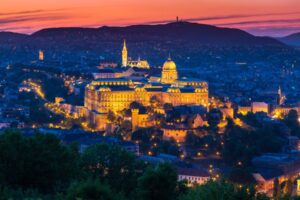 Pest is relatively flat, while Buda is quite the hill and there are a cluster of things to do that are the classic Budapest sightseeing experience.  Top suggestions will be obvious once you arrive into town, but include:
Fisherman's Bastion: amazing views of the city.  You don't need to pay though – there are plenty of spots that aren't on the top staircase but still have the same great view.
Church of Our Lady (Matthias Church):  this gorgeous but somewhat funky church dominates the top of the hill and is a very popular stop.  Worth going inside to check out the multi-coloured architecture.
Exploring the Buda castle labyrinth: as mentioned in our weird Europe review, this is a fun underground detour.
Pest Sights
Pest might be flat, but there is still some great Budapest sightseeing to be done, such as:
The Parliament Building:  this is an iconic building, possibly equal to London's Westminster in terms of noteworthy European parliaments.  Getting the tour inside is a bit difficult to be honest.  It's free (though scams are about, so watch yourself), but you need to get up EARLY in the morning and queue in front of the building.  Tickets for the day are handed out at 8AM.
St. Stephen's Basilica:  A wonderful church, the most ornate in the city.  It is definitely worth paying to head upstairs and explore the top of the basilica, which has some of the best views of inner-Pest.
The Great Synagogue: you don't have to be Jewish to appreciate this, the largest synagogue in Europe.  It doesn't look much like a synagogue, and the guided tour will help you understand the long and winding story this facility has had.  The highlight is the art in the back, but just the glimpse in to the slice of Jewish-Hungarian life here is fascinating.
Recommended Hungarian Food
Let me be frank: Budapest is full of rip-off restaurants and mediocre food.  Yup, you heard me.  But Hungarian food is fantastic, so be sure to try one of these classics on your itinerary and Budapest sightseeing.  And research and get recommendations.  NEVER just stop into a place, especially on the busy tourist strips.  Bleh bleh bleh!
Nancsi Neni:  Budapest's Michelin-starred favourite.  Can't go wrong here.
Grundel: one of those old-school establishments that will never go out of style
Fatal:  Not to be confused with the English word related to death, this restaurant is named "wooden plate" in Hungarian and serves up classic Hungarian dishes.
Gerloczy: go to their website and look at the pictures.  Enough said.
On Having a Bath…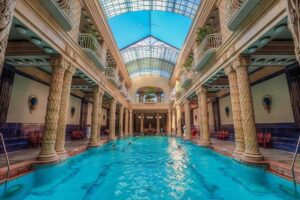 The old Hugarian baths are legendary, but my personal experience was mixed and certainly not the ideal Budapest sightseeing experience.  Most of them don't have any English signs and are not very tourist friendly.  Even the Gellért, which I consider the most tourist-orientated, is a maze.  There's an old soviet system for prices, and the buildings are full of hundreds of confusing rooms and corridors.
Once you manage to find where you're going, you'll probably find the pool you want crowded.
So, my recommendation here is to either a) learn Hungarian, b) go with a Hungarian friend (of the same sex), or c) book a hotel with a pool/spa and just relax there.  Save yourself the hassle.  These are gorgeous buildings, don't get me wrong, but do they need to make it so difficult for foreigners to enjoy them as well?
Recommended Budapest Daytrip: Szentendre
When you've had your fill of Budapest sightseeing, head into the countryside.  An easy train trip (or boat ride, in summer) will take you to the small town of Szentendre, where you can enjoy streets lined with craftshops, art galleries, and artisan food markets. Lots of great cafes to enjoy brunch and a nice coffee.  It's a small town, easily seen in an afternoon, but worth checking out at least to get some distance and reflection on bustling Budapest.
Things NOT to do in Budapest
There were a few places I wouldn't recommend in anyone's Budapest sightseeing list.  I normally have very good experiences when I travel (since I'm well researched), but these stops are the worst for Budapest sightseeing:
Skip the Funicular. It's extraordinarily expensive, and the hill isn't that terribly steep.  Plus its such a short ride there's barely time to take a picture!
Skip the House of Terror:  While this museum has promise (and the building is quite cool), this museum just ends up being weird and kind of creepy.
Skip the Vajdahunyad Vára. This is a castle in the city park behind Heroes' Square.  Skip the castle and explore the market, if one is running.  Otherwise just walk and enjoy the winding paths.
Photos by author except Szentendre (cordyph), Food (wordridden), Baths (public domain)