Macau is an awfully strange place. If you haven't heard of it, it's a very tiny peninsula on the south coast of China. It isn't China – it is a SAR (special administrative region), just like Hong Kong is.  Macau was for a long time a Portuguese territory, and much of this influence remains.  So similar to Hong Kong with it's unique British/Chinese meld, you have the same here in Macau, only Portuguese.  I say it is a must-see daytrip from HK, and if you avoid those tawdry casinos, you will have plenty of time.  The thing is, this is the biggest casino hot spot in the world – money pours through here 24 hours a day.  But I hate casinos. So, here are my top 10 things to do in Macau that aren't casinos [or even related them].
Sao Paulo Cathedral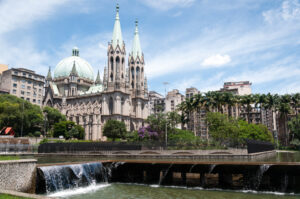 This cathedral is only a façade – the rest has been destroyed – but it certainly is one of the top things to do in Macau – it is the city's iconic symbol.  It is beautiful sight of architecture and the perfect place to sit and enjoy a snack or just soak up in all of the hustle and bustle.  Don't miss it.
Eat an Eggtart
One of the famous things to do in Macau is of course to eat a traditional Portuguese egg tart.  I had plenty, and I'm afraid to report they are not as good as the food in Lisbon, but they are still very yummy.  You can get them hot from vendors all over the city.  They are perfect for on-the-go snacks, so grab a couple to enjoy on the beach or while hiking around the peninsula.
Go Swimming
Believe it or not, once of the favourite local's things to do in Macau is to enjoy a spot of time on the beach – or some swimming.  Hac Sa is the black sand beach pictured above (oh that sand feels so lovely between your toes), and Choec Van is the 'bamboo bay' beach.  On a really hot day, you will enjoy the refreshing waves.
Have a Milk Pudding
Of all the things to do in Macau, this is my favourite of the list.  Leiteria i Son is a milk bar on the Senate Square – it's not exactly like the milk bar in Clockwork Orange, but it is similarly strange.  They staff acts like everyone who arrive know what's going on, but that's certainly not the case 
  You see, you can order the bowls of egg pudding or egg custard, but for each you can get them both warm or cold.  They also have these amazing milkshakes that are served in a metal container – it's just milk and pulpy blended fruit juice, but oh they're so good.
See the A-Ma Temple
Similar to the Sao Paulo cathedral, A-Ma is a well worn tourist item on most things to do in Macau lists you'll find.  But I did enjoy it, more so than many of the cathedrals in Hong Kong, mostly because it's so spacious so you can wonder around to different rooms and terraces.
Take a Picture in Senate Square
We mentioned this yesterday in our roundup of beautiful cobblestone streets, and the square's certainly one of the things to do in Macau.  Just look at those waves in the cobblestones; and the European architecture surrounding it is truly stunning.  There are lots of wee shops and restaurants leading off the streets from here, so just wander and explore.
Walk up to Guia Fortress
Get some perspective and enjoy a fantastic view at the Guia Fortress, probably the highest of things to do in Macau (apart from the cheesy bungy jump that you have a fantastic view of).  They say this was the first lighthouse in China; this was built in the 1600s to ward off attacks from neighbouring China.
Eat some Dried Meat
If those egg tarts aren't your thing, maybe the dried meat will be – it's so popular it's actually one of the things to do in Macau that's hard to avoid.  That's because you'll vendors out in front of their shop encouraging you to try a slice – they literally cut a piece of with a pair of scissors!  Hysterical.  Don't be afraid to ask for a taste – there are lots of choices, and you might be surprised as to what you like or don't like.
Check out the view at Mount Fortress
I choose this photo ironically, as it's a canon aimed at a casino. 
  Be as you can see, if one of the things to do in Macau you're looking for is the view, this is it; nestled right in the midst of the city, the fortress has great views over the architecture (both old and new).
Go Shopping
Last but not least is the shopping, a popular thing to do.  In Macau, you'll find those good luck roosters everywhere, and they're a nice souvenir if you're looking for one.  As for clothing and the like, you might prefer the shopping in Hong Kong more.  Over on Tapia (one of the islands that makes up the peninsula), you can find lots of traditional craft shops.
Photo credits: photography_101, rain rannu, cloodlebing, mr mabu, Adrian F, m roach, photocopy, dawvon, jacomi