Last week, I talked through many of the best places to visit in the Hebrides Islands. Let's now head back to the Scottish mainland to do some exploring on the coast and the hills to the Scottish Highlands. Travel here is long and slow – it's some of the most desolate parts of Great Britain, places where there's only one road in and one road out. It is well worth the effort to get yourself up to this part of the world, as the scenery is enough to make you cry, and the old fashioned Highlands Hospitality is alive and well. So here are some of the best things to do in the Scottish Highlands – travel more!
Visit a Distillery

Whisky has been part of the highland's economic history since the 1400s.  It's "whisky" – without an e – and please don't call it Scotch.  There is no shortage of distilleries in the Highlands, and most offer tours or some sort of visitor centre.  Most of the bigger distilleries are centered around the Speyside area southeast of Inverness, and if you drive through this area you'll even spot signs for the Malt Whisky trail, which will take you through the scenic towns that host these distilleries. One of the best experiences is the Glenfiddich Distillery in Dufftown.  It's free and the tour guides are both friendly and informative.  Glenmorangie, just north of Inverness, is another popular distillery stop.  Be sure to sample a wee dram, but unfortunately for most visitors (Americans and Canadians in partciular), UK excise tax means you can probably get the same whisky cheaper at a specialist store at home.
Explore Scotland's Ghostly Past
The island of Great Britian has be inhabited for centuries, from the Vikings to the Picts to the Druids.  Thus up here where time really hasn't changed a great deal, there are many places where you can get a glimpse back in time, literally and figuratively.  Not to say these are the scariest places on earth, but you'll definitely leave with a chill in your spine.
The Clootie Well:  Pictured above, the Clootie well is an old Celtic tradition of a spiritual place where pilgrims would leave a strip of cloth or rag, a clootie, as a sacrifice to help cleanse.  These places have some very weird atmosphere going on, especially given the amount of clooties – modern pilgrims are leaving behind fabrics that don't biodegrade.  There are many clootie wells, but there's this huge one just outside of Inverness.
Burn O'Vat: A spectacular yet spooky creation of Mother Nature fond near Ballater is the Burn O'Vat.  Like in a Harry Potter novel, you'll need to walk up a stream a few feet and then slip through a crack in the wall to enter a circular gorge, surrounded on all sides by cliffs.  Water leaves by the entrance you came in, and on the other side there's a waterfall pouring in.  It's surreal.
Burial Cairns:  These are ancient tombs or graveyards, actually.  Most have standing stones of some sort and very weird structures – remarkably well preserved – where the dead would have been ceremonially buried.  All of them have strange vibes and weird temperature changes – even on a hot sunny day you'll be all of a sudden freezing.  Clava Cairns near Culloden and Corrimony Cairn near Drumnadrochit are highly recommend.
Glencoe:  In this valley one of the most heinous crimes in this history of the Highlands was committed – the Campbell Clan murdered the house of Macdonald in their sleep, after having been taken in by the clan and given food and dry shelter.  To this day there's something slightly atmospheric about this place.
Take a picture of an Old Packhorse Bridge
Even in the Scottish Highlands, travel can wear on you.  At one point during our trip I said, if I see another beautiful scenic bridge, I'll scream.  Well, despite this, I still found the old packhorse bridges scattered about just wonderful.  The most well preserved and just majestic is this one in Carrbridge.  It would have had wooden sides, but still, it's terribly narrow but a very visual explanation of engineering knowledge at the time.  If there's anything iconic about the highlands, this is it.
See the Steam Train Go Over the Glenfinnan Viaduct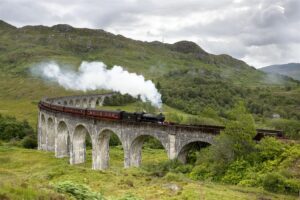 There aren't many railways through the highlands, just a few specific routes that take you to mostly ferry ports.  This rail line is no different, as it takes you to the Mallaig ferry terminal, but there's something special here – it's  home to the Jacobite, one of the world's famous named passenger trains and often voted as the world's best railway trip.  It's so scenic – you have loch and mountains on one side of you the entire trip – but perhaps the best view is from Glenfinnan, watching the steam train go over this beautiful railway viaduct.  We missed it – you have to be there before 11AM – and it is very crowded as unfortunately many of the tour coaches stop here – but instead we got some great views of the train (without the crowds) as it left its home in Fort William for the trip.
Walk the Whaligoe Steps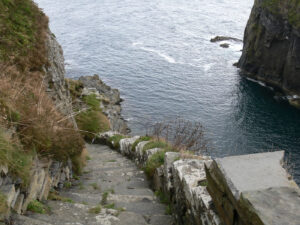 Not known by many people, the Whaligoe Steps are a stone staircase of 365 steps built by fishermen's wives into the rough ocean cliffs, to help them carry the fish from the boats down in the cove up into the village.  There's nothing here not but a few homes, but the view is breathtaking and looking at these steps is certainly a very memorable experience (particularly on the hike back up, for reasons obvious).  There's no signage or markings, making it nigh on impossible to find them, but if  you look here there' some fantastic directions – the turn off signpost really is the phone booth, the only one on this stretch of coastal road.
See/Visit/Stay in a Castle
When you visit the Scottish Highlands, travel around and soon you'll be as sick of castles as you are of bridges!  Similar to the bridges, there are castles in various states of disrepair,so you can have quite a few different experiences, from imagining what the ruins would have looked like restored, to even staying in a castle hotel.  Unfortunately many of the castles that are rebuilt are very modern constructions, built to look old, and mostly by Scottish clans looking to have a moneymaker in the family.  Recommendation for castles that are authentic, beautiful, and must-sees include:
Tulloch Castle:  Near Inverness, this is a castle hotel.  It's on a hill and tucked away behind some trees so it's not breathtaking from the outside, but the staff are a charm, the restaurant is delicious (especially breakfast – wow), and yes, it is haunted.  Go and check it out.
Glamis Castle:  Pictured about and pronounced 'glams', this is probably the prettiest and most livable castle in Scotland.  Guided tours will take you through the very detailed furnishings, including a few ghost stories!
Dunrobin Castle:  While the inside is a bit of a snooze, Dunrobin has a distinctively "Disney" feel to it – and I mean that in a good way, as in it reminds me of the German castle that Disney modeled his recreation after.  It is set on the east coast, with an expansive gardens, and on a sunny day it is a wonderful place to be.
Go for a Walk
You've either been in a coach bus or your car or the train for ages.  But Great Britain is one of the world's best countries for walking, because there are trails everywhere.  Ask your accommodation or visitor centre for some tips, put on some boots, and go walk.  You'll find something special nobody knows about – a nice view, a stream or babbling burn, some weird stones, an old castle.  Enjoy it.  This is what makes the highlands so special.
Look for Nessie the Loch Ness Monster
Loch Ness isn't any more or less spectacular than Scotland's other lochs, but it's the most famous by far and thus very busy with tourists with eyes peeled looking for a sign of Nessie.  Is she in the picture above?  Maybe.  Who knows.  As one of the world's deepest lakes, anything is possible.  Of course visit it to satisfy your curiosity, but I suggest you avoid all of the tourist attractions around here, as I recommend none of them.
Admire a Waterfall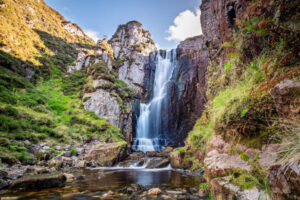 Last but not least, you can't visit the Scottish Highlands without seeing a waterfall or two.  Or a bazillion – similar to Ireland or New Zealand, it seems every time you turn around here in Scotland, behind you there's a waterfall gushing down.  Here's a few of my favoruites:
Foyer Falls:  This wonderful falls pictured above is a relatively easy hike from Foyers, just off of Loch Ness.
Falls of Measach: In Corrieshalloch Gorge near Ullapool are these falls which seem to run down the mountain for a mile.  Not a lot of water, but very beautiful.
Eas a Chual Aluinn:  These are Britain's highest falls, but they're hard to get to – you'll need to drive all the way to Kylesku (a long way in itself), and then take a boat ferry tour to the falls.  Worth it if you can spare the time.
Scottish Highlands Travel Tips
If you do want to plan a Scottish Highlands travel extravaganza, I do have a view pieces of advice for you:
Self-drive really is the best option.  There are tour operators if you don't want to / don't like to drive, but for the most flexibility I strongly recommend self-drive.
Everything takes twice as long as you think.  Roads are winding, and typically the only route you want has to go around a mountain the size of Belgium and  a loch the size of Luxembourg.  I'm exaggeration, but it gets very tiring after away, so be sure to pace yourself.
The weather will keep changing.  It will sometimes suck.  Go and look at a globe – the highlands are VERY FAR NORTH.  It goes without saying, then, that the weather sometimes just isn't good.  Pack the proper clothes (damp-poof, and extra pairs of everything) and you'll be fine.
Plan ahead – especially accommodation.  I don't understand how, because you'll find B&B signs every 5 minutes, even in the most remote regions.  But it's kind of hard to find accommodation in the summer, so I suggest you plan ahead, even if that means you're making bookings just for a few nights ahead.  Otherwise, you might be stuck sleeping in your car!
Have you been to the Scottish Highlands?  What was your favourite experience?