Earlier in the year, we featured our roundup of the perfect day enjoying the best restaurants in Lisbon. Food (and drink) is one of the best things to do Lisbon, without a doubt, but what about all of the other Lisbon sightseeing treats?  Well, they've got them – in droves.  Between the food good, the beautiful urban landscape, and the friendly local hospitality, there's little not to like in Lisbon.
The Riverfront
If you took a double take for a second and thought that photo was of San Francisco, you could be forgiven – the Ponte 25 de Abril (Bridge of the 25th of April) is a sister of the Golden Gate, and arguably just as beautiful, both by day and night.
You'll get plenty of river views while you're in hilly Lisbon, but there are lots of sights on the waterfront to see, clustered around a few different area.  Some of my Lisbon sightseeing personal favourites of things to see:
Praça do Comércio: A lovely plaza with food vendors and alleyways streaming off of it full of souvenir vendors, artists, and other hidden treats.  This place is a must-see on a sunny day.
Torre de Belém:  A tiny but gorgeous tower that sites right on the waterfront.  Definitely a Lisbon icon.
Jeronimos Monastery & Presidential Palace Gardens:  The bright, clean stones, clay roofs, and green shrubs set against the blue river is certainly a sight to see.  Be sure to go into the Monastery then wander around the riverfront in this area.
If you're lucky with the weather, just wander until you find a nice cafe or bench, sit and enjoy.  Really, the backdrop is a sight in itself.
Architecture and Museums
Lisbon sightseeing is nothing without hitting some of the museums, monuments, and architecture sights found throughout the city.  Top stops:
The Ruined Cathedral of Lisbon:  This is such a beautiful and iconic stop, it is our travel desktop wallpaper for June!  A must see, even though it is ruins.
Castelo de São Jorge (St. George's Castle): This is the castle upon the hill.  The whole experience includes walking up the steep hill to here – there are little shops, terraces with views, and restaurants to help you maintain your stamina!
Santa Justa's Elevator:  Ok, so skip taking this and just walk the stairs (pictured above).  But this randomly-placed elevator is certainly a sight to see, so check it out.
The Calouste Gulbenkian Museum: This could also be called "the museum of the man who has more stuff than anybody."  Calouste Gulbenkian was an Armenian who amassed a great deal of wealth and spent much of it gathering an enormous personal art collection.  Thankfully, his dream of putting a collection has come true. Don't miss the gardens, hidden amongst the Rembrandts, Egyptian artefacts, Monets, and Renoirs.
Lisbon Underground.  Yes, similar to Russian or Parisian undergrounds, these metro stops are mini-museums of themselves.  Public transport in Lisbon is good, so you'll probably find yourself on the metro anyhow, so keep your eyes peeled.
Museu Colecção Berardo (Museum of Modern Art of Lisbon): I love modern art, so this was a no brainer for me.  It is packed with fun stuff – never a dull moment.
Jardim Botanico (Botanic Gardens): Rumour has it that several hundred years ago, the King of Portugal wanted a garden with one of every type of plant in the world – sort of a Noah's ark on dry land.  While there isn't one of everything, it does feel that way; what a wonderful place to explore.
Neighbourhood Life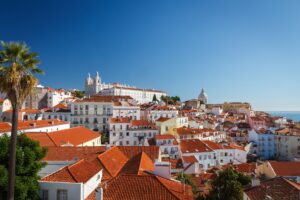 Lisbon is a town of neighbourhoods, and the best Lisbon sightseeing can be had by just wandering around.  I've mentioned a few things here – such as the walk to St George's Castle in Alfama, or walking around the waterfront near Belem.  A couple of other must-see areas include Chiado, which is the shopping district.  The historical streets alternate between fashion and coffee – nothing wrong with that!
Baixa is the downtown area and is a planned layout, very different than rest of the winding areas of the rest of the city. It's still very old – rebuilt in 1755 after a massive earthquake.
Daytrips
While I love Lisbon sightseeing, you still should make time for some daytrips; between cute villages and the plunging Atlantic Coastline, a day out of town can really fresh the mind and body.  My recommendations:
Sintra:  This UNESCO world heritage site is certainly no secret, as it is well on the tourist trail.  But the views from the castle, as well as the elaborate and colourful façade of the castle, make it worth the trip.
Cascais:  this is a peninsula with lots of beaches and a great place to relax.
Estoril:  this is another beach area, known for its Casino, but I love the waterfront dotted with all the umbrellas on the beach.
Photos by FrAntunes,cesarastudillo, shadowgate, FrAntunes