The first trip out of your comfort zone is always memorable. Independent travel (without a tour group or guide) is highly rewarding but can also be very challenging. Dealing with language and culture barriers in an unfamiliar place is intimidating. If you've never been out of the country before, you will probably want to start off by traveling somewhere novice-friendly so as to not become completely overwhelmed. This doesn't mean you are solely limited to Western Europe; fortunately there are some really exciting and different countries with a well-established travel infrastructure. Here are some interesting places to get your feet wet:
Iceland
If you are looking to go somewhere different but not too difficult, consider Iceland. You will feel like you've actually left earth completely for the moon or maybe mars when driving through the bizarre volcanic landscape. These barren plains alternate with lush green valleys and a plethora of magnificent waterfalls. The capital (and only) city in Iceland, Reykjavik, is one of the great party hotspots of Europe.
Although it is not as well traveled as other Western European countries, Iceland is extremely tourist friendly. Literally everyone speaks English, from the Reykjavik youth to the small town shop owners. In terms of dealing with locals this is probably the easiest country I've traveled in outside of Great Britain.
Slovenia
Sandwiched between East and West, touring Slovenia is like a mini Best-of-Europe package. Just over the border from Austria, the Julian Alps are full of opportunities for hiking and skiing. In the Southwestern Venetian city of Piran all the street signs are in Slovenian and Italian. Head east for a taste of the Balkans (Slovenia was part of the former Yugoslavia after all). In the center of this mishmash is Ljubljana, which may take the prize for the most adorable European capital city.
Slovenia is a member of the EU and operates on the Euro, which means you get the Eastern Europe bragging rights with none of the hassle. It has a decent tourist infrastructure and the people are extremely friendly and helpful. This is a great destination if you only have a week or two and really want to get the feel for Europe.
Costa Rica
Your first thought is probably "tropical beaches" and Costa Rica certainly has those, along with rainforests, mountains and volcanoes. And great weather. It's no wonder that this country tops the Happy Planet Index as happiest country on earth!
It's true that parts of Central America can be a bit dodgy but Costa Rica (along with Belize) is one of the most peaceful and easily traveled countries in the region. More visitors come to Costa Rica than any other Latin American country, so it's definitely tourist friendly.
New Zealand
This is your one stop shop for surfing, bungee jumping, skydiving, caving, base jumping, rafting jet-skiing etc. etc. etc. Name an adventure sport and you can learn to do it here. When you need a break you can enjoy the strange landscapes of Middle Earth and interesting wildlife.
Of course the major advantage to traveling New Zealand is that the people here actually speak English (although this doesn't always mean you'll be able to crack the Kiwi accent!). Additionally New Zealand is a manageable size and easily traveled by car. It is absolutely ideal for a family vacation.
Japan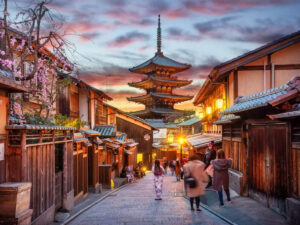 If you long to see Asia, Japan is a great starting point. Tokyo is a frenetic slice of futuristic life while the rest of the country is rich in history and ancient religion. Beautiful shrines and temples dot the landscape. Much of Japan is covered in hills, forests and impressive mountains, like the famous Mount Fuji.
Japan has a well-developed tourism infrastructure. As a result it is an easy country to navigate even without and knowledge of Japanese. The people are extremely friendly and used to accommodating westerners. This is definitely one of the easiest countries to travel in Asia.
Remember that in all of these places you will want to follow basic travel safety tips like keeping an eye on your luggage and not wandering around late at night. Still, these easy to travel countries should give you the freedom to see the world while you build up your travel skills and confidence. Next stop… Mongolia!
Stephanie Yoder runs Twenty-Something Travel, a travel blog dedicated to assisting new or young travelers with the skills, resources and opportunities available to them for travel abroad. When not traveling the world she lives in Washington DC.
Photos by Stephanie except Costa Rica (Wha'ppen), New Zealand (kangotraveler), Japan (Chi King)