Today's guest post features some European highlights from my friend Toma Haines. Toma is one fabulous lady who is guaranteed to make you laugh and give you some great tips! I'd dare say there are more shopping suggestions below than any other blog post on the planet! She offers really unique tours and I'm jealous so say I haven't been on one of them yet, but hope to do so in the near future – just chatting away with Toma is convincing enough. Anyway, I'll stop spoiling the fun and will hand it over to Toma.
The Antiques Diva™ European Shopping Tour
If I were a magician, I would wave my wand and excitedly exclaim, "Prepare to be enchanted for you are about to enter the dazzling world of The Antiques Diva!" As I'm not a magician, just an antique-shopper extraordinaire, I'll have to ask you to trust me to be your shopping companion as I show you the best places in Europe to stop, shop and roll out the dough.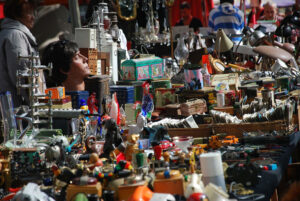 French Antiques
France is the ideal place to start any antique shopping tour. Around the world, the phrase "European Antiques" and "French Antiques" are used interchangeably. Shoppers revolve around French finery as if one of the Louis' cast a spell pulling all future generations towards the treasures of La République! First stop is the world-famous "Marché aux Puces de Saint-Ouen". This flea market has over 2000 vendors contained within 7 miles of well-organized permanent structures housing millions of euro of inventory! It's like going to Paris' best museum only everything is for sale! If there is a downside to "les puce," it's "les tourists" – this is the 4th largest tourist attraction in France. While it's impossible to avoid tourists, fewer will be found at the Porte de Vanves flea market which, though smaller, still packs a Parisian punch with 380 vendors set up weekends 7am-1pm along Avenue Marc Sangnier. The absolute best time to score a bargain is the last weekend in July when many of the vendors are preparing to depart for their "working holidays", shopping for inventory while vacationing elsewhere in France. Don't be surprised if you find all the vendors shopping down south in Provence. The town L'Isle-Sur-La-Sorgue is loaded with dealers and mere shopping mortals like me. Though their flea market day is Sunday along the Avenue de 4 Otages, you don't need the flea market to enjoy this town – the antiques literally pour out of the shops and onto the streets in the historic downtown.
Bonjour Belgium
Of course, if you are looking for the best prices on French antiques then, believe it or not, it's time to say "Au Revoir France – Bonjour Belgium"! One of the largest flea markets in Europe is held each Sunday in Tongeren, Belgium from 7am-12pm. This is must stop shopping!! While we're at it, as far as I'm concerned a trip to Belgium isn't complete without a visit to the Europe's chicest weekend flea market at Brussels' swank Place du Grand Sablon. However, if you're looking for bargains, skip this oh-so-yummy-upscale-market and head to the Place du Jeu de Balle daily market whose ambiance is "grass roots" with vendors selling wares on blankets spread in a parking lot. In both neighborhoods a plethora of antique shops dot the district. Speaking of antiques districts, Antwerp's old town is jammed-packed with antique shops, housing more than 200 dealers in the old city alone! My favorite shopping street is the Kloosterstraat with 70 bric-a-brac shops lining the streets. From here it's an easy hop skip and jump to traverse this walkable city, hitting the Schuttershofstraat, Leopoldstraat and Sint-Salvatorskerkhof!
Good things in Small Packages
If you like Little Belgie, then you're going to love Holland. After all, they say good things come in small packages! Start your tour of canal-lined Amsterdam opposite the Rijksmuseum in the Spiegelkwartier where 100 of the best antique shops have congregated. Then head to De Looier Antique Mall at Elandsgracht 109 to pick up some more "perfectly packables"! Before we leave Amsterdam, I have a confession to make – I do not like the flea markets in Amsterdam. The 4 flea markets – Albert Cuypmarkt , Waterlooplein, Noodermarkt and Nieuwemarkt – are considered institutions, but in my opinion they are all too heavy on the fleas! The best Dutch flea market is not in Amsterdam but rather in The Hague. Thursday and Sunday, May to September, the Lange Voorhout Antiek Markt gathers in front of the gorgeous Hotel des Indes and just around the corner you'll find the Denneweg and Frederikstraat – The Hague's main antiques artery.
All Across Germany
Flea marketing in Germany gets my heart to pumping – the sheer assortment of antiques, vintage and second-hand home decor on offer is overwhelming! I'm smitten with the touristy Berlin Trodelmarkt near the Tiergarten S-bahn station, held weekends on Strasse des 17 Juni and I adore a weekend browse through the Kunst und Nostalgie Markt on Museum Island. Of course, if you're looking for something a little more upscale but still affordable, the Berliner Antik und Flohmarkt under the Friederichstrasse S-bahn is the place to go! While I love the city, the heart of Germany is in its stomach – head south towards Nurnberg & Bamberg. The narrow streets nearby Nurnberg's Church of St. Seebald offer a load of loot while the world heritage city Bamberg claims their old town has the greatest concentration of antiques in Germany.
About Toma
Can't get enough of The Antiques Diva™? Never fear, you can read more exciting
articles written by Toma Clark Haines at http://www.antiquesdiva.blogspot.com/,
better yet, why don't you book a European Antiques Shopping Day Tour? Email toma@antiquesdiva.com for details.