I went to York, a reasonably sized village in the north of England, with high expectations. It's been voted one of the UK's most favourite cities many a time and most people I know who have been rave about it. Nonetheless, I wasn't disappointed; with charm and grace, York welcomed me with open arms. Here's a few excerpts from my adventure.
Walls, Bars, and Gates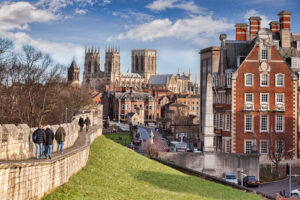 A lot of people will tell you this and I'd be remiss not to: you must walk the York city walls. They're some of the most well intact in Great Britain and except for a small section, you can nearly walk in a full circle. Most choose to walk the narrow, crowded bit just behind York Minster, which is a must because of the excellent views of the cathedral. However, do a full lap. You get a good appreciation for the architecture throughout the city and a bird's eye view of some sights. Most don't tend to venture far along the walls so you might even have it to yourself.
The walls also highlight an important vocabulary distinction in York. Their gates are called bars, which you will see as you tour the wall. Streets are called gates, which can be slightly confusing but a problem found throughout the UK. And don't forget the snickelways (alleyways – same as a close in Edinburgh or a vennel in Durham City).
Ghosts and Ghouls
I had no idea until I arrived but it seems York is one of the most haunted places in the UK. No need to be scared – despite a number of ghost sightings over the yaers, the worst affect any tourist has seen is nothingn but a good fright. I started off my ghost hunt right on the Stonegate, a busy shopping street you'll no doubt find yourself on while in York. There's a haunted mansion there – a purple facade on the end near York Minister; I mention this because it's easy to miss and in fact I walked by three times before I found it. Once inside you're lead on an audio tour of various rooms in the house. Since there's no guide but only speakers telling you ghoulish stories, it's as if the walls are talking – extremely creepy!
To round out the experience I went on one of the many ghost walks on offer – you'll see signs for them pretty much everywhere you go. I chose York's Original Ghost Walk based on a suggestion, and I'd highly recommend it to you as well. Our guide that even was quite vivacious without being the cheesy type that's only fun for a three year old. Some of the stories are very believable and he included his own anecdotes as well as news on some more recent (new) sightings. Plus walking around the narrow, tiny streets of York at night is great fun.
Tea and Scones
And yes, it goes without saying: you must spend as much time as possible in an old-fashioned tea room while in York. The tea (or coffee, I suppose, if you prefer) is piping hot and the scones are delicious. For a change of pace, try a teacake which is somewhere in between a scone and a slice of toast. You'll find tea shops everywhere; the traditional favourite is Little Betty's on the Stonegate, although be prepared to queue and go early if you want something from the takeaway shop in front. I enjoyed the Earl Grey tearoom on the Rambles very much, even though I don't like earl grey – there was plenty of selection. And I can't say from personal experience but the Teddy Bear Tearoom on the Stonegate is cute and cuddly and probably a good stop for those with children or lovers of stuffed animals.
If you go: Don't miss the climb up to the top of York Minster for unbeatable views of York and off into the countryside. Wandering down the Rambles is also a one-of-a-kind experience. And if you're still hungry after all those tea and scones, have a meal at El Piano. Their wholesome, veggie/vegan/gluten-free-friendly meals and amiable service are top notch and the portions of yummy yummy entrees is good value for money.
Photos by kalakeli, missgillian, di_the_huntress