Best Times to Travel to the USA
Planning a trip to the USA? Buckle up, wanderlust seekers! Timing your adventure just right can transform your journey into an unforgettable odyssey. In this ultimate guide, we unveil the hidden gems and unveil the secrets of the best times to travel to the USA.
Whether you're a summer sun worshipper, a winter wonderland enthusiast, or someone who loves the vibrant colors of fall, we've got you covered. Picture this: you, exploring the diverse landscapes of the USA, each season offering a unique spectacle. Let's dive in and discover why the timing of your USA adventure is as crucial as the destination itself.
Unveiling the Seasons: A sneak peek at what the USA has to offer year-round
From coast to coast, there's a little something for everyone, no matter the season. So, grab your calendar and let's take a sneak peek at what this stunning land has in store for you year-round. Get ready to plan the adventure of a lifetime!
Spring – Blossom Your USA Adventure
Spring, being the season of renewal. You know, it's like the USA herself is shaking off the last vestiges of winter and putting on her finest dress, just for you. This is hands-down one of the best times to travel to the USA, and let me tell you why.
A Season of Renewal: Why spring is the perfect time to travel
Now, you might be wondering, "Why spring?" Well, hold onto your hat because there are more reasons than you can shake a stick at. First off, the weather – it's not too hot, not too cold, but just right. The sun's out, and the days are getting longer, which means you'll have more daylight to explore.
Plus, with the flowers blooming and the trees turning green, the landscape is like a freshly painted canvas, bursting with colors. It's as if Mother Nature herself is showing off.
And don't even get me started on the festivals. In spring, the USA is buzzing with all sorts of celebrations. From the cherry blossoms in Washington, D.C., to the music festivals down in Austin, Texas, there's something for every traveler's taste. It's the kind of stuff that makes your Instagram feed the envy of all your friends.
Destinations in Full Bloom: Must-visit spring locations in the USA
Now that you're convinced – spring is the time to go. But where should you head to catch all this natural beauty and festivities? Let's talk destinations.
Start with the cherry blossoms in the capital. Washington, D.C. is your go-to place if you want to witness the blooming of the famous cherry trees around the Tidal Basin. It's like stepping into a dreamworld filled with delicate pink petals. You'll feel like you've been transported to a fairy tale.
But if you're looking for a different kind of magic, how about New Orleans? The Big Easy knows how to throw a party, and their Mardi Gras celebrations in the spring are legendary. Think parades, jazz music, and beads galore. It's a bucket-list experience for sure.
For those who prefer a more tranquil escape, the Smoky Mountains in Tennessee and North Carolina are perfect for a springtime hike. The air is crisp, the wildflowers are in full bloom, and the mountains are, well, smoky. The views are nothing short of breathtaking.
Packing for Spring Bliss: Tips to prepare for your springtime journey
Now that you know where to go, let's talk about what to pack for your spring adventure. Remember, spring weather can be a bit unpredictable, so you'll want to be ready for anything.
First things first, layers are your best friends. Bring a mix of t-shirts, sweaters, and a light jacket. This way, you can adjust your outfit as the temperature changes throughout the day.
Don't forget your umbrella – spring showers are a thing, and you don't want to be caught unprepared. And speaking of rain, a good pair of waterproof shoes will keep your feet dry while you're out and about.
Lastly, sunscreen. With the sun shining, you'll want to protect your skin, especially if you plan on spending a lot of time outdoors.
So there you have it, spring in the USA – a season of renewal, full of color, festivities, and adventures. It's the best time to travel to the USA if you ask me. Now, go ahead and start planning your springtime journey. You won't regret it!
Summer – Sizzle Your Way Through the USA
Summertime, and the living is easy. It's the season of sun-kissed adventures, where you can trade your sweaters for swimsuits and dive headfirst into the best that the USA has to offer. Let's fire up that wanderlust because summer travel is a whole vibe.
The Sun-Kissed Experience: Embracing the Joys of Summer Travel
You know that feeling when you step outside, and the sun's rays wrap around you like a warm hug? That's summer in the USA. It's a time when the country cranks up the heat, and the possibilities are endless.
One of the biggest draws of summer travel is the abundance of outdoor festivals and events. Take, for example, the world-famous Coachella in California. It's not just a music festival; it's an experience. Picture yourself dancing to your favorite bands under the desert sun, surrounded by like-minded music enthusiasts. It's a memory you'll treasure for life.
But it's not just music that steals the show. How about the fireworks extravaganza on the Fourth of July? You haven't experienced patriotism until you've seen the sky ablaze with colors on Independence Day. From New York City's iconic celebration to small-town parades, it's a show you can't miss.
Beach Escapes and Outdoor Adventures: Top Summer Destinations
Summer also brings out the beach bum in all of us. If you're craving sandy shores and ocean waves, there's no shortage of options. Head down to Myrtle Beach, South Carolina, for that classic boardwalk experience. The smell of saltwater, the sound of seagulls, and the feel of the sand between your toes—it's the stuff of dreams.
But if you're more into rugged adventures, the national parks are calling. Yellowstone, Grand Canyon, and Yosemite, to name a few, are at their prime during the summer months. Hiking trails, wildlife sightings, and the beauty of untouched nature await you. Just remember to pack your sunscreen and bug spray!
Staying Cool Under the Summer Sun: Keeping Comfortable During Hot Weather Trips
Now, I won't lie, the USA can get pretty darn hot during the summer. It's important to stay cool and comfortable, so you can enjoy your adventures to the fullest.
Hydration is key. You'll be sweating buckets in that summer sun, so make sure you're drinking enough water. Invest in a reusable water bottle and fill it up throughout the day.
As for clothing, it's all about light and breathable fabrics. Cotton and linen are your best pals. They keep you cool and stylish at the same time. Don't forget your shades and a wide-brimmed hat to protect yourself from those UV rays.
And last but not least, embrace the slower pace of summer. Take siestas, enjoy long, lazy evenings, and savor those ice-cold treats. It's all part of the summer magic.
So, there you have it, folks. Summer in the USA is all about embracing the sun, from music festivals to beach escapes and outdoor adventures. It's the best time to travel to the USA if you're looking for a sizzling, unforgettable experience. Pack your bags, put on those shades, and let the summer adventure begin!
Autumn – Fall in Love with USA's Foliage
It's autumn, and the USA is donning its most magnificent coat of colors. Trees are ablaze with reds, oranges, and yellows. The air is crisp, and there's a sense of magic all around. This is the time when you fall head over heels for the beauty of the USA. Let's dive into why autumn is one of the best times to travel to the USA.
A Canvas of Color: The Magic of Fall Foliage in the USA
Autumn isn't just a season; it's a spectacle. As the temperatures cool down, nature's paintbrush goes to work. It's as if someone sprinkled a bit of enchantment in the air, and suddenly, the landscape transforms into a masterpiece.
If you've never witnessed the fall foliage in the USA, let me paint you a picture. Imagine driving through the rolling hills of Vermont, with the Green Mountains as your backdrop.
Every twist and turn in the road reveals a new burst of color. Or hiking through the Adirondack Mountains in upstate New York, where the vibrant leaves reflect in pristine mountain lakes. It's like walking through a dream.
But it's not just the colors that make autumn special; it's the feeling in the air. It's cozy sweater weather, bonfires, and the aroma of spiced cider. The ambiance is downright charming.
Autumn's Crown Jewels: Best time to travel to the USA to Witness the Beauty of the Season
If you're ready to chase the fall colors, there are a few places that are absolute must-visits. New England, with its iconic foliage, is a top choice. You've got Massachusetts, Vermont, New Hampshire, and Maine, each with its own unique charm. Take a road trip through this region, and you'll understand why they call it the "leaf-peeping capital" of the world.
For those who prefer the mountain scenery, the Great Smoky Mountains in Tennessee and North Carolina are a hidden gem. The combination of colorful foliage and the smoky mist hovering over the peaks is something out of a fairy tale.
But don't sleep on the Pacific Northwest. Oregon's Columbia River Gorge and Washington's North Cascades put on a spectacular show in the fall. Waterfalls, rugged cliffs, and lush forests create a stunning backdrop for your autumn adventure.
Dressing for Autumn Success: How to Stay Comfortable During Cooler Weather Travels
Now, let's talk practicality. Autumn means cooler weather, so you'll want to pack accordingly. Layers are your best friend. Start with a light, long-sleeved shirt, add a sweater, and top it off with a waterproof jacket. The weather can be a bit unpredictable, so being prepared is essential.
Don't forget a good pair of hiking boots. You'll want them for those outdoor explorations, whether it's hiking through the woods or strolling through charming small towns. And as the days get shorter, a headlamp can come in handy, especially if you plan to venture out in the evenings.
Autumn in the USA is like stepping into a painting. The fall foliage is a marvel, and the ambiance is nothing short of magical. It's a time when the landscape becomes a canvas of color, and you can't help but fall in love with the USA. So, pack your bags, put on your coziest sweater, and get ready for an autumn adventure like no other.
Winter – Chasing the USA Snow and Festivities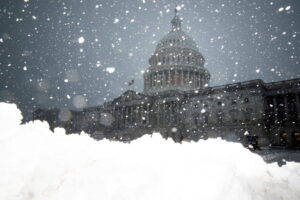 Winter – it's a season that paints the USA in a blanket of snow and turns it into a winter wonderland. The chill in the air, the scent of hot cocoa, and the twinkle of holiday lights make this a season like no other. Let's explore why winter is one of the best times to travel to the USA.
A Winter Wonderland: Best Times to Travel to the USA Experiencing the Charm of Winter Travel
First things first, winter in the USA is a magical wonderland. It's a time when snowflakes dance from the sky, covering the land in a pristine white coat. And if you're lucky, you might just catch the sight of a red cardinal perched on a snow-covered branch. It's like something straight out of a holiday card.
But it's not just the snow that makes winter special. It's the atmosphere. In December, the USA transforms into a place of enchantment. From the dazzling lights of Times Square in New York City to the quaint Christmas markets of Europe, there's a festive spirit that sweeps through the air.
Let's not forget about winter sports. Whether you're into skiing, snowboarding, or ice skating, the USA's got you covered. Head to Aspen, Colorado, for world-class ski resorts or lace up your ice skates and take a twirl around New York City's iconic Rockefeller Center rink.
USA's Top Winter Holidays: Best Time to Travel in the USA for a Magical Winter Escape
If you're looking for that quintessential winter holiday experience, the USA has some unbeatable destinations. Aspen, Colorado, is a winter paradise. It's not just for the celebrity elite; it's also for those seeking world-class skiing, cozy chalets, and stunning mountain views.
For a storybook Christmas, head to New York City. The Big Apple goes all out with its holiday decorations. From the famous tree lighting ceremony at Rockefeller Center to the festive window displays along Fifth Avenue, it's a sight to behold.
If you're after a cozy winter escape, Vermont is a hidden gem. Small towns like Woodstock and Stowe are straight out of a Hallmark movie. Think charming inns, horse-drawn carriage rides, and snow-covered bridges.
Staying Warm and Safe: Tips for a Cozy and Secure Winter Trip
Now, with all the snow and festivities, you'll want to make sure you stay warm and safe during your winter travels. Layer up with thermal clothing, including a good winter coat, gloves, and a cozy hat. Remember, it's better to be overprepared than shivering in the cold.
If you're hitting the slopes, don't forget your safety gear. Helmets and goggles are a must for skiers and snowboarders. And always follow the safety guidelines at the resorts.
Lastly, be mindful of icy roads. If you're renting a car, make sure it's equipped for winter driving with snow tires or chains. If you're not comfortable driving in snowy conditions, consider using public transportation or hiring a local driver.
So, there you have it – winter in the USA is a season of charm, festivities, and, of course, plenty of snow. It's the best time to travel to the USA if you're seeking that winter wonderland experience. So grab your mittens, sip some hot cocoa, and get ready for a cozy and secure winter trip you'll never forget!
Shoulder Seasons – Hidden Gems for Savvy Travelers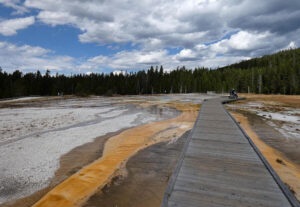 Let's talk about the hidden gems of the travel world – the shoulder seasons. If you've never heard of them, you're in for a treat. These are the sweet spots sandwiched between peak and off-peak travel times. It's like discovering a secret passage to some of the most fantastic destinations the USA has to offer.
The Perks of Timing: Advantages of Traveling During Shoulder Seasons
So, why do savvy travelers choose the shoulder seasons? Well, for one, it's all about fewer crowds. You know how busy tourist hotspots can get during peak seasons? It's like navigating a maze with hundreds of other travelers.
But during the shoulder seasons, those same places are blissfully uncrowded. You can stroll through museums, parks, and streets without jostling for a view.
Another perk is the weather. The shoulder seasons often offer the best of both worlds. It's not scorching hot like in the summer, nor is it bone-chilling cold like in the winter. Think of it as Goldilocks weather – just right.
Plus, you'll likely catch a glimpse of the natural beauty of changing seasons, whether it's colorful foliage in the fall or blooming flowers in the spring.
Now, here's the real kicker – prices. During the shoulder seasons, you can snag some incredible deals. Hotels, flights, and activities often come with lower price tags, making it budget-friendly for travelers looking to save some dough.
Offbeat Destinations: Lesser-Known Treasures to Explore in Shoulder Seasons
Let's talk offbeat destinations, places that shine during these in-between times. Ever heard of the Outer Banks in North Carolina? It's a coastal paradise during the shoulder seasons. With fewer tourists, you can have those pristine beaches and charming seaside towns almost to yourself. It's a slice of heaven without the crowds.
Or how about Sedona, Arizona, in the fall? The red rock landscapes are mesmerizing, and the temperatures are perfect for outdoor adventures. You can hike, bike, or just soak in the natural beauty without breaking a sweat.
For history buffs, Charleston, South Carolina, in the spring is a delight. The blooming gardens, historic architecture, and southern charm make it a picturesque destination. Plus, the lack of crowds means you can explore the city's rich history without the hustle and bustle.
Budget-Friendly Strategies: Making the Most of Your Travel Budget During Off-Peak Times
Now, let's get down to brass tacks – budget-friendly strategies for your shoulder season adventure. You've already got the advantage of lower prices, but here are a few more tips to maximize your savings.
First, be flexible with your travel dates. Shoulder seasons can vary, so check for the specific dates of the shoulder season for your chosen destination. Prices can fluctuate depending on when you go.
Consider booking accommodations with flexibility in mind. Many hotels offer free cancellations or changes, allowing you to adjust your plans if needed. This can save you from cancellation fees in case something unexpected comes up.
Lastly, embrace local experiences. Try local restaurants, explore off-the-beaten-path attractions, and engage with the community. You'll not only save money but also have a richer and more authentic travel experience.
Shoulder seasons are a secret weapon for savvy travelers. You get to enjoy fantastic destinations without the crowds, savor the perfect weather, and save some cash along the way. So, pick your offbeat destination, plan your budget-friendly strategies, and get ready to explore the hidden gems of the USA.
Weather Considerations – Understanding Regional Climates
Now, let's talk weather because when it comes to travel, knowing what to expect on the climate front can make or break your adventure. The USA is a vast and diverse country, and its regional climates are as varied as its landscapes. So, grab your weather app, and let's dive into understanding the weather across the USA.
Diverse Climates Across the USA: A Guide to the Country's Climate Zones
The USA isn't a one-size-fits-all kind of place when it comes to weather. It's got a little bit of everything. You've got tropical climates down in Florida, arid deserts in the Southwest, temperate zones in the Midwest, and alpine climates in the Rocky Mountains. It's like the USA wanted to offer every kind of climate you can imagine.
For the beach bums and sun worshippers, Florida is a prime destination. With its tropical climate, you can expect sunshine, warmth, and the occasional afternoon rain shower. It's perfect for those who want to escape the winter chill.
For the nature enthusiasts, the Pacific Northwest offers a temperate, rainy climate. You might want to pack an umbrella when visiting cities like Seattle or Portland. But the lush landscapes and evergreen forests more than make up for the drizzle.
If you're craving snow and alpine adventures, head to the Rocky Mountains. Places like Colorado and Utah have an alpine climate that's perfect for winter sports. Imagine hitting the slopes by day and cozying up by the fire at night.
Choosing Weather That Suits Your Style: Picking the Right Time for Your Preferences
Now, the big question is, what kind of weather suits your style? Are you a sun chaser, a snow lover, or someone who's all about mild temperatures? Choosing the right time for your trip depends on your preferences.
If you're all about those beach vibes, you'll want to visit the southern states in the spring and fall. That's when you'll get pleasant temperatures without the scorching heat of summer. The Gulf Coast of Florida is especially inviting during these shoulder seasons.
For those who adore snow, the winter months are your go-to. Head to states like Colorado or Vermont for some epic winter sports. Just remember to pack your ski gear and embrace the winter wonderland.
If you prefer milder temperatures, consider traveling during the spring or fall. This is when many parts of the USA enjoy that Goldilocks weather – not too hot, not too cold, but just right. It's a time for hiking, outdoor explorations, and enjoying the beauty of changing seasons.
Weather-Proofing Your Trip: How to Address Weather-Related Challenges
Now, when it comes to weather, challenges can arise. It's essential to be prepared for any situation. For instance, if you're visiting tornado-prone areas like the Midwest during spring or summer, be sure to stay updated with local weather alerts and have a plan in case severe weather strikes.
In winter, if you're heading to snowy destinations, make sure your vehicle is equipped for icy roads, and always check the weather forecast before setting out. Snowstorms can happen unexpectedly.
And, in regions prone to hurricanes, like the Gulf Coast or parts of the Southeast, it's crucial to keep tabs on hurricane season dates and stay informed about any potential storms. Flexibility in your travel plans can be a lifesaver in such situations.
Understanding the regional climates of the USA is like having a secret key to the perfect trip. Whether you're a sun seeker, a snow enthusiast, or someone who just loves mild weather, there's a climate zone that's tailor-made for your style. So, pack accordingly, keep an eye on the forecast, and get ready for a weather-proofed adventure in the USA.
Crowds and Costs – Managing Peak Season Challenges
While traveling during the peak season in the USA can be a blast, it comes with a couple of challenges that savvy travelers like you should be aware of. We're talking crowds that make Times Square look deserted and costs that can make your wallet cry. But fret not; we've got the inside scoop on how to manage these peak season challenges like a pro.
Thriving Amidst the Throngs: Navigating Crowds at Popular USA Attractions
Start by being an early bird. Many travelers like to sleep in, which means you can beat the crowds by getting to popular attractions at the crack of dawn. Trust me; that sunrise view over the Grand Canyon is worth the early alarm.
Another trick is to explore lesser-known spots. While everyone flocks to the big names, you can discover hidden gems that are just as stunning but with a fraction of the visitors. For instance, instead of braving the crowds at Yosemite Valley, venture into the quieter Tuolumne Meadows in Yosemite National Park.
And don't forget the power of technology. Download apps that provide real-time crowd updates and use social media to research and avoid peak hours. It's like having a cheat code to crowd-free travel.
Dealing with High Travel Costs: Strategies for Budgeting During Peak Seasons
Peak seasons come with peak prices, which can be a real bummer. But there are ways to keep your budget in check. It's all about being savvy with your spending.
First off, consider staying just outside the hotspot. Accommodations within popular areas can be pricier, but a short drive or public transport ride away, you'll find more budget-friendly options. You get the best of both worlds – proximity to attractions and a more affordable stay.
Be flexible with your travel dates. Sometimes, moving your trip by a day or two can result in significant savings on flights and accommodations. Midweek travel often comes with better deals than weekends.
Look into attraction passes. Many cities offer passes that grant access to multiple attractions at a reduced price. It's a fantastic way to save on entrance fees when you plan on hitting up several places in one location.
Tips to Avoid Crowds and Save Money: Secrets to a More Enjoyable and Affordable Trip
Make restaurant reservations in advance. Popular dining spots can fill up fast, so booking ahead can save you from the disappointment of being turned away.
Join guided tours. While it might sound counterintuitive to avoid crowds, some guided tours offer skip-the-line privileges. This means you can breeze past the lines and dive right into the experience.
Embrace the early evenings. Late afternoons and early evenings often see a drop in tourist activity. It's a golden window to explore attractions with fewer crowds.
Peak season travel in the USA can be an unforgettable adventure, even with the crowds and costs. With a little strategic planning, flexibility, and a dash of tech-savviness, you can thrive amidst the throngs and make the most of your budget. So, pack your bags, and get ready for an epic trip during the best time to travel in the USA!
Off-Peak Benefits – Why Traveling in the "Off" Season Can Be a Win
Let's talk about the underdog of travel seasons – the "off" season. It might not have the same glitz and glamour as the peak season, but boy, does it have its own set of charms. If you've ever wondered why some travelers opt for off-peak adventures, we're here to spill the beans.
The Hidden Charms of the Off-Peak: Perks of Exploring the USA During Quieter Times
First off, off-peak travel means fewer crowds. It's like having the world's most famous attractions all to yourself. No elbowing your way through throngs of tourists or waiting in never-ending lines. You can explore at your own pace and truly soak in the experience.
Imagine visiting the Grand Canyon without the queues or strolling through New Orleans' French Quarter without dodging selfie sticks. It's a chance to connect with your surroundings and appreciate the beauty without the hustle and bustle.
Then there's the weather. Off-peak doesn't necessarily mean bad weather. It often translates to milder conditions. In the USA, this means you can enjoy scenic drives, outdoor activities, and exploration without battling extreme heat or cold. It's like Goldilocks weather – just right.
Unique Experiences and Savings: Why Off-Peak Is a Traveler's Dream
But the perks don't stop at fewer crowds and better weather. Off-peak travel often comes with unique experiences. You can dive into local culture and traditions more deeply, as there's less interference from other tourists. It's a chance to connect with the locals, hear their stories, and create lasting memories.
And let's not forget the savings. During off-peak times, you'll often find better deals on accommodations, flights, and attractions. Your budget stretches further, allowing you to splurge on experiences you might have otherwise missed.
For instance, you can enjoy luxurious accommodations that might have been out of reach during peak season. Or dine at those fancy restaurants without breaking the bank. And with the money you save, you can explore more attractions or indulge in unique activities.
Maximizing Your Off-Peak Journey: Tips for a Successful Off-Season Adventure
Now that you're all in on the off-peak travel secret, let's talk about maximizing your adventure. First, do your research. Different destinations have different off-peak periods. For instance, off-peak for ski destinations might be during the summer, while coastal towns might have quieter winters. Make sure to plan accordingly.
Pack wisely. Since weather can be milder during off-peak, you might need clothing for varying conditions. Layers are your friend, and it's always a good idea to bring a rain jacket just in case.
And lastly, be open to spontaneity. Since you're avoiding the peak season, attractions and accommodations are often less crowded, which means you can be more flexible with your plans. Serendipitous discoveries and unexpected detours can lead to some of the most memorable travel experiences.
Off-peak travel in the USA is like finding a hidden treasure. It's a chance to explore with fewer crowds, enjoy better weather, and save money. Plus, you get to dive into unique local experiences that are hard to come by during the busy peak season.
So, pack your bags, embrace the quieter times, and get ready for an adventure like no other during the best time to travel in the USA!
Events and Festivals – Time Your Visit for Maximum Fun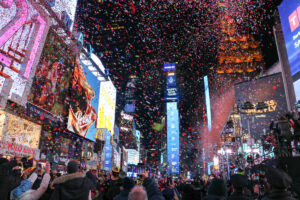 If you're looking to sprinkle some extra excitement into your USA adventure, it's time to sync your travel with the fabulous events and festivals that this diverse nation has to offer. From music extravaganzas to cultural celebrations, the USA's cultural calendar is packed with experiences that can take your trip from ordinary to extraordinary.
The USA's Cultural Calendar: Overview of Major Events and Festivals by Season
To get the lowdown on the best time to travel in the USA for events and festivals, let's break it down by season. First up, spring – when the flowers bloom, and the fun begins.
In spring, you've got the cherry blossoms in Washington, D.C., painting the town in shades of pink. The National Cherry Blossom Festival is a sight to behold. But that's not all. The Coachella Valley Music and Arts Festival in California is a must for music lovers. It's where some of the world's top artists gather to put on mind-blowing performances.
Summer is all about outdoor fun, and you'll find no shortage of events. If you're into country music, Nashville's CMA Fest is the place to be. It's a four-day country music extravaganza featuring over 300 artists. And if you're more of a foodie, the Taste of Chicago food festival has you covered with delectable bites from all over the world.
Fall brings the changing leaves and a treasure trove of cultural festivals. The Albuquerque International Balloon Fiesta in New Mexico is like stepping into a dream with its mass ascension of colorful hot air balloons. Meanwhile, New Orleans Jazz & Heritage Festival is a soulful celebration of music, culture, and food.
And when winter comes around, it's time for holiday magic. The New Year's Eve celebration in Times Square, New York City, is world-famous. It's where you can watch the iconic ball drop, marking the start of a new year. Or head to Aspen, Colorado, for the magical Winterskol festival, featuring snow sculptures and a torchlight descent down the slopes.
Syncing Your Travel with Celebrations: Attending Cultural Festivals During Your Visit
Now that you know what's happening in each season, it's time to sync your travel with these cultural extravaganzas. Make sure to check the dates and book your trip accordingly.
Start by making a list of the events and festivals that pique your interest. Whether you're a music enthusiast, a foodie, or a cultural explorer, there's something for everyone.
Once you've got your wish list, check the event dates and locations. Plan your trip around these dates to ensure you don't miss out on the fun.
If possible, book your accommodations well in advance. Popular festivals can fill up hotels and Airbnb listings fast, so securing a place to stay should be a priority.
Planning for Eventful Adventures: Tips for an Event-Packed Journey
Now that you're all set to dive into the world of events and festivals in the USA, here are some tips to make the most of your event-packed journey.
First, buy your event tickets early. Many festivals offer early bird discounts, and it's a way to ensure you get a spot at your desired event. Check the festival's official website for any useful information. It often includes schedules, maps, and tips for attendees.
Be prepared for different weather conditions. Whether it's a hot summer festival or a chilly winter event, pack accordingly to stay comfortable throughout the day.
So, there you have it, your ultimate guide to syncing your travel with the best events and festivals in the USA. From spring's cherry blossoms to fall's hot air balloons and winter's New Year's Eve spectacle, there's no shortage of excitement waiting for you. So, mark those dates, book your tickets, and get ready for a USA adventure filled with maximum fun!
Natural Wonders – Seasonal Highlights You Can't Miss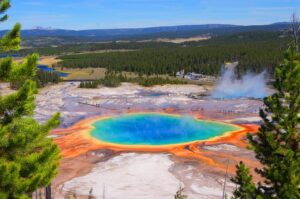 Get ready to embark on a journey through the USA's most captivating natural wonders, season by season. From the icy landscapes of winter to the blooming beauties of spring and the sizzling summers, there's something for every nature lover. So, lace up those hiking boots and let's hit the trails!
Year-Round Natural Beauty: Iconic Natural Attractions in the USA, Season by Season
Let's start with winter because even when the snow is falling, Mother Nature's beauty shines through. Head to Yellowstone National Park, and you'll witness a mesmerizing transformation. Geysers like Old Faithful spew steam, creating a surreal winter wonderland. And if you're lucky, you might spot bison and elk navigating the snowy landscapes.
As spring unfolds, the wildflowers burst into a riot of colors in Antelope Valley California Poppy Reserve. The poppies blanket the fields, turning the land into a breathtaking sea of orange. It's a sight to behold and a fantastic opportunity for nature photography.
When summer rolls around, head to the Great Smoky Mountains National Park. The lush forests come alive with fireflies during the synchronous firefly event. It's like being in a magical fairy tale with the forest twinkling in unison.
And as fall paints the landscape with warm hues, make your way to Vermont's Green Mountains. The changing leaves are a spectacle you can't miss. Hike or drive through the mountain roads, and you'll be treated to a breathtaking show of red, orange, and gold.
Wildlife and Natural Phenomena: Observing Nature's Wonders During Your Visit
Besides the stunning landscapes, the USA is also home to some incredible wildlife and natural phenomena. In Alaska, you can observe the incredible northern lights during the winter months. The dancing colors in the night sky are like a dream come true for aurora chasers.
If you're a bird enthusiast, don't miss the annual sandhill crane migration in Nebraska. Thousands of cranes stop in the Platte River Valley on their way north, creating a symphony of bird calls and flapping wings.
For those who want to witness marine life, head to the Channel Islands National Park in California. The underwater kelp forests are a playground for seals, sea lions, and colorful fish. Snorkeling or diving here is like exploring another world.
Eco-Friendly Explorations: Responsible Travel Tips for Nature Enthusiasts
As nature lovers, it's crucial to be responsible travelers. Here are some tips to ensure your eco-friendly explorations leave a positive impact:
Leave no trace: Pack out everything you bring in, and respect the natural environment by not disturbing plants or wildlife.
Stay on marked trails: Straying off designated paths can harm delicate ecosystems and wildlife habitats.
Use sustainable gear: Opt for eco-friendly and sustainable hiking and camping gear.
Support conservation efforts: Contribute to organizations that work to protect and preserve natural wonders.
So, there you have it, a guide to experiencing the USA's most captivating natural wonders year-round. From snowy winter landscapes to the blooming spring wildflowers, the sizzling summer fireflies, and the breathtaking fall foliage, there's a natural wonder for every season. So, get out there, embrace the beauty, and make sure you're a responsible traveler to protect these treasures for generations to come.
Travel Tips and Hacks for Every Season
Let's dive into some travel wisdom and clever hacks to make your journey across the USA a breeze, no matter the season. From all-around advice for your adventures to packing essentials and staying safe, we've got you covered.
Year-Round Travel Wisdom: General Advice for Travel at Any Time of the Year
First things first, planning is your best friend. Do your research on the destinations you're hitting, and check the weather for the time of year you'll be there. Knowing what to expect can save you from packing that extra sweater in the middle of summer or forgetting your raincoat during a spring shower.
Speaking of packing, make a packing list. We're all guilty of overpacking from time to time, but a list can help you cut down on unnecessary items. Remember, you can always do laundry on the road.
While we're on the topic of lists, create a digital copy of all your essential documents – passport, driver's license, travel insurance, etc. Store them securely in your email or cloud storage. That way, you're covered if you lose the physical copies.
Don't forget a travel adapter. Outlets and plugs can vary from place to place, and having a universal adapter can be a real lifesaver. It ensures your gadgets stay charged, and you don't miss out on capturing those Instagram-worthy moments.
Packing Essentials and Practical Tips: Must-Haves and Pro Tips for a Hassle-Free Journey
Let's talk about packing essentials. Start with versatile clothing. Pick items that you can mix and match to create multiple outfits. That way, you'll pack lighter and still have plenty of options.
Roll, don't fold. Rolling your clothes saves space and minimizes wrinkles. Plus, it makes it easier to see what's inside your bag without unfolding everything.
Invest in a quality travel pillow. It's a game-changer for long flights or road trips. It can make the difference between arriving at your destination well-rested or exhausted.
Ditch the oversized toiletries. Travel-sized toiletries are your best friend. They save space and ensure you don't run into any issues with airport security.
Safety and Enjoyment: Staying Secure and Making the Most of Your USA Adventure
Now, let's talk safety. First, get travel insurance. It's a small cost that can save you big time if anything goes wrong, from canceled flights to unexpected medical expenses.
Make copies of important documents. Having duplicates of your passport, travel insurance, and any other crucial papers can be a lifesaver if you lose the originals. Keep them separate from the originals.
Stay connected. Whether it's through a local SIM card, a portable Wi-Fi device, or an international plan from your provider, having internet access can be a game-changer for navigating new places and staying in touch with loved ones.
Trust your gut. While it's important to stay open to new experiences, if something feels off, trust your instincts. Avoid risky situations and prioritize your safety.
So there you have it, a handy guide to make your USA adventure a success, no matter the season. From general travel wisdom to packing tips and staying secure, we've covered it all. Now, get out there and explore the beautiful landscapes, vibrant cities, and diverse culture that the USA has to offer. Safe travels!
Conclusion
In conclusion, planning the best time to travel in the USA can be a thrilling adventure in itself. With each season offering its own unique charm and opportunities, there's something for every traveler's taste. Whether you're chasing winter's icy wonders, reveling in spring's blossoms, sizzling through summer, or marveling at fall's foliage, the USA has it all.
And it's not just about the landscapes; the country hosts a myriad of events and festivals that add an extra layer of excitement to your journey. From the colorful poppy fields of California to the magical synchronous fireflies in the Great Smoky Mountains, there's always something incredible happening.
But let's not forget the USA's natural wonders and wildlife. From the enchanting northern lights in Alaska to the magnificent sandhill crane migration in Nebraska and the underwater wonders of California's Channel Islands, nature enthusiasts have a treasure trove of experiences waiting for them.
Remember, being a responsible traveler is essential. Leave no trace, stick to marked paths, use eco-friendly gear, and support conservation efforts to ensure these natural marvels are preserved for generations to come.
FAQs
Which month is the best time to travel in the USA?
The best time to travel in the USA depends on your preferences and the region you plan to visit. Generally, late spring (April to June) and early fall (September to October) are considered ideal for pleasant weather and fewer crowds in many parts of the country. However, the USA's vast size means that the best time can vary from state to state. For example, summer is perfect for exploring national parks, while winter is great for skiing in the northern states.
What is the cheapest month to visit USA?
January and February are often the cheapest months to visit the USA, as it's considered the off-peak season for many destinations. During this time, you can find more affordable accommodations and flight deals. However, do keep in mind that some regions, like ski resorts, may still have high prices due to the winter season.
What is the best time of year to visit US cities?
The best time to visit US cities can vary depending on the city's location and your preferences. Generally, spring and fall are favorable for city travel due to pleasant weather and fewer crowds. For example, spring in New York City is beautiful, and autumn in San Francisco offers mild temperatures. However, some cities have unique events that make other seasons attractive. For instance, New Orleans is famous for its Mardi Gras celebrations in February.
Where should I go for the first time in the USA?
If you're visiting the USA for the first time, consider iconic destinations like:
New York City for its vibrant culture and landmarks like Times Square and Central Park.
Los Angeles for its entertainment industry, Hollywood, and beautiful beaches.
San Francisco for the Golden Gate Bridge and diverse neighborhoods.
Las Vegas for its famous casinos and entertainment shows.
Washington, D.C. to explore historical monuments and museums.
These cities offer a taste of the USA's diverse culture, history, and attractions.
What is the cheapest time of year to travel?
The cheapest time of year to travel can vary depending on your destination. Generally, the shoulder seasons (spring and fall) are more budget-friendly for many places. However, to find the absolute lowest prices, you should consider traveling during the off-peak season, which often falls during the winter months. But remember that the weather and available activities may vary during the off-peak season, so plan accordingly.