Best Time to Visit Toronto for Your Ultimate Experience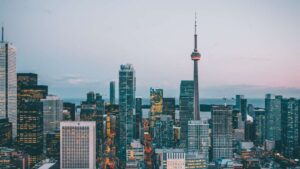 Toronto, a city of incredible diversity and charm, has a secret – it's captivating no matter when you visit. Whether you're a snow-loving explorer, a summer adventurer, or someone who savors the subtle transitions of shoulder seasons, Toronto welcomes you with open arms. In this guide, we're about to embark on a journey through the best times to visit Toronto to ensure your ultimate experience in this vibrant, lively city.
As the seasons change, so do the possibilities for unforgettable moments in Toronto. Whether you're enticed by the burst of colors in the fall, the sunny warmth of summer, the serenity of winter, or the blossoming life of spring, Toronto has a chapter of its own to reveal during each season.
From bustling festivals to quiet gardens, from hearty winter comfort food to the joys of outdoor dining in the summer, we're here to uncover the best of Toronto year-round. So, put on your exploring shoes and get ready to dive into Toronto's ever-changing, ever-enchanting beauty. It's a city that invites you to unlock its secrets and create your own unforgettable stories. Let's start the journey with the fall shoulder season when Toronto dons its most vibrant attire.
Captivating Colors and Cool Breezes: Fall in Toronto (September–November)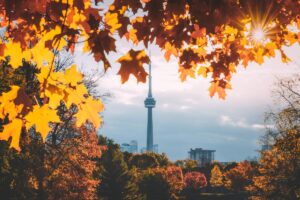 When it comes to the best time to visit Toronto, the fall season, spanning from September to November, offers an experience that's nothing short of enchanting. As the sweltering summer days start to mellow and crisp air replaces the humid warmth, Toronto transforms into a world of breathtaking colors and cool breezes.
Witness the Spectacular Fall Foliage
Imagine a city adorned in the fiery hues of red, orange, and yellow. Toronto's fall foliage is a spectacle that draws nature lovers and photographers from all corners. Parks and streets come alive with this colorful show, making it an ideal season for leaf-peeping. Don't forget your camera; you'll want to capture these vivid moments.
Must-Visit Spots for Autumn Enthusiasts
For the ultimate autumn experience, visit High Park, where the cherry blossoms of spring give way to vivid maple trees in the fall. The Toronto Islands are another must-see; take a ferry ride to see the islands' trees change into a brilliant display. If you're up for some hiking, Rouge National Urban Park will treat you to both the beauty of fall and the sounds of rustling leaves.
Seasonal Dining Delights and Festivals
Fall isn't just about the visuals; it's a treat for your taste buds too. Toronto's culinary scene is as diverse as its population, and in the fall, it embraces the harvest season with open arms. Local restaurants feature menus packed with fresh, seasonal ingredients. Savor hearty stews, pumpkin pies, and apple ciders.
And let's not forget about the festivals! Toronto knows how to celebrate fall. The Toronto International Film Festival (TIFF) is a star-studded event that coincides with this season. It's a time when the city buzzes with excitement, and you might even spot your favorite celebrity.
So, for those seeking to bask in the captivating colors and cool breezes of fall, the answer is clear: the best time to visit Toronto is during the fall season. It's a visual and culinary feast that will leave you with unforgettable memories and a camera roll full of stunning photos.
High Season Adventures: Summer Thrills in Toronto (June–September)
Summer in Toronto is like the grand finale of a dazzling fireworks show—it's a spectacular crescendo of experiences. From June to September, the city explodes with life and energy. If you're seeking outdoor adventures and waterfront fun, this is the best time to visit Toronto.
Outdoor Activities and Waterfront Fun
The Toronto waterfront becomes a playground during the summer. With Lake Ontario stretching as far as the eye can see, you'll find endless opportunities for fun. Take a leisurely stroll along the Harbourfront, rent a kayak, or hop on a boat tour to explore the Toronto Islands. Whether you're into sunbathing, swimming, or just enjoying the cool breezes by the water, you'll find your slice of paradise here.
Toronto's Festival Scene in the High Season
Toronto's festival scene kicks into high gear during the summer months. One of the highlights is Caribana, a vibrant celebration of Caribbean culture featuring parades, music, and delicious food. Taste of the Danforth is another foodie's dream, with a multitude of diverse cuisines on offer. The Beaches International Jazz Festival and Toronto's International Film Festival (TIFF) also take center stage.
Ideal Times for Sports and Recreation
For sports enthusiasts, summer is the ideal time to catch a game or even participate in outdoor activities. Cheer on the Toronto Blue Jays at the Rogers Centre, where the atmosphere is electric during baseball season. If you're a tennis fan, the Rogers Cup brings the world's top players to Toronto.
If you prefer to get active yourself, there are plenty of parks and trails to explore. High Park is perfect for a picnic or a jog, and the Toronto Islands offer bike rentals and hiking trails with stunning views of the city skyline. It's a season when the city is in full swing, and you can be too.
As the summer sun graces Toronto, the city transforms into a paradise for outdoor lovers and festival-goers alike. The best time to visit Toronto for a high-energy adventure is undoubtedly during the high season. Dive into the bustling streets, feel the rhythm of the festivals, and bask in the warm embrace of the sun by the beautiful waterfront—it's an experience that will leave you sun-kissed and smiling.
Winter Wonderland Wonders: Embracing the Low Season (December–April)
Embracing winter in Toronto might not be on everyone's bucket list, but if you're a fan of snow-covered streets, cozy indoor escapes, and great deals, the best time to visit Toronto is during the low season, from December to April. Don't let the chill deter you; Toronto offers a unique charm during this time of year.
Budget Travel Tips for Winter Explorers
First off, the low season can be a budget traveler's dream. Hotels and attractions often offer lower rates, making it easier on your wallet. With fewer tourists around, you can snag some great deals on accommodations and activities.
Consider taking advantage of Toronto's underground PATH system, a network of underground pedestrian walkways that connect shops, restaurants, and entertainment venues. It's a perfect way to stay warm and save on transportation costs.
Toronto's Snowy Splendors and Indoor Escapes
Winter isn't just about cost savings; it's also about experiencing the city in a whole new light—literally. Toronto's skyline takes on a magical quality under a blanket of snow, and the festive decorations lining the streets create a cozy atmosphere.
If you're an art lover, visit the Art Gallery of Ontario or the Royal Ontario Museum, where you can immerse yourself in culture without braving the cold. Toronto's theater scene is alive and well in the winter, so don't miss out on a show at the historic Elgin and Winter Garden Theatre.
Seasonal Discounts and Deals
As a winter traveler, you'll find discounts and deals around every corner. Warm up in Toronto's cafes and restaurants, where you can savor hot beverages and comfort food, and you might even catch a winter-themed event or festival. Skating at Nathan Phillips Square or taking a walk through Toronto's Distillery Historic District is a must. And if you've got a taste for adventure, check out the city's nearby ski resorts and snowshoeing trails.
Winter in Toronto may be cold, but it's far from dull. If you're in search of budget-friendly travel, unique cultural experiences, and the charm of a snow-covered city, then the low season is your perfect time to visit Toronto. It's a time to enjoy the city's treasures without the crowds and to make the most of winter's wonders in the heart of Canada.
Blooming Toronto: Spring's Charm (March–May)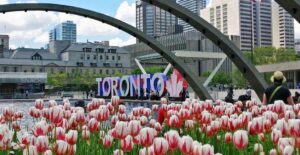 When spring rolls around, Toronto trades its winter coat for a vibrant wardrobe of blossoms and renewed energy. March to May is the best time to visit Toronto if you're drawn to the charm of a city in bloom.
Indoor Events, Exhibitions, and Cultural Highlights
As the city thaws, indoor events and exhibitions burst into life. For the art aficionado, the AGO (Art Gallery of Ontario) and the Royal Ontario Museum offer a feast for the eyes. From thought-provoking exhibits to ancient artifacts, there's something for everyone.
If you're into theater and performance arts, the Toronto Theatre District showcases a wide array of productions. Catch a play or musical, and you might just discover a new favorite.
Blossoming Gardens and Cherry Blossom Festival
One of the most anticipated events in spring is the cherry blossom season. High Park is renowned for its stunning cherry blossoms, turning the park into a fairy tale landscape. As the delicate pink petals flutter in the breeze, it's a moment that feels like it's straight out of a dream.
You can also explore the Toronto Islands' lush gardens, where you'll find an array of flowers and the Toronto Botanical Garden for more flora delights.
Spring Shopping and Culinary Experiences
Spring brings the promise of fresh beginnings and new fashion trends. Toronto's shopping scene is sure to captivate any fashionista with trendy boutiques and stylish department stores. Queen Street West and Yorkville are prime shopping destinations.
For culinary enthusiasts, Toronto's diverse food scene offers a chance to savor seasonal delights. Try some of the freshest farm-to-table dishes and embrace the open-air patios as the weather warms up. The Distillery District is a fantastic spot for enjoying a meal in a charming historical setting.
In the spring, Toronto awakens from its winter slumber, transforming into a colorful, lively, and culturally rich city. The charm of the season lies in its diverse cultural experiences, the vibrant colors that take over the city, and the culinary adventures waiting to be savored. It's the best time to visit Toronto if you want to witness the city's reawakening and bask in the splendor of spring.
Additional Experiences for Every Season
Now, let's dive into the festivities that make Toronto a year-round delight. It's not just the changing seasons but the continuous cycle of festivals that keeps the city pulsating with life. No matter when you choose to visit, there's something special happening in Toronto.
Festivals Galore: Celebrate Toronto Year-Round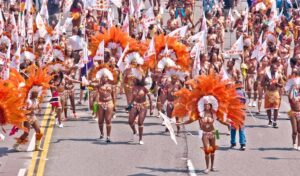 Toronto knows how to throw a party, and there's a festival for every season. If you're looking for a reason to join the festivities, you won't have to search too hard.
Seasonal Festivals and Celebrations
In the summer, it's all about food, music, and culture. The Taste of the Danforth festival turns Toronto into a food lover's haven. Stroll along the streets, sample international cuisines, and enjoy live music. The city's diverse cultural communities also showcase their vibrant traditions and foods, and you're invited to join the celebration.
Come winter, the Toronto Christmas Market, inspired by the European tradition, transforms the Distillery District into a magical wonderland. Twinkling lights, carolers, and the scent of roasted chestnuts in the air make it the perfect place to get into the holiday spirit.
Highlights of Toronto's Cultural Calendar
For those who thrive on arts and culture, Toronto's calendar is brimming with events. The Luminato Festival, held in June, is a celebration of creativity and the performing arts. From theater to dance, you'll be mesmerized by the talent on display.
Toronto's International Film Festival (TIFF), occurring in September, is a major highlight. It's the perfect opportunity to catch the premieres of critically acclaimed films and even get a glimpse of Hollywood stars. This is your chance to be a part of a global cinematic extravaganza.
Insider Tips for Festival-Goers
To make the most of Toronto's festival scene, a few insider tips can come in handy. First, be prepared to explore on foot. Toronto's neighborhoods often close off streets for pedestrian traffic, so comfortable shoes are your best friend.
Second, don't forget your appetite. Whether it's street food, gourmet dining, or international dishes, the food at Toronto's festivals is nothing short of outstanding.
Lastly, check the festival's website for the most up-to-date information. Many festivals offer discounted tickets if you buy them in advance.
Toronto's year-round festivals are a testament to the city's vibrant spirit and diverse culture. No matter when you decide to visit, you'll find yourself amidst a celebration that brings the city's heart to the forefront. So, let your hair down, immerse yourself in the festivities, and experience the best of Toronto's cultural kaleidoscope.
Culinary Adventures: Savor Toronto's Seasonal Flavors
One thing you can't afford to miss when you're exploring a new city is the local food scene. Toronto's culinary landscape is a constantly evolving adventure that reflects the changing seasons. So, if you're wondering about the best time to visit Toronto for a gastronomic journey, we've got you covered.
Seasonal Food and Beverage Highlights for Best Times to Visit Toronto
Each season in Toronto comes with its own distinct flavors. In the summer, you can't resist the allure of a classic Canadian treat, poutine. Imagine crisp, golden fries smothered in rich gravy and topped with squeaky cheese curds. It's the ultimate comfort food that warms your heart even on the hottest summer days.
As autumn rolls in, try the hearty and comforting Butter Tart. It's a sweet, gooey pastry with a hint of caramel that perfectly complements the cool, crisp air and the vibrant fall foliage.
Farm-to-Table Dining Experiences
For the foodie in you, Toronto's farm-to-table scene is an enticing prospect. In the spring, local restaurants celebrate the first harvests with fresh, vibrant dishes that bring the essence of the season to your plate. This is the time to savor tender asparagus and delicate herbs.
Summer is all about the barbecues and patio dining. Order a plate of grilled Ontario corn, and you'll understand why it's a summer favorite. Juicy and slightly smoky, it's a quintessential taste of the season.
Toronto's Signature Dishes by Season
With winter's chill in the air, cozy up to a steaming bowl of Pea Soup, a Canadian classic. Creamy and soothing, it's the ultimate winter comfort food. Pair it with a slice of buttered bread, and you've got a recipe for warming your soul.
In the spring, it's not just the flowers that are in full bloom; it's the culinary scene too. Freshly foraged morel mushrooms make their appearance, ready to be transformed into delectable dishes that speak of renewal and new beginnings.
As you explore the different seasons in Toronto, the culinary scene will be your faithful companion, offering you a taste of local life with every bite. So, don't miss the opportunity to embark on a culinary adventure that's as diverse and ever-changing as the city itself. When you're exploring Toronto, remember to follow your taste buds. They'll lead you to the best time to visit Toronto for a feast you won't soon forget.
Hidden Gems in Every Season: Exploring Toronto's Treasures
Every seasoned traveler knows that to truly experience a city, you need to venture beyond the well-trodden tourist paths. Toronto's no exception, and in every season, this diverse metropolis has its own set of hidden gems waiting to be discovered.
Lesser-Known Attractions and Unique Experiences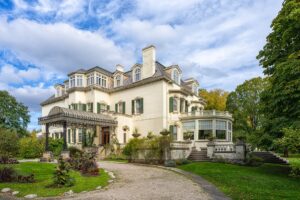 Toronto's unique tapestry offers something for everyone, and sometimes the most memorable experiences are found off the main streets. In the winter, venture to the Spadina House Museum, a well-preserved time capsule of the city's history. In the heart of downtown, you'll find serenity amidst the hustle and bustle.
Spring unveils its own surprises. A walk along Graffiti Alley, a street art mecca, is a vivid burst of color and creativity. Discover hidden murals, which are ever-evolving works of art.
Locals' Favorite Spots Year-Round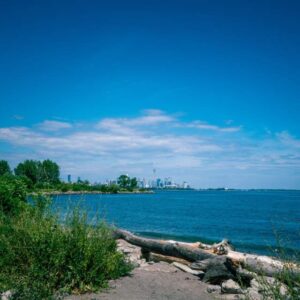 Locals hold the keys to the city's secrets, and their favorite spots offer an authentic look at Toronto. If you're visiting during the fall, ask a local for the best place to witness the autumn foliage. They'll likely steer you towards the scenic Humber Bay Shores Park, offering unparalleled views of the changing colors over Lake Ontario.
For summer, there's no better insider tip than to hit up the Leslie Street Spit, an urban wilderness where locals escape to enjoy nature right in the city. Hike, birdwatch, or simply take in the view of the Toronto skyline.
Off-the-Beaten-Path Adventures
If you're an adventurer at heart, Toronto has just the thing. Ever thought of exploring a labyrinth of underground tunnels? In the depths of winter, you can venture into the PATH, a subterranean maze connecting shopping centers, office buildings, and more. It's like a city beneath the city.
Come spring, explore the Tommy Thompson Park, where you can rent a bike and take in the tranquil scenery of a man-made peninsula. It's a unique way to experience Toronto's natural beauty.
When you're seeking the best time to visit Toronto for an adventure off the beaten path, the city offers hidden gems in every season. It's the secret spots, the local haunts, and the unconventional adventures that add a layer of depth and authenticity to your journey. So, be sure to explore beyond the obvious and get ready to uncover Toronto's well-kept treasures.
Family Fun in Toronto: Kid-Friendly Activities for All Seasons
Toronto isn't just a playground for adults; it's a city that warmly welcomes families year-round. Whether you're traveling with little explorers or teens, there are ample family-oriented attractions and activities to keep everyone entertained, making it the best time to visit Toronto for families.
Family-Oriented Attractions and Activities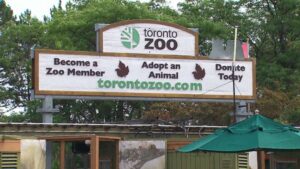 In Toronto, family fun is a top priority. If you're visiting in the summer, the Toronto Zoo is a must-see. It's home to over 5,000 animals, including polar bears and giant pandas. Kids can get up close and personal with nature and learn about conservation efforts.
For a slice of history and entertainment, take your family to Casa Loma, a majestic castle where the little ones can pretend to be knights and princesses. Don't miss the famous Ontario Science Centre; it's an interactive space where learning feels more like play.
Seasonal Events Perfect for Children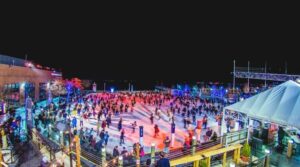 Each season in Toronto brings its own set of special events tailored for children. During the fall, you can explore the Kortright Centre for Conservation, where kids can immerse themselves in nature, learn about wildlife, and even spot a few critters.
Winter ushers in a host of ice skating opportunities. From the iconic Nathan Phillips Square ice rink to the Natrel Rink at Harbourfront Centre, it's an excellent way to enjoy the season with your family.
Planning Memorable Family Getaways
As you plan your family getaway, make sure to check the seasonal events and activities that align with your visit. Many attractions offer family-friendly discounts, so you can experience more without breaking the bank.
Look out for themed events and workshops for kids. The Ontario Science Centre often hosts educational sessions, while the Royal Ontario Museum offers engaging exhibits that cater to young minds.
So, when you're considering the best time to visit Toronto with your family, remember that the city's family-friendly experiences are available all year round. Whether it's summer, fall, winter, or spring, Toronto's kid-oriented attractions, hands-on learning opportunities, and exciting events ensure that your family vacation will be filled with laughter, discovery, and unforgettable moments.
Toronto's Cultural Calendar: Arts, Exhibits, and More
Beyond its natural beauty and thrilling adventures, Toronto boasts a vibrant cultural scene that's truly alive year-round. If you're wondering about the best time to visit Toronto for a dose of arts and culture, you're in for a treat.
Seasonal Arts and Culture Events
Toronto's cultural calendar is packed with events that showcase the city's creative spirit. In the fall, Nuit Blanche takes over the streets, transforming the city into an open-air art gallery. It's a night where the urban landscape comes alive with interactive art installations, performances, and a buzzing atmosphere.
Come spring, Hot Docs, North America's largest documentary festival, screens thought-provoking films that explore diverse subjects. The festival provides a unique window into the world of non-fiction storytelling, making it a must-visit event for documentary enthusiasts.
Top Museums, Galleries, and Cultural Centers
Toronto's museums and galleries are like treasure troves of human expression and history. The Royal Ontario Museum (ROM) is a cultural powerhouse, with galleries that span art, history, and science. It's a place where you can explore ancient civilizations and contemporary art in one visit.
For fans of modern and contemporary art, the Art Gallery of Ontario (AGO) houses an impressive collection. From iconic works by Canadian artists to international masterpieces, it's an artistic journey through time and style.
Connecting with Toronto's Creative Scene
One of the city's most appealing features is its openness to creative exploration. In the Distillery Historic District, you can immerse yourself in the heritage and arts scene. You'll find charming cobblestone streets, boutique shops, and galleries to explore.
To truly connect with Toronto's creative scene, venture to Kensington Market. It's a vibrant, multicultural neighborhood where street art, music, and a lively atmosphere combine to create an unforgettable experience.
In Toronto, the cultural scene thrives throughout the year, ensuring that there's never a bad time to visit for art and culture enthusiasts. The city's museums, galleries, festivals, and creative neighborhoods provide a dynamic canvas for your exploration. So, if you're in search of the best time to visit Toronto to be inspired and to revel in the arts, you'll find that the city's creative pulse beats consistently, ensuring a rich cultural experience whenever you arrive.
Photographer's Paradise: Capturing Toronto's Seasons
For photographers, Toronto is nothing short of a wonderland. No matter the season, this dynamic city provides a canvas of opportunities for capturing stunning images. If you're wondering about the best time to visit Toronto to embrace your inner shutterbug, you're in the right place.
Seasonal Photography Opportunities
Each season in Toronto tells a unique visual story. In the fall, the city's streets and parks become a mesmerizing tapestry of red, orange, and yellow leaves. High Park and the Toronto Islands are especially enchanting during this time, offering a chance to capture the beauty of the season.
Winter brings its own charm. Snow-covered streets, the gleaming city skyline, and the ice-skating rinks are like scenes from a winter wonderland. Nathan Phillips Square, with its iconic Toronto sign, is a prime spot for some seasonal snaps.
Best Spots for Stunning Toronto Shots
Toronto is packed with iconic locations that serve as excellent backdrops. The CN Tower is a photographer's dream, offering a panoramic view of the city's skyline. At sunset, the Toronto Islands offer breathtaking vistas of the city's lights reflecting on the water.
Kensington Market is a vibrant neighborhood filled with colorful murals and quirky street art. It's an excellent place to capture the city's bohemian side. If you're into architecture, the Distillery District is a gem, with its historic buildings and cobblestone streets.
Tips for Aspiring Photographers
As an aspiring photographer, the best time to visit Toronto largely depends on the kind of shots you want. If you're into street photography, summer and fall offer a rich palette of people and scenes. For landscapes and cityscapes, winter's snow and spring's blossoms provide varied opportunities.
No matter when you visit, always keep an eye on the weather, as it can dramatically affect your shots. Additionally, don't hesitate to chat with the locals. They often know of hidden gems and unique perspectives.
Toronto is a city that beckons photographers to explore its many facets. Whether you're a seasoned pro or just starting, every season has its own photographic story to tell. So, gear up and explore the best time to visit Toronto for your photography adventure. Your lens will capture the city's beauty, and you'll create lasting visual memories that reflect Toronto's diverse and ever-changing landscape.
Understanding Toronto's Weather: What to Expect Year-Round
Toronto's weather, like the city itself, offers a varied experience throughout the year. If you're planning the best time to visit Toronto, it's crucial to understand the seasonal climate and pack accordingly. Let's take a journey through the city's ever-changing weather patterns.
Seasonal Climate Overview and Packing Tips
Toronto's weather is a true reflection of all four seasons. In the summer, temperatures can soar to a warm 30°C (86°F) or higher, so don't forget your sunscreen and light clothing. Spring and fall bring milder temperatures, but be prepared for changing conditions—layers are your best friend. Winters are chilly, with temperatures often dropping below freezing. Warm, insulated clothing is a must, along with a good pair of boots to navigate the snow and ice.
How to Dress and Prepare for Each Season
Spring: When spring arrives, you'll want a mix of long-sleeve shirts, sweaters, and a light jacket. As it warms up, you can swap the jacket for a light raincoat. Comfortable shoes for walking are a must, as the city's parks and gardens are in full bloom.
Summer: Toronto summers can be hot and humid. Light, breathable clothing is a lifesaver. Don't forget your shades and a wide-brimmed hat for sun protection. Comfortable sneakers or sandals will keep your feet happy while exploring.
Fall: In the autumn, layers are key. A combination of long-sleeve shirts, sweaters, and a versatile jacket is essential. With the cooler temperatures and potential for rain, an umbrella can also be a handy companion.
Winter: When winter arrives, it's all about warmth. A good-quality winter coat, thermal layers, gloves, and a scarf are your best defense against the cold. Don't forget a warm hat, as your head is a significant source of heat loss.
Making the Most of Toronto's Weather Variations for the Best Time to Visit Toronto
Toronto's ever-changing weather allows you to experience the city's diverse attractions in different lights. During the summer, you can enjoy outdoor festivals and beach days, while winter brings the magic of ice skating and cozy indoor activities. Spring and fall offer the perfect conditions for exploring the city's parks and cultural events.
In Toronto, the weather isn't a hindrance; it's an opportunity to adapt and discover the city in various seasons. So, as you plan your visit, keep the seasonal weather in mind. Be prepared to embrace Toronto's ever-changing climate, and you'll find that no matter when you arrive, the city welcomes you with unique experiences waiting to be enjoyed.
CONCLUSION
With Toronto's rich tapestry of seasons and a vast array of experiences, the best time to visit Toronto is, quite simply, any time of year. Whether you're an adventure seeker, a cultural enthusiast, a nature lover, or a family in search of fun, this city has something special in store for you, no matter the season.
In the fall, you can bask in the captivating colors and cool breezes, while the high season of summer promises outdoor adventures and thrilling festivals. Winter unveils its own enchanting charm, offering budget travelers the chance to explore the city's winter wonders. Spring brings a burst of blossoms and new beginnings, perfect for those who relish indoor events and cultural highlights.
For those looking to capture the essence of the city through a lens, Toronto's ever-changing weather provides a dynamic canvas for photographers, with each season telling a unique visual story.
And let's not forget the city's vibrant cultural scene, accessible year-round. Toronto's museums, galleries, festivals, and creative neighborhoods offer an endless source of inspiration.
The family-friendly attractions and activities make it an ideal destination for those traveling with kids. From the Toronto Zoo to Casa Loma and a multitude of seasonal events, there's never a shortage of things to do. And of course, understanding Toronto's weather and knowing how to dress and prepare for each season ensures you make the most of your visit.
So, no matter when you choose to visit Toronto, rest assured that you're in for an adventure of a lifetime. This city welcomes you with open arms and a promise of unforgettable moments, any time of the year. Plan your perfect Toronto adventure, and get ready to explore the ever-changing beauty and culture of this remarkable metropolis.
FAQs
What month is the best time to go to Toronto Canada?
The best time to visit Toronto largely depends on your preferences. The summer months (June to September) offer pleasant weather and are popular for outdoor activities. However, if you prefer cooler weather and fewer crowds, the shoulder seasons of spring (March to May) and fall (September to November) can also be excellent times to visit.
How many days in Toronto is enough?
The ideal number of days to spend in Toronto varies depending on your interests and the activities you want to explore. A typical visit might range from 3 to 5 days, which allows you to see the top attractions and get a feel for the city. However, if you want to delve deeper into the city's culture and explore more of its neighborhoods, you could stay longer.
Which month is the coldest in Toronto?
January is typically the coldest month in Toronto. During this time, temperatures often drop below freezing, and you can expect snow and ice, making it the heart of the winter season.
What month is best to go to Ontario?
Ontario is a diverse province with different regions, each offering unique experiences. For Ontario's larger cities like Toronto, the summer months are popular due to warm weather and numerous outdoor events. If you prefer milder temperatures and fewer crowds, consider visiting in the spring or fall. Winter is ideal for those who enjoy winter sports and activities in regions like Muskoka and the Blue Mountains.
What time of year is cheapest to go to Toronto?
The winter months of January and February are typically the least expensive times to visit Toronto. This is the off-peak season, and you can often find lower prices on accommodations and flights. However, be prepared for cold weather and winter conditions if you choose to visit during this time.